Grants Best Practices and Tips for Success
The goal of the Department of Water Resources (DWR) is to ensure that grant funding goes to those who need it most. In order to accomplish this, we must acknowledge the challenges in capacity or experience that some communities face when engaging in this process. This webpage is an attempt to reduce roadblocks in the grant application process by walking through each step of the process and identifying helpful tips and best practices, as well as providing other resources that may be beneficial.
These tips are for under-resourced communities who are unfamiliar with the DWR grants process or do not have the capacity to hire a consultant. However, these steps can be useful for anyone who is applying for or administrating a DWR grant.
The guidance here is not intended to tell any potential grantees what they should be writing in a grant application, nor will it guarantee awarded funding. Rather, this page provides an overview of a typical grant program, highlights some of the key areas where past applicants and grantees have struggled with the process, and gives tips for how to avoid those challenges. Some of the more complicated or nuanced elements of the process have been broken down to provide a better understanding of the process.
Disclaimer: Information on this page represents the typical grant process but requirements may vary from program to program. Please contact the program staff and read the Program Guidelines and Proposal Solicitation Package (PSP) of each grant program carefully if you have any specific questions. Grant Project Guidelines give an overview of the funding available, what issue or goal the agency hopes to address with these funds, eligibility requirements for applicants and projects, and the selection process. PSP contains further instructions on how to apply for grant and also includes the scoring criteria.
Below is a flowchart of a typical DWR grant program cycle that can help you determine which step of the grant process you are in.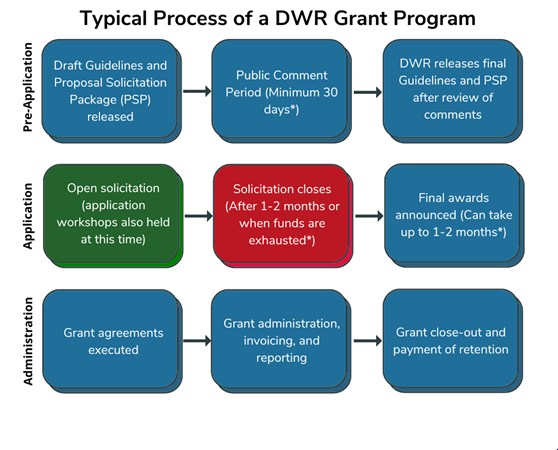 *Durations of the grant process vary from program to program. Please contact the grant program manager and read the Program Guidelines for more information on the schedule of a given grant.
Applying for and Managing Grants
Click through the Steps below in order to learn more about each step of the grant process.
Contact Information
Select the button below to email DWR: