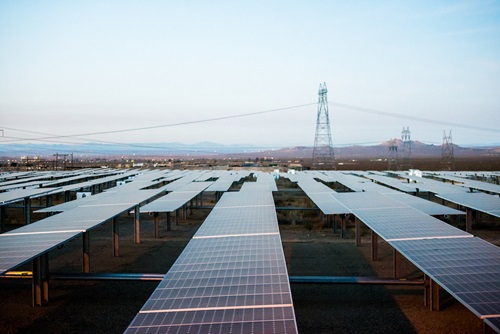 *Note: Please view the State Power Augmentation Project section below for important information on DWR's support to safeguard California's energy grid.
Producing and Consuming Power
The State Water Project (SWP), operated by DWR, is both a major producer and consumer of electricity.
As the largest single consumer of electricity in California, the SWP pump load ranges from 6,000,000 megawatt hours (MWh) to 9,500,000 MWh depending on the type of water year (dry, average, wet). The electricity is used to operate the SWP pumping plants, which are needed to deliver the water throughout the State.
The SWP has one of the cleanest power portfolios of all major utilities in California. DWR has been proactively responding to the evolving power market by reducing reliance on fossil fuel energy resources, assisting in maintaining grid reliability, and controlling energy costs for water customers.
Fifty percent of the SWP's power is provided by its own emission-free hydroelectric generation. The SWP, which is committed to reducing its carbon footprint, has a power portfolio consisting of 65 percent carbon-free resources, increasing to 75 percent by 2030 and 100 percent by 2045. DWR is finding innovative ways, such as adding solar to the system, to make this happen.
Producer of Electricity
DWR also produces electricity, which ultimately helps meet SWP's power demands. The energy produced—which is highly variable due to changes in annual hydrologic conditions—averages around 6 billion kilowatt-hours (kWh) a year.
As a producer of electricity, we are subject to regulation under the authority of the Federal Power Act. We have three hydropower licenses and two conduit exemptions under authority of the Federal Energy Regulatory Commission. To maintain these licenses, DWR must comply with the terms and conditions to protect, mitigate and enhance beneficial public uses of hydropower projects.
The SWP uses five hydroelectric generating plants and four hybrid pumping/generating plants to generate clean power. DWR sells the power it generates from the SWP to the California Independent System Operator (CAISO) market, during peak demand hours and help displace fossil generation and lower overall grid greenhouse gas (GHG) emissions. The revenue from these sales helps keep the net cost of water deliveries more affordable.
The SWP's flexible pumping operations help it to manage the timing of its power needs. This flexibility is allowed by Project reservoirs, which temporarily store water until it is needed to meet the daily and seasonal demands of its contracting agencies.
To reduce power costs, pumping is minimized during on-peak hours when power prices are highest. Maximum pumping is scheduled during off-peak periods (nights, solar hours, weekends and holidays) when power costs are cheaper. Thus, the SWP can purchase, when needed, inexpensive surplus generation from other power suppliers for its pumping operations.
Buying Power
The Department has also been in the business of purchasing power. In response to the turn-of-the-millennium energy crisis, Governor Gray Davis signed an Executive Order in January 2001 that ordered DWR to purchase energy for California's three investor-owned utilities.
At that time, Pacific Gas & Electric, Southern California Edison, and San Diego Gas & Electric were on the verge of bankruptcy and unable to make purchases. DWR established the California Energy Resources Scheduling division (CERS) to buy and sell electricity on behalf of big utilities and to purchase the remaining energy requirements ("net short") for their retail customers.
CERS actions helped stabilize the wholesale power markets in California and returned electricity prices to reasonable levels. CERS has been transitioning operating responsibility back to the utilities and has a planned sunset of 2022.
In August 2021, DWR began the process of procuring temporary power generators in support of California's broader effort to safeguard our state's energy grid in the face of climate-induced drought, wildfires, and extreme heatwaves.
Because of DWR's expertise as a water and power utility, Governor Newsom's emergency proclamation issued on July 30, 2021 directed DWR to work with the California Energy Commission (CEC) to develop projects to expand energy and supply storage to respond to energy shortages caused by climate change.
The Department is now in the process of procuring temporary power generators with the goal of deploying them by mid-September 2021.
The units will be deployed at two locations: two units will be deployed to a site in Roseville and two units will be deployed to a site in Yuba City.
The units will be placed at existing power generation sites so that they can feed directly into the grid as needed at the direction of the California Independent System Operator (CAISO) and Western Area Power Authority (WAPA).
Each unit can produce roughly 30MW. They're powered by natural gas but have the capability of running on a blend of up to 75 percent hydrogen in the future depending on hydrogen availability.
The units will be available for operation until the end of 2023, at which time they may be redeployed to other locations.
DWR is taking on this effort in collaboration with the California Energy Commission (CEC), the California Public Utilities Commission (CPUC) and the California Independent System Operator (CAISO).