Underrepresented Communities Technical Assistance Program (URC TA Program)
Underrepresented Communities Technical Assistance Program (URC TA Program)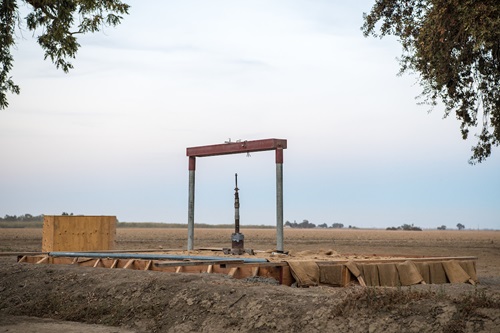 The Department of Water Resources (DWR) developed the Underrepresented Community Technical Assistance Program (URC TA Program) after learning that some Groundwater Sustainability Agencies (GSAs) have not been able to address the needs, risks, and vulnerabilities with the implementation of the Sustainable Groundwater Management Act (SGMA) to a sufficient extent within their Groundwater Sustainability Plan(s) (GSPs) or Alternative to a GSP (Alternative). DWR recognizes the need for addition assistance and, thus, implemented the URC TA Program to address this need and is the sole mission of the URC TA Program.
The mission of the URC TA Program is to determine the needs, risks, and vulnerabilities with the implementation of the Sustainable Groundwater Management Act (SGMA) for URCs in medium and high priority basins, including critically overdrafted (COD) basins.
DWR retained the services of a consultant group in 2021 to begin the URC TA Program utilizing Proposition 68 funds.
DWR is assisting Tribes and other URCs identified in the heat Maps found below. The URC TA Program will provide onsite engineering, geologic, hydrologic, and other technical services to the communities based upon a ranking of water systems. The types of services provided include, but are not limited to:
Groundwater level monitoring

Aquifer testing to determine long-term yield and supply

Identifying Groundwater Dependent Ecosystems (GDEs)

Analyze well interference

Identifying additional water supply

Analyze existing well condition using downhole video log

Rehabilitation of water storage tank

Long-term water supply and demand analysis

Analyze and help to facilitate water transfers
In addition, DWR hired a nongovernmental agency (NGO) in 2022, using General Funds provided by the Budget Act of 2021, to expand upon the URC TA Program. The additional services DWR is providing through this agreement will:
Create a template for local domestic well impact mitigation to develop plans for drinking water well protection. Share the data with three (3) local GSAs for the GSAs to develop a mitigation program. Provide ongoing community engagement by attending the three GSAs board meetings or committee meetings to submit the community's needs, risks, and vulnerabilities of URCs in their basin to amend GSPs or Alternatives.

Analyze and provide feedback on proposed policies and programs by submitting written feedback to the three identified GSAs a minimum of three times a year for two years.

Revise the existing Communication and Engagement Plan (CEP), if needed.

Develop educational and outreach materials, if needed.

Work with the three GSAs and community leaders previously identified to support and implement drinking water and wastewater service projects to help reduce vulnerabilities to groundwater contamination by providing written feedback to those three GSAs.

Develop a financial strategy plan for the three GSAs to identify long-term strategies for addressing impacts of depleting groundwater supplies, drought, and climate change.

Identify two common groundwater dependent vegetation species and develop groundwater thresholds that would lead to irreversible transition from a stable state of ecosystem structure. Develop a technical memo with the results of the study and datasets to support incorporation of results into GSP updates.
DWR was provided an additional $9.5 million in General Funds to expand the definition of a URC to include small and socially disadvantaged farmers and to provide technical assistance to the small farmers located within medium and high priority basins and COD basins. Additional information will be provided in early 2023.
Local entities will be able to request services through the SGM_TA@water.ca.gov email address managed by SGM Grant Program Team.
The Technical Assistance Program identifies communities throughout California with water supply challenges such as dry groundwater wells, water shortages, or poor water quality. Using publicly available data, DWR prepared a community identification tool (CIT) that collects relevant information for each census block within the State of California. The data includes, but is not limited to, Median Household Income (MHI), threats to groundwater, access to drinking water, and surface water quality. This information is used to quantify areas of greatest water-related need and applied statewide for Tribal Communities and within hydrologic regions including Northern California, Central California, and California's Central Coast for other Underrepresented Communities. For more information on the Underrepresented Community Prioritization Tool methodology, please refer to the Technical Memorandum Summary.
Communication and Engagement Plan (CEP)
Educational Materials for K-12 Grades
URC Maps
Northern California Region Insets
Tribal Land in North Coast by Hydrologic Regions
Tribal Graphic Novels
URC Definitions
URC is a term that collectively includes Disadvantaged Communities (DACs), Severely Disadvantaged Communities (SDACs), economically distressed areas (EDAs), Tribes, environmentally disadvantaged communities (EnvDACs), and fringe areas. You will find more information on each below.
DAC - A community with an annual median household income (MHI) that is less than 80% of the Statewide annual MHI (Public Resources Code Section 80002[e]).
SDAC - A community with a MHI of less than 60% of the Statewide average (Public Resources Code Section 80002[n]).
EDA -
A municipality with a population of 20,000 persons or less and an annual MHI that is less than 85% of the statewide MHI

A rural county

A reasonably isolated and divisible segment of a larger municipality where the segment of the population is 20,000 persons or less, with an annual MHI that is less than 85% of the statewide MHI, and with one or more of the following conditions:
Financial hardship

Unemployment rate at least 2% higher than the Statewide average

Low population density (Water Code Section 79702[k])
Tribes - Federally recognized Native American Tribes and California State Native Tribes listed on the NAHC's California Tribal Consultation List are collectively referred to as "Tribe" or "Tribes."
California Native American Tribe - The term "state Indian tribes" (Water Code Section 79712[a]) means Indigenous Communities of California, which are on the contact list maintained by the NAHC, including those that are federally non-recognized, federally recognized, and those with allotment lands, regardless of whether they own those lands. Additionally, because some water bodies and Tribal boundaries cross state borders, this term may include Indigenous Communities in Oregon, Nevada, and Arizona that are impacted by water in California.
Federally Recognized Indian Tribes - A federally recognized Tribe is an American Indian or Alaska Native Tribal entity that is recognized as having a government-to-government relationship with the United States, with the responsibilities, powers, limitations, and obligations attached to that designation, and is eligible for funding and services from the Bureau of Indian Affairs.
EnvDACs - The California Environmental Protection Agency designates the top 25% scoring census tracts as DACs. Census tracts that score the highest 5% of Pollution Burden scores, but do not have an overall CalEnviroScreen score because of unreliable socioeconomic or health data, are also designated as DACs.
Fringe Areas - Fringe Areas are those communities that do not meet the established DAC, SDAC, EDA, or EnvDAC, but can show that they score in the top 25% of either the Pollution Burden or Population Characteristics score using the most recent version of CalEnviroScreen.