DWR releases Semi-Annual Groundwater Conditions Report with Look Back at 2023 Water Year
Published: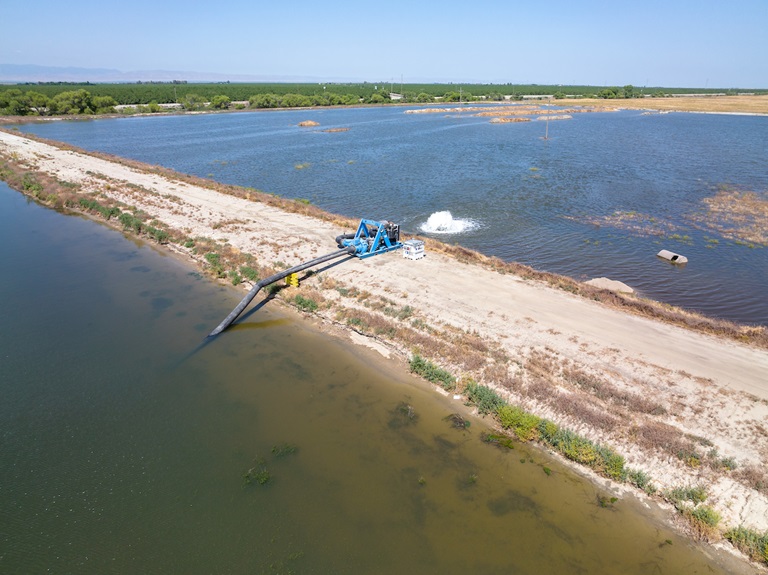 The Department of Water Resources is sharing new data on the state's groundwater basins that is starting to bring into focus how last winter's storms impacted a critical water supply for millions of Californians.
Released today, the October 2023 Semi-Annual Groundwater Conditions Update provides a look back at groundwater conditions during the last year informed by DWR's groundwater data and tools. The report presents data received by DWR as of August 31, 2023, and partially reflects the impacts of this year's storms, flooding, and natural and managed aquifer recharge. More information will be available after April 1, 2024, when groundwater sustainability agencies submit Annual Reports documenting local groundwater conditions over the previous year. It takes more time to gain the full groundwater picture because groundwater response is a slow process, and it can take months to years for aquifers to fully respond to changes in surface water conditions. DWR's October update only begins to tell the story of statewide groundwater conditions in Water Year 2023.
In 2023, California saw an end to three years of extreme drought thanks to dozens of atmospheric rivers that brought heavy rain, record-breaking snowpack, flood emergencies, and the reemergence of Tulare Lake. Through all of this, the State and local agencies worked together in unprecedented ways to redirect excess flows for groundwater storage while helping to protect communities from flood impacts. From just the data that we were able to track, DWR has estimated more than 3.8 million acre-feet of recharge capacity for water Year 2023, including more than 1.2 million acre-feet of groundwater recharge permitted by State agencies, 390,817 acre-feet of flood water recharged using the Governor's Executive Orders, and millions more acre-feet of managed and naturally occurring recharge.
Some key information from the October Groundwater Conditions Update is summarized below:
Groundwater Extraction and Change in Storage
The Central Valley accounted for over 15 million acre-feet of groundwater pumping in WY 2022, about 90 percent of groundwater extractions in California. The majority of the highest extraction rates and volumes were within the San Joaquin Valley. The greatest extraction per area occurred in the Chowchilla, Kaweah, and Fillmore basins. The greatest volumes extracted were in the Kern County, Kings, and Kaweah basins.
Land Subsidence
Satellite data from DWR's most recent quarterly land subsidence survey show that subsidence rates temporarily decreased, however, this is to be expected in wet years as groundwater basins are recharged and there is less groundwater pumping.
During the July 2022 to July 2023 period, the Tulare Lake Hydrologic Region had the most areas of subsidence with about 2,400 square miles of area experiencing greater than 0.1 feet of subsidence, followed by the San Joaquin River Region with about 1,100 square miles, and the Sacramento River Region with about 270 square miles.
As during previous dry-wet-dry cycles, subsidence rates are likely to increase again during future dry periods unless long term groundwater extraction is reduced as part of ongoing sustainable groundwater management.
Dry Well Reporting (note: dry well reporting is voluntary)
Fewer dry domestic wells were reported in 2023 compared to 2021 and 2022.
Dry wells are still being reported across the state. The 650 dry wells reported thus far in WY 2023 were lower than WY 2021 and 2022 but were still more than any year between 2016 and 2020.
Well Infrastructure
Fewer domestic and irrigation wells were installed in 2023 than any year in the past 9 years since the Sustainable Groundwater Management Act was passed.
California is heavily invested in the long-term health of the State's groundwater resources. Since the enactment of the Sustainable Groundwater Management Act (SGMA) in 2014, DWR's Statewide Groundwater Management Program has made considerable advancements in collecting, reporting, and disseminating vital groundwater data, and providing support to local agencies through technical expertise, data and tools, assistance and engagement, and grant funding. A key component of the Newsom Administration's Water Supply Strategy: Adapting to a Hotter, Drier Future involves taking advantage of winter storms and snow melt to maximize the amount of water that gets stored underground. Governor Newsom issued four executive orders in 2023 that allowed the State and locals to quickly manage snowmelt runoff and leverage it for groundwater recharge, water transfers, and increased storage.
This year highlighted the important relationship between groundwater management and the climate-driven extremes of flood and drought. Groundwater recharge projects proved critical during the flood response, as thousands of acre-feet of water were diverted off streams, away from flood-prone areas, and put onto available open lands to recharge groundwater basins. It is vitally important that groundwater recharge projects and permits are in place in advance of the next wet winter to maximize the capture of high flows for storage in underground aquifers. DWR continues to work proactively with local groundwater managers, irrigation districts, and landowners to help expedite their groundwater recharge projects so they are prepared to take full advantage of future high flow conditions. Diverting flood waters for recharge provides multiple benefits of protecting communities from flood and bolstering groundwater levels to help ensure a resilient water supply for homes, farms, communities, businesses, and the natural environment.
There is still work to be done, including building up the State's real-time groundwater monitoring infrastructure, but a great deal of progress was achieved during the 2023 Water Year towards building a more resilient and climate ready future for California. Through collaboration, innovative programs, and investments in new technologies that result in better data gathering, California is more prepared than ever before to manage through weather extremes in a way that protects communities and builds a reliable groundwater supply that is available for use during future droughts when groundwater is most heavily relied-upon.
In addition to the October Semi-Annual Groundwater Conditions Updates, DWR produces a more robust annual Groundwater Conditions Report each spring which includes more up-to-date data that is not yet available at the end of each water year. Both of these reports support DWR's comprehensive California's Groundwater (Bulletin 118) publication which is updated every five years. This suite of reports is critical in providing knowledge and understanding about California's groundwater system that is necessary for State and local agencies to plan and implement management actions that will help to ensure long-term resiliency of the State's water supply.
For more information: