Proposition 1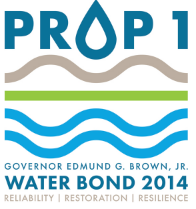 On November 4, 2014, California voters approved Proposition 1, the Water Quality, Supply, and Infrastructure Improvement Act of 2014. Proposition 1 authorized $510 million in Integrated Regional Water Management (IRWM) funding. Funds are allocated to 12 hydrologic region-based Funding Areas.
The Proposition 1 IRWM Grant Program, administered by DWR, provides funding for projects that help meet the long-term water needs of the state, including:
Assisting water infrastructure systems adapt to climate change;

Providing incentives throughout each watershed to collaborate in managing the region's water resources and setting regional priorities for water infrastructure; and

Improving regional water self-reliance, while reducing reliance on Sacramento-San Joaquin Delta.
The 2016 IRWM Guidelines is comprised of two volumes. Volume 1 contains the general process, procedures, and criteria that DWR will use to implement the Proposition 1 (The Water Quality, Supply, and Infrastructure Improvement Act of 2014) IRWM Grant Program, which includes IRWM Planning, IRWM Implementation, and Disadvantaged Community Involvement Grant Programs. Volume 2 contains the IRWM Plan Standards and related guidance, and the region acceptance and plan review procedures.
Proposition 1 2016 IRWM Guidelines - Vol.1 and 2 [

PDF

] (1.1 MB)
Current Solicitation
On October 5, 2018 DWR released the 2018 Proposition 1 - Round 1 IRWM Implementation Grant Program Draft Proposal Solicitation Package and Draft Guidelines. Public Comment open now through November 20, 2018.
Proposition 1 Public Comments
Contact Information
Program

Contact

Phone Number

Email

IRWM Planning
Program Manager
Ted Daum
(916) 651-9264
Theodore.Daum@water.ca.gov

DAC Involvement
Program Manager

Craig Cross

(916) 651-9204

IRWM Implementation
Program Manager

Rachel Ballanti

(916) 651-7193