Update 2023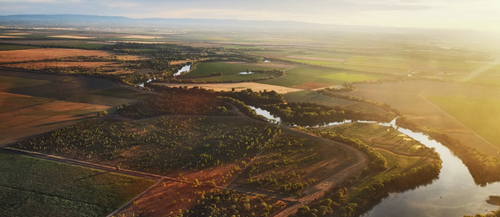 The California Water Plan (CWP), updated every five years, is the State's strategic plan for sustainably and equitably managing and developing water resources for current and future generations. Update 2023 will promote climate resilience across regions and water sectors with a statewide vision, clear goals, watershed planning framework and toolkit, and progress-tracking dashboard of indicators. It will also include updated resource management strategies, regional planning and performance tracking tools, water balances, future scenarios, and other technical and policy-related activities related to water resilience and sustainability.
Intended Outcomes of Update 2023
Update 2023 will:
Promote Climate Change Adaptation
Support California's Regions
Strengthen Water Equity
The preparation of Update 2023 provides a venue for aligning State agencies tasked with implementing California's Water Resilience Portfolio (WRP). A cornerstone of Update 2023, the WRP, is the Administration's roadmap for California water management considering climate change, more extreme droughts and floods, rising temperatures, declining fish populations, groundwater overdraft, and other challenges. Update 2023 will advance a statewide vision, watershed resilience planning framework with strategies and toolkit, and indicators and metrics to track progress, sustainability, and resilience.
Update 2023 will also be informed by a diverse group of stakeholders. Engagement venues include:
Core State Agency Team
Policy Advisory Committee
Tribal Advisory Committee
Regional forums
Topic and/or place-based workshops
Key Elements Shaping the Process & Context of Update 2023

Additional information about Update 2023 can be found in the Update 2023 Brochure. Please direct any questions to the Water Plan Team.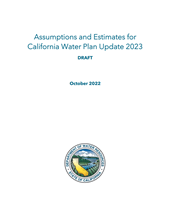 The Draft Assumptions and Estimates Report (A&E Report) describes data and data sources; improvements to analytical tools, methods, and approaches; and the supporting documents and companion State plans being used to prepare Update 2023. The Draft A&E Report's release on October 18 will be followed by a 30-day comment period. DWR is interested in receiving comments about the information presented in the Draft A&E Report. DWR also welcomes suggestions about improving the usefulness of the report.
A webinar was held on October 18, 2022, to provide an overview of the report. A recording is available online.
Comments on the Draft A&E Report should be submitted to DWR by November 18, 2022. Comments can be emailed to cwpcom@water.ca.gov or mailed to Strategic Water Planning Branch, 715 P Street, 6th Floor, Mailbox 15, P.O. Box 942836, Sacramento, CA 94236-0001.
---
California Water Plan Update 2023 draws from and builds on reference documents related to water resources to enhance the content and produce a better plan with each succeeding update. They provide the methodology, assumptions, data, estimates, and other information used in the development of this update.
The following documents provide additional context and information on the development of Update 2023.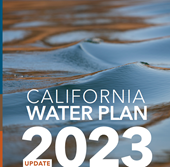 The Update 2023 brochure provides an overview of what the Water Plan is, its relation to the California Water Resilience Portfolio, and the intended outcomes of Update 2023. A Spanish translation is also available.
---
Upcoming Meetings and Events
Contact Us
If you have any questions or comments regarding Update 2023, you can contact us at cwpcom@water.ca.gov.
Subscribe to Water Plan eNews to receive news and updates on upcoming meetings. To subscribe to California Water Plan eNews, visit the DWR email subscription page and select the "California Water Plan eNews" option