Watershed University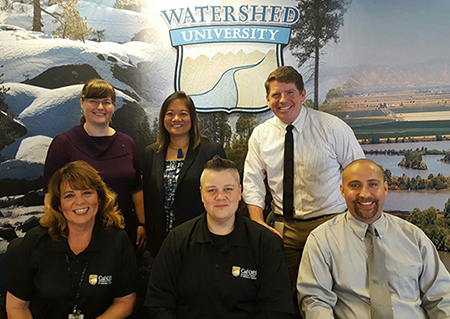 Watershed University is a free event that provides education and networking opportunities for California professionals in floodplain management, water management, emergency management and related fields. Led by the California Silver Jackets, this event is a cooperative effort that evolved from the recognition that some communities could not afford the investment of time and money to send floodplain managers and other professionals to conferences. It has since grown to provide a variety of timely flood risk reduction topics to professionals worldwide.
In December 2017, the Lilac Fire broke out in San Diego County. More than 1,300 residents were forced to evacuate and more than 4,100 acres were scorched before the fire ended.
On Tuesday, June 19, René Vidales, Jeremy Fantaroni, and Mehdi Khalili described the damage done and the work that went into the recovery effort, including damage assessments, implementation of best management practices, and emergency assistance to homeowners.
Speakers:
René Vidales, Program Coordinator, County of San Diego Watershed Protection Program
Jeremy Fantaroni, Environmental Planner III, County of San Diego Watershed Protection Program
Mehdi Khalili, Civil Engineer, County of San Diego Flood Control Engineering
Presentation and Recording
During this webinar, James Eto, California's National Flood Insurance Program Coordinator, provided an introduction to FEMA's National Flood Insurance Program and described how the California Department of Water Resources helps FEMA administer the program. The NFIP was instituted in 1968 and continues to play an important role in communities' floodplain management decisions.
The overview included:
What is the NFIP?

Who needs the NFIP?

What are the requirements of the NFIP?

What questions should be referred to DWR, to FEMA, or to the local community

What are elevation certificates and who needs them?
Presentation and Recording
The Lower San Joaquin Levee District is a unique portion of the flood system in California's Central Valley. The district's history and operations are different than in other areas of California, and it has a unique set of challenges in the way that it operates. On April 24, Reggie Hill, General Manager, gave a presentation on the district's history and the way it is operated. He also discussed how subsidence and other recent changes in the area have caused additional challenges for maintaining the district.
Contact Us
If you have questions about Watershed University or would like to join our mailing list, send us an email by clicking on one of the buttons below.
Missed a webinar?
We post recordings of past webinars on our YouTube channel for those unable to attend.