Local Actions are Key to Progress in Reaching Groundwater Sustainability
Published: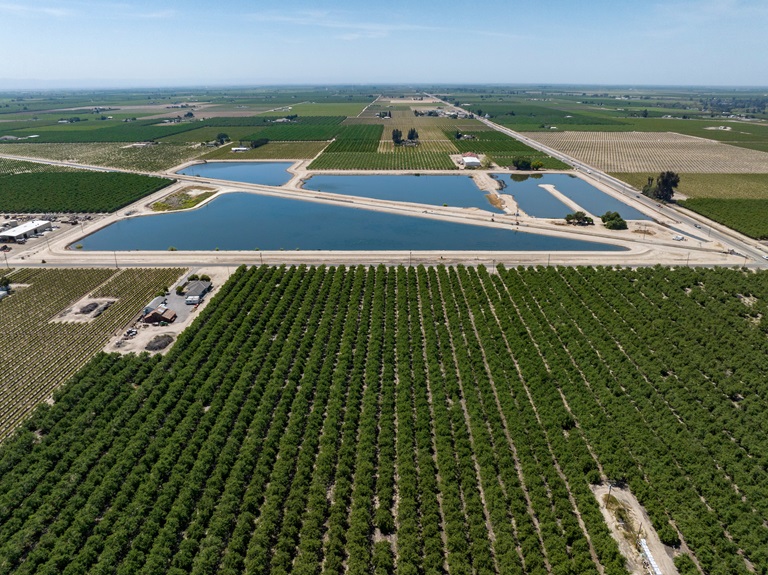 Some may be asking after this extremely wet water year -- how is California progressing towards sustainable groundwater management and efforts to recharge groundwater basins? Local agencies, with state support, have made tremendous progress thus far in carrying out the requirements of the Sustainable Groundwater Management Act (SGMA), and locals are continuing to make critical decisions about how to manage this vital resource beneath our feet through future extreme weather cycles.
As the Governor is building a more climate ready California, progress towards a sustainable groundwater future is helping communities become resilient against long-term climate-driven extremes like extended periods of drought and periodic intense storms.
When SGMA was enacted into law in 2014, the California Legislature distinctly recognized that groundwater management is best carried out at the local level, by the people that live and work locally and understand their groundwater conditions and their communities. SGMA entrusted local agencies with new authority to manage groundwater and work with their communities to develop and implement plans to bring California's groundwater basins into sustainability over the long-term.
Remarkably, all of the ambitious early milestones set by SGMA were met. New groundwater sustainability agencies (GSAs) were formed in all required basins by the June 30, 2017 deadline, and by January 2022 all required basins developed and submitted the first ever Groundwater Sustainability Plans (GSPs) to DWR for evaluation. These accomplishments mark the early successes under SGMA, and we are now transitioning from planning to implementation – where agencies have 20-years to achieve groundwater sustainability.
These strides towards sustainable groundwater management are difficult and complex, and each basin faces its own unique challenges related to local conditions and our changing climate. Local agencies are making important and often tough decisions on how they will reach a sustainable balance of pumping and recharge, and how they will accelerate groundwater recharge and maximize the extreme wet years that may occur infrequently throughout more intense, prolonged drought years.
Some GSAs have taken steps to initiate groundwater pumping allocation programs that reduce the amount of water that has historically been pumped in their basins. In some basins, necessary steps will include fallowing agricultural land and determining alternative land uses, such as habitat corridors. Most basins are working on fee structures to fund these SGMA implementation activities. These types of decisions affect whole communities, and GSA Board representatives are working hard to find the best path forward for the long-term sustainability of their groundwater basins and their communities.
As SGMA plays out across California, the state wants local agencies to succeed at reaching their sustainability goals, and DWR will continue to provide critical planning and technical assistance to ensure GSAs have the tools needed to manage groundwater resources and implement their plans. As this year's historic water year quickly took shape, DWR supported local agencies to help them expedite groundwater recharge projects that diverted potential flood waters to recharge depleted groundwater basins. Through targeted outreach and assistance to local agencies, DWR has tracked an estimated 3.8-million-acre-feet of managed groundwater recharge capacity this year, in addition to naturally occurring recharge.
Additional DWR assistance includes professional facilitators that help locals work through challenging water management solutions, and important data like airborne electromagnetic technology that describes underground geology. Additionally, since the passage of SGMA and through the next budget year, DWR is on track to award nearly $500 million in grant funding and financial assistance to GSAs for the development and the initial implementation of their plans.
By the beginning of 2024, DWR will complete the initial assessments for the nearly 100 compliant groundwater basins, evaluating how locals are providing a roadmap to achieve long-term groundwater availability. These initial plans are not perfect or the end of the journey to sustainability, but rather the first steps to managing basin conditions that will change over time. We expect plans will be adjusted over time in light of ongoing weather extremes associated with climate change, land use changes, water supply reliability and as data gaps are filled.
Our evaluations may lead to identifying a need for local assistance, new guidance and/or regulatory determinations. Some basins, including those initially approved, may need state intervention along the way. Whether under state intervention or not, locals will continue to progress with implementation of their plans, including submitting annual reports. DWR will provide periodic evaluations at least every five years to ensure GSAs continue to make progress towards achieving their local basin sustainability goals.
Since local control is one of the founding cornerstones of SGMA, GSAs are expected to continue working with landowners, farmers, community-based organizations, and other groundwater users, including domestic well users and underserved communities. All perspectives are valuable, and diverse interests must be considered as part of the local decision-making processes. The public is encouraged to ask questions, be informed, and stay engaged.
As SGMA moves into this next phase of implementation, there will be adjustments and challenges ahead, but through local actions, wise management, and collaboration, the path forward will lead to progress towards a sustainable groundwater future for California.
By Paul Gosselin, DWR Deputy Director of Sustainable Groundwater Management
For more information: