Lake Oroville Community Update - January 6, 2023
Published: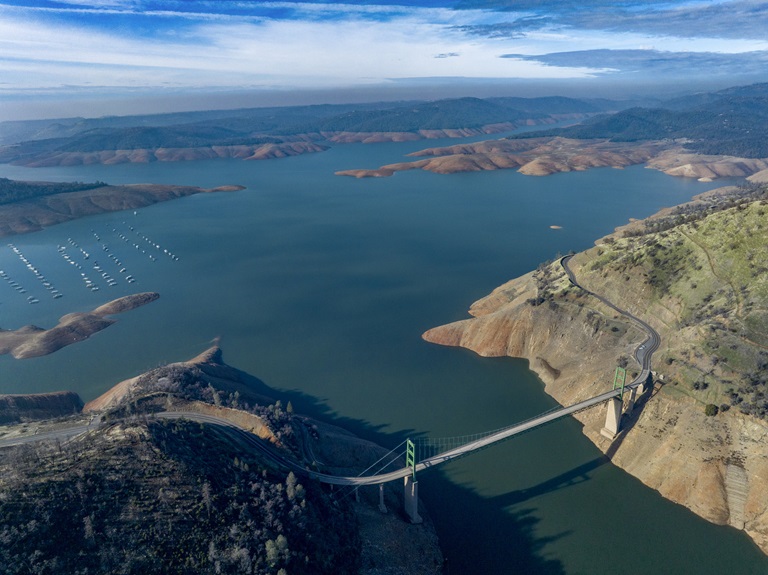 DWR Prepares for Storms and Potential Flooding
The California Department of Water Resources (DWR) is preparing for a series of storms in the next ten days that could potentially bring additional flooding to communities already inundated by recent downpours. The storm battering the state Wednesday was the third in a series of atmospheric river storms that have impacted Northern California in the space of a week.
DWR activated the State-Federal Flood Operations Center (FOC) on Jan. 3 and has been closely monitoring and communicating forecasts and making high-water notification calls to keep locals and partner agencies informed of elevated river levels. The FOC is working closely with the National Weather Service, the United States Army Corps of Engineers, the United States Bureau of Reclamation, CalOES, and California counties, and is participating in coordination calls to take proactive steps to respond and prepare for impacts from flooding statewide.
It is still important to note that these storms have not ended the drought. While Lake Oroville has seen a 65-foot rise in elevation since Dec. 1, major reservoir storage remains below average, and conditions could turn dry again this winter, offsetting recent rain and snow.
Information on current Butte County road closures due to flooding and sandbag resources can be found on Butte County's website. More information on DWR storm preparation can be found in its recent press release.
Lime Saddle Boat Ramp Now Open
The Lime Saddle paved ramp reopened for boat launching this week. Located along the west branch of the north fork arm of Lake Oroville and accessible from Pentz Road, Lime Saddle offers picnic tables, sun shelters, flush toilets (all ADA accessible), a drinking fountain, a telephone, a fish cleaning station, and trash receptacles. The marina also offers gas for boats, a boat repair and supply shop, a general store with bait and tackle, and a pump-out station.
Paved boat ramps remain available at the Spillway, Loafer Point, Bidwell Canyon, the Thermalito Afterbay, and the Thermalito South Forebay. Both the Lime Saddle and Bidwell Canyon marinas are open from 8 a.m. until sundown with shuttle service and boat rentals available.
Snow Survey
DWR conducted its first Phillips Station snow survey on Jan. 3. The manual survey recorded 55.5 inches of snow depth and a snow water equivalent of 17.5 inches, which is 177 percent of average for this location. The snow water equivalent measures the amount of water contained in the snowpack and is a key component of DWR's water supply forecast. Statewide the snowpack is 174 percent of average for this date.
"Big snow totals are always welcome, but we still have a long way to go before the critical April 1 total," said Sean de Guzman, DWR's snow surveys and water supply forecasting unit manager. "It's always great to be above average this early in the season, but we must be resilient and remember what happened last year. If January through March of 2023 turn out to be similar to last year, we would still end the water year in severe drought with only half of an average year's snowpack."
On average, the Sierra snowpack supplies about 30 percent of California's water needs and is an important factor in determining how DWR manages the state's water resources. Its natural ability to store water is why the Sierra snowpack is often referred to as California's "frozen reservoir." A below-average snowpack impacts water users across the state, putting further stress on the environment and critical groundwater supplies.
More information about the first snow survey can be found in DWR's press release.
Fuel Load Management
DWR continues vegetation management activities around the Oroville area to remove overgrown vegetation and create a more wildfire resilient landscape. Over the next few months, you may see crews working in various areas including Loafer Creek, Canyon Drive, along Oro Dam Blvd. East, and the Feather River Fish Hatchery. CAL FIRE, Butte County Fire Department, Butte County Sheriff's Office, California Conservation Corps (CCC), and crews from the Butte Fire Center continue to cut, pile, chip, and pile burn as weather allows. Vegetation management activities will continue through the winter, weather permitting. Smoke from pile burning activities will continue to be visible in the Oroville area.
DWR's Fuel Load Management Plan (FLMP) works to reduce wildfire risk and increase public safety around Lake Oroville. Previous FLMP projects in the Loafer Creek Recreation Area have been identified as contributing to the slowing of the 2020 North Complex Fire as it approached Kelly Ridge, increasing firefighters' ability to establish a secure fire line and preventing the fire from progressing. Ongoing management of the FLMP remains a high priority for DWR and local partners.
Oroville Recreation
The Lake Oroville Visitor Center is open to the public Tuesday through Thursday from 9 a.m. to 5 p.m. Pick up the Lake Oroville Trails Map – which shows more than 92 miles of trails available to equestrians, bicyclists, and hikers – at Lake Oroville State Recreation Area kiosks, the Oroville Area Chamber of Commerce, or the Feather River Recreation and Parks District.
An interactive map of recreation facilities and their permitted uses (hike, bike, horse, multi) is available on DWR's interactive Lake Oroville Recreation webpage.
Current Lake Operations
Oroville's reservoir is about 724 feet elevation and storage is approximately 1.44 million acre-feet (MAF), which is 41 percent of its total capacity and 77 percent of the historical average. Wet weather and strong wind gusts remain in the forecast for the upcoming week due to continued atmospheric rivers that are hitting the West Coast.
The Feather River releases are currently at 950 cubic feet per second (cfs). Flows through the City of Oroville are 650 cfs with 300 cfs released from the Thermalito Afterbay Outlet (Outlet) for a total of 950 cfs downstream of the Outlet. DWR continues to assess releases to the Feather River daily.
The public can track precipitation, snow, reservoir levels, and more at the California Data Exchange Center. The Lake Oroville gage station is identified as "ORO".