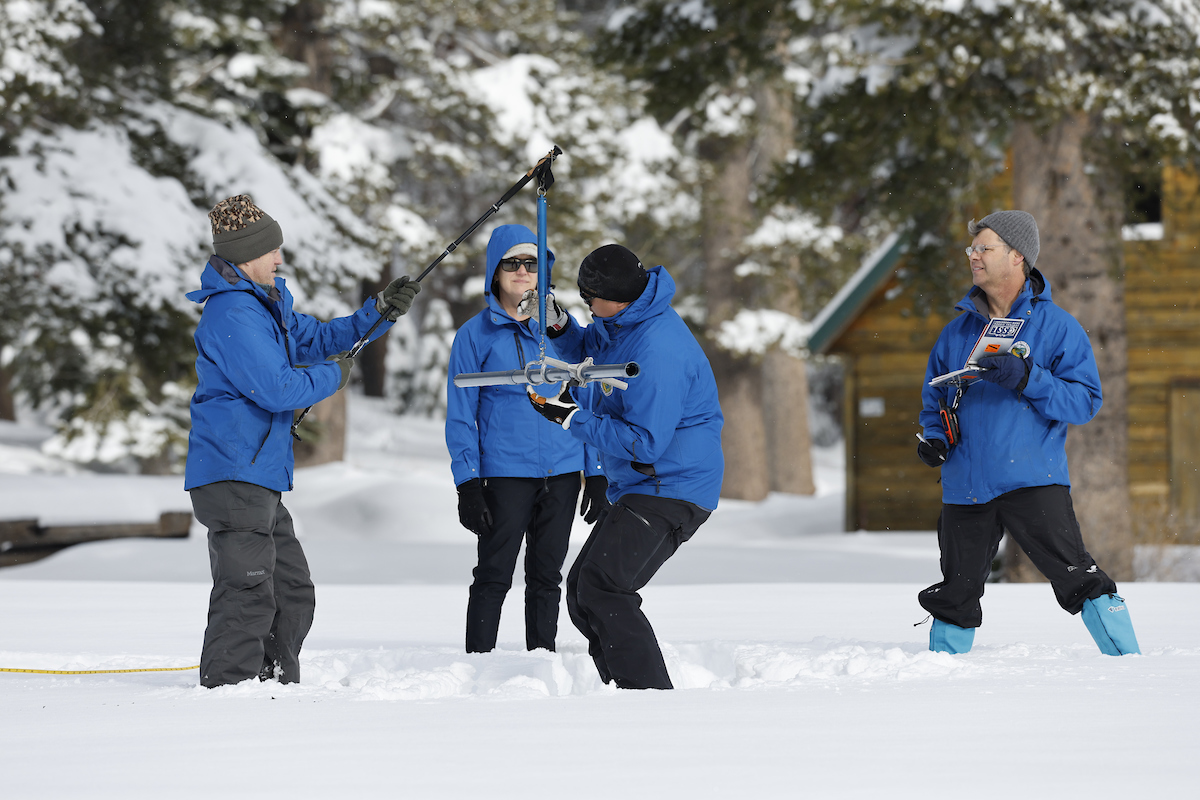 SACRAMENTO, Calif. – The Department of Water Resources (DWR) today conducted the first snow survey of the season at Phillips Station. The manual survey recorded 55.5 inches of snow depth and a snow water equivalent of 17.5 inches, which is 177 percent of average for this location. The snow water equivalent measures the amount of water contained in the snowpack and is a key component of DWR's water supply forecast. Statewide the snowpack is 174 percent of average for this date.
California is expected to see continued rain and snow over the next seven days, with the threat of flooding in parts of California. Conditions so far this season have proven to be strikingly similar to last year when California saw some early rainstorms and strong December snow totals only to have the driest January through March on record.
"The significant Sierra snowpack is good news but unfortunately these same storms are bringing flooding to parts of California," said DWR Director Karla Nemeth. "This is a prime example of the threat of extreme flooding during a prolonged drought as California experiences more swings between wet and dry periods brought on by our changing climate."
One year ago, the Phillips survey showed the seventh highest January measurements on record for that location. However, those results were followed by three months of extremely dry conditions and by April 1 of last year, the Phillips survey measurements were the third lowest on record.
More telling than a survey at a single location are DWR's electronic readings from 130 stations placed throughout the state. Measurements indicate that statewide, the snowpack's snow water equivalent is 17.1 inches, or 174 percent of average for this date. This January's results are similar to results in 2013 and 2022 when the January 1 snowpack was at or above average conditions, only for dry weather to set in and lead to drought conditions by the end of the water year (September 30). In 2013, the first snow survey of the season also provided promising results after a wet December similar to today's results. However, the following January and February were exceptionally dry, and the water year ended as the driest on record, contributing to a record-breaking drought. In 2022, record-breaking December snowfall was again followed by the driest January through March period on record.
"Big snow totals are always welcome, but we still have a long way to go before the critical April 1 total," said DWR's Snow Surveys and Water Supply Forecasting Unit Manager Sean de Guzman. "It's always great to be above average this early in the season, but we must be resilient and remember what happened last year. If January through March of 2023 turn out to be similar to last year, we would still end the water year in severe drought with only half of an average year's snowpack."
On average, the Sierra snowpack supplies about 30 percent of California's water needs and is an important factor in determining how DWR manages the state's water resources. Its natural ability to store water is why the Sierra snowpack is often referred to as California's "frozen reservoir." A below-average snowpack impacts water users across the state, putting further stress on the environment and critical groundwater supplies.
Due to these increasing swings from dramatically wet to dry conditions, Governor Newsom's recently released "California's Water Supply Strategy, Adapting to a Hotter, Drier Future" calls for investing in new projects and technologies that will modernize how the state manages water. In alignment with the Administration's strategy, the recently adopted 2022 Update to the Central Valley Flood Protection Plan identifies actions needed to adapt much of California's flood infrastructure to a rapidly changing climate. Current climate research indicates the state will see bigger swings from extreme heat and dry conditions to larger and more powerful storms that deliver temporary large boosts to the state snowpack as well as flood risk.
DWR encourages Californians to visit SaveOurWater.com for water saving tips and information, and to continue to conserve California's most precious resource, rain or shine.
DWR conducts five media-oriented snow surveys at Phillips Station each winter near the first of each month, January through April and, if necessary, May. The next survey is tentatively scheduled for February 1.
Additional Resources
###
Contact:
Jason Ince, Information Officer, Public Affairs, Department of Water Resources
(916) 820-8138 | media@water.ca.gov