Lake Oroville Community Update - January 13, 2023
Published: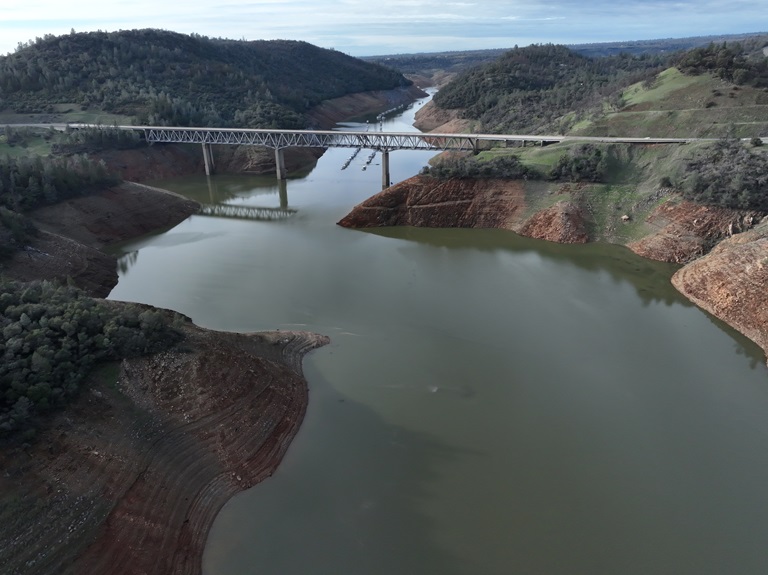 Lakeside Access Road Now Closed
Rising reservoir levels at Lake Oroville have required the closure of the newly constructed Lakeside Access Road, which will not reopen until water levels drop back down later this year. With the road closure in effect, vehicle access to the Spillway Boat Ramp and Day Use Area will now be via Oroville Dam Crest Road.
Vehicle access to the Spillway Boat Ramp and Day Use Area is available between 6 a.m. and 8 p.m. There are three other boat ramps at Lake Oroville that are open 24 hours a day: Bidwell Canyon, Loafer Point, and Lime Saddle.
Since Dec. 1, 2022, Lake Oroville has seen over a 100-foot rise in elevation with storage levels at 1.79 million acre-feet thanks to a series of atmospheric rivers that delivered significant rain and snow to the Feather River watershed. However, due to historic drought throughout California, most major reservoirs, including Lake Oroville, remain low.
At just 51 percent of its total capacity, Lake Oroville still has ample storage to capture storm runoff while providing flood control protection for the Feather River and downstream communities. Water inflows to the reservoir during recent storms have been as high as 50,000 cubic feet per second (cfs) while outflows in the Feather River through Oroville remain at a minimum of 650 cfs. Current outflows are being used to support local water needs and maintain flood control and are not part of water deliveries to Southern California.
As lake levels continue to rise with inflows, outflows from Oroville Dam may increase under flood control guidelines from the U.S. Army Corps of Engineers (USACE). The Department of Water Resources (DWR) is required to maintain storage for continued rainfall and snowmelt as the wet season progresses. This coordinated release of water helps prevent catastrophic flooding in downstream communities.
In addition, DWR Oroville Field Division Civil Maintenance crews are patrolling Lake Oroville daily to collect woody debris as part of normal operations during this time of year. Boaters are advised to be alert for floating debris, which is expected during high reservoir inflows.
Lime Saddle Boat Ramp Open
The Lime Saddle paved ramp reopened for boat launching last week. Located along the west branch of the north fork arm of Lake Oroville and accessible from Pentz Road, Lime Saddle offers picnic tables, sun shelters, flush toilets (all ADA accessible), a drinking fountain, a telephone, a fish cleaning station, and trash receptacles. The marina, which is open from 8 a.m. to sundown, also offers gas for boats, a general store with bait and tackle, and a pump-out station.
The Bidwell Canyon Marina is also open from 8 a.m. until sundown and provides a variety of services such as a shuttle and boat rentals.
Snow Survey
DWR conducted its first Phillips Station snow survey on Jan. 3. The manual survey recorded 55.5 inches of snow depth and a snow water equivalent of 17.5 inches, which is 177 percent of average for this location. The snow water equivalent measures the amount of water contained in the snowpack and is a key component of DWR's water supply forecast. Statewide the snowpack is 174 percent of average for this date.
On average, the Sierra snowpack supplies about 30 percent of California's water needs and is an important factor in determining how DWR manages the state's water resources. Its natural ability to store water is why the Sierra snowpack is often referred to as California's "frozen reservoir." A below-average snowpack impacts water users across the state, putting further stress on the environment and critical groundwater supplies.
More information about the first snow survey can be found in DWR's press release.
Oroville Recreation
With approximately 11,800-acres of forested upland and riparian habitat along the Feather River and around the Thermalito Afterbay, the Oroville Wildlife Area is open for hunting, with most hunters pursuing waterfowl at the Afterbay. Interior ponds have also filled with enough water to permit duck hunting. Oroville Wildlife Area is a "Type C" wildlife area (hunting pass not required) and is open for hunting seven days a week with entry hours limited from 1.5 hours before sunrise to one hour after sunset. California Department of Fish and Wildlife hunting regulations are available online.
The Lake Oroville Visitor Center is open to the public Tuesday through Thursday from 9 a.m. to 5 p.m. Pick up the Lake Oroville Trails Map – which shows more than 92 miles of trails available to equestrians, bicyclists, and hikers – at Lake Oroville State Recreation Area kiosks, the Oroville Area Chamber of Commerce, or the Feather River Recreation and Parks District.
An interactive map of recreation facilities and their permitted uses (hike, bike, horse, multi) is available on DWR's interactive Lake Oroville Recreation webpage.
Current Lake Operations
Oroville's reservoir is about 762 feet elevation and storage is approximately 1.79 million acre-feet (MAF), which is 51 percent of its total capacity and 93 percent of the historical average. Rain will continue over the weekend and into early next week, with a break in wet weather expected midweek.
The Feather River releases are currently at 950 cubic feet per second (cfs). Flows through the City of Oroville are 650 cfs with 300 cfs released from the Thermalito Afterbay Outlet (Outlet) for a total of 950 cfs downstream of the Outlet. DWR continues to assess releases to the Feather River daily.
The public can track precipitation, snow, reservoir levels, and more at the California Data Exchange Center. The Lake Oroville gage station is identified as "ORO".
All data as of midnight 1/12/2023.