DWR Hosts Tribal Water Summit to Discuss Water Issues with California Native American Tribes
Published: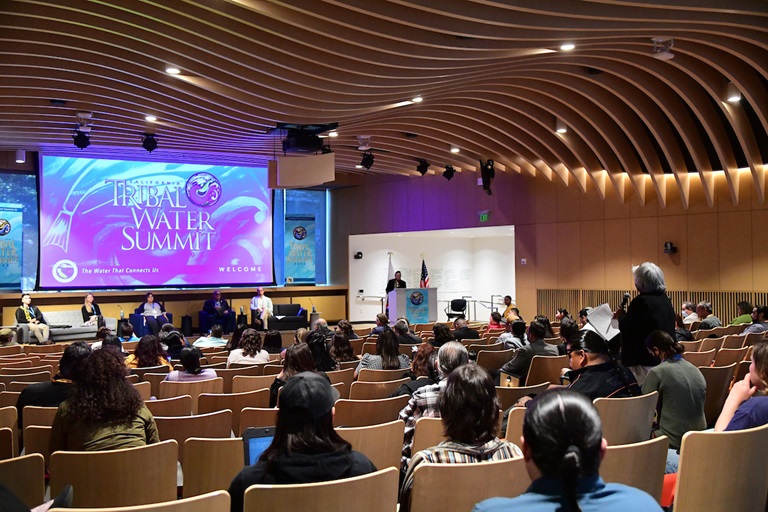 The Department of Water Resources (DWR), Tribal representatives from across the state and southwest, along with federal, state, and local agencies will gather in Sacramento on April 11 – 13 to discuss California water issues and strategies towards watershed resilience at the fourth Tribal Water Summit.
The 2023 Tribal Water Summit is a unique collaboration opportunity created and organized on behalf of California's Native American Tribes and DWR to identify and understand Tribal issues related to water. Consistent with the theme, The Water that Connects Us, the Summit will provide opportunities for knowledge sharing, and problem-solving to discuss how Tribal recommendations can align with current state policies such as the Governor's Water Resilience Portfolio and broader water supply strategy. The event will also help include Tribal perspectives, resource management strategies, and policy recommendations in the California Water Plan Update 2023.
"The Tribal Water Summit is a unique opportunity to bring together Tribal leaders, water managers, and community members to discuss the critical issues surrounding water management on Tribal lands," said DWR Director Karla Nemeth.
Over the three days, the Summit will focus on driving discussions through workshops related to critical issues affecting Tribes such as:
data sovereignty, Tribal intellectual property, and mapping

decommissioning and removal of dams

groundwater management

Tribal water rights

utility relicensing and permitting

water quality and water quantity

adaptation of best available science; incorporation of Tribal knowledge and Tribal science into watershed management

energy resources development

Tribal involvement in water management strategies

fire and water: cultural burning and wildfire water quality/meadow restoration

leveraging federal funding for state and Tribal action

Tribal cultural resources

climate change
The Summit is expected to welcome over 400 participants and all additional spots have been offered to Tribal representatives. Although registration for the Summit is closed, interested parties can still register for the Tribal Water Summit Film Festival to learn about Tribal water rights, traditional ecological knowledge, habitat and species restoration, cultural ceremony, basketry, medicine gathering, forest protection, Land Back, and how Tribes are handling climate resilience. The film festival is a free event open to all ages and will be held at the Secretary of State Auditorium in Sacramento on April 12.
For more information about the Tribal Water Summit visit DWR's Tribal Water Summit webpage.