Contracting & Purchasing Services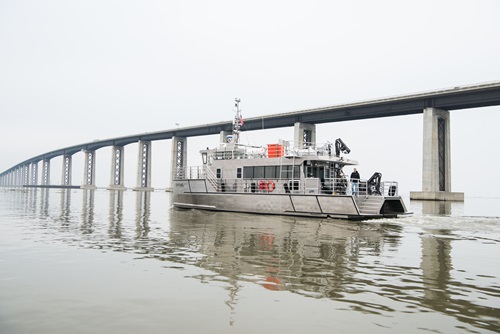 We conduct a vast array of procurement activities to support our employees who work with the State Water Project, dams, buildings, structures, construction projects, information technology, water management, maintenance operations, telecommunications, real estate, legal services, environmental management, and emergency services.
We also procure equipment, materials, and supplies needed to support our diverse operations and provide service contract development, advice, and assistance to all of our divisions.

Contract Services (CS) shepherds the acquisition of non-IT services through the solicitation of bids and the contract award approval process for our internal client programs. Our contract specialists serve as subject matter experts on non-IT service contracting laws, regulations, policies, procedures, and best practices. Our work on the Fish Restoration Program - Request for Proposal Task Force has been recognized on the national policy level.
Our contract specialists ensure we're able to meet goals and fulfill mission objectives through:
Effective partnerships with internal client programs, external vendors, and other State agencies

Ethical procurement practices

Training opportunities

Updated contracting policies and procedures

Encouragement of maximum vendor participation to foster competition

Promotion of the use of Small Business and Disabled Veteran Business Enterprise (SB & DVBE)

vendors

Consistent application of State and departmental policies to ensure appropriate stewardship of public funds



Private Entity Contracting Examples
Exploratory well drilling

Uniform rental and cleaning

Painting and coating

Air or water quality monitoring

Training services

Janitorial services

Landscaping

Fleet maintenance & repair

Application of aquatic herbicides

Trash removal

Hazardous waste disposal

Pest control

American Sign Language interpreting

Heavy equipment rental

Crane rental

Equipment maintenance
Purchasing Services and the five Operations and Maintenance Field Divisions procure non-IT goods needed to support our diverse operations. Staff handle commodity purchasing and warehousing operations, acquire goods, and provide purchasing-related support services. We're accountable for compliance with the Commodities Delegation Authority granted by Department of General Services' Procurement Division for purchase of equipment, materials, supplies, and for preparing procurement reports for various control agencies. We also administer our procurement card (VISA) program, known as CAL-Card, and the Meeting Planner Account program for off-site rental of facilities for meetings, workshops, conferences, and conventions.
Commodity Purchase Examples
Fuel

Electrical and mechanical supplies

Construction materials and tools

Safety supplies

Chemicals and gases

Fleet equipment, including vehicles, boats, and heavy construction

Furniture and office supplies

Emergency response supplies

Scientific and laboratory equipment and supplies
Vendors Interested in Providing Goods
Vendors interested in selling products and viewing bid solicitations should register with the Financial Information System of California (FI$CAL), a partnership between multiple State departments developed to modernize and consolidate the State's numerous financial data systems.
IT Contracting & Purchasing Services (ITCPS) uses various procurement authorities to conduct our transactions for IT consulting services, hardware, software, peripherals, and telecommunications. Some are governed by the Department of General Services (DGS) while other authorities are statutorily granted directly to us. Our analysts serve as process experts on IT procurement laws, regulations, executive orders, policies, procedures, and best practices.
Technology goods and services needed to achieve our mission include:
IT Consulting & Personal Services
Software and licensing

Software maintenance and support

IT hardware (servers, laptop and desktop computers, and tablets)

Telecommunication systems – installation and maintenance

Copiers and printers
Cellular phones

IT accessories and supplies
Contact Us
Find general contact information in the directory, or select the button below for procurement office details.
Tags