Floodplain Management, Protection, and Risk Awareness Grant Program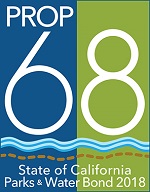 The Floodplain Management, Protection and Risk Awareness (FMPRA) Grant Program supports local agency efforts to prepare for flooding by providing financial assistance for flood risk reduction activities related to stormwater flooding, mudslides, and flash floods. The Program supports both the Public Safety Initiative announced by Governor Brown's Administration in February 2017 and the Headwaters to Floodplains (H2F) Flood Safety Partnership Program.
The program was established in 2019 by the State Legislature and Governor Gavin Newsom through Assembly Bill 74, which also authorized the use of funds from Proposition 68: The California Drought, Water, Parks, Climate, Coastal Protection, and Outdoor Access For All Fund Act of 2018 of Senate Bill No. 5. $25 million is currently available for the program.
Grant Solicitation
On September 27, 2021, DWR announced the opening of the solicitation period for the FMPRA Grant Program with the release of the Final Guidelines and Grant Proposal Solicitation Package (PSP). This solicitation made $50.4 million available with approximately $5 million reserved for planning and monitoring projects that will lead to the successful selection, design, and implementation of a project type authorized under these Guidelines.
Solicitation of proposals for these funds will begin with the request for Concept Proposals to avoid the expense of preparing full proposals for all projects. A concept proposal must be submitted for a full proposal to be considered for funding.
Concept proposals will be due to the Department 30 days after the opening of the solicitation period. Feedback on concept proposals will be provided within 45 days of the submittal deadline.
Concept Proposal Submittal Deadline: 5:00 pm, October 27, 2021.
Applicants will have 60 days to prepare their full proposal after receiving feedback on the concept proposal.
Full Proposal Submittal Deadline: 5:00 pm, February 9, 2022.
Timeline for Solicitation Process

If you have any questions, please contact us at FMPRA@water.ca.gov.
Contact Us
Email us at FMPRA@water.ca.gov if you have any questions or need additional information.
California State Grant Portal
The California Grants Portal has information about all grants and loans offered on a competitive or first-come basis by California state agencies.
Grants Portal