Water Safety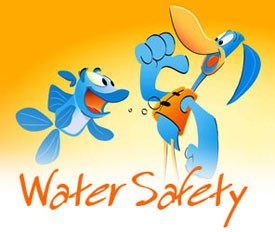 Safety is DWR's top priority for everyone recreating along the State Water Project (SWP). Our Water Safety Program is designed to help you and your family stay safe while enjoying the water.
We provide a variety of water safety materials

including workbooks, posters, and videos. You can order them for free.

We offer water safety programs for communities located within a 50-mile radius of each of our three Visitors Centers

. Schedule a program by contacting the one nearest to you.
We partner with communities to create and run Aquatic Adventure Camps. These camps teach water safety to children and youth – especially ethnic minorities and those who would most benefit from positive youth development – who live near SWP reservoirs or its 444-mile aqueduct.
Albert & Einstein's Water Safety Tips
Our two water safety mascots, Albert and Einstein, were created to educate kids of all ages about how to stay water safe at SWP facilities. Their adventures are depicted in videos and materials such as an activity book, posters, brochures, and bookmarks designed to convey important safety tips. All Albert and Einstein materials are K-12 appropriate and can be ordered for free.
Albert & Einstein's 10 Most Important Water Safety Tips
Learn to swim.

Swim with a buddy.

Wear your life jacket.

Obey all hazard signs.

Swim in safe or designated areas only and by a lifeguard.

Beware of drop-offs into deep water.

Watch for hidden debris, rapid currents, and slippery rocks.

Look before you leap or dive.

Know your limits

Don't mix drinking with recreation.
Resources