Visitors Centers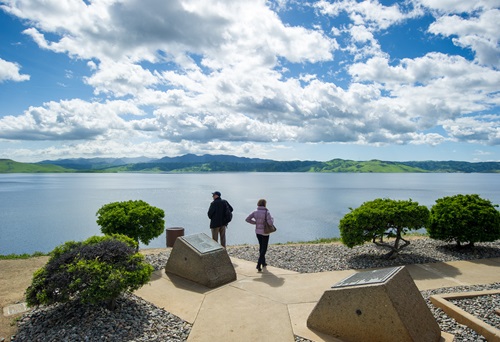 Update: Vista del Lago Visitors Center will be open starting on Monday, August 2, 2021. The center's operating hours are Monday through Friday from 9 a.m. to 5 p.m., except major holidays.
COVID cleaning practices are taking place.
Lake Oroville and Romero Overlook Visitors Centers remain closed.
We invite the public to tour sites along the State Water Project and learn more about California's water at Lake Oroville (Butte County in Northern California), San Luis Reservoir (Merced County in Central California), and Pyramid Lake (Los Angeles County in Southern California). Each center is staffed by knowledgeable guides and offers exhibits and videos that highlight California's world-renowned water delivery system and the importance of water in our lives. Free guided tours for school and community groups are available by reservation, and a free teacher's guide and student passports are available upon request for field trips.

Hours & Parking
The centers are open daily from 9 a.m. to 5 p.m., except major holidays.
Parking and admission are free.
Address
917 Kelly Ridge Road
Oroville, CA 95966
38500 Vista Del Lago Road
Gorman, CA 93243
East Bay Regional Parks & California State Parks Visitors Centers
You can visit 3 additional visitor centers, operated by East Bay Regional Parks or California State Parks, at other locations along the State Water Project:

How to Contact Us
Lake Oroville Visitor Center
(530) 538-2219
Romero Overlook Visitor Center
(209)827-5353
Vista del Lago Visitor Center
(661) 944-8740