Model Water Efficient Landscape Ordinance
Model Water Efficient Landscape Ordinance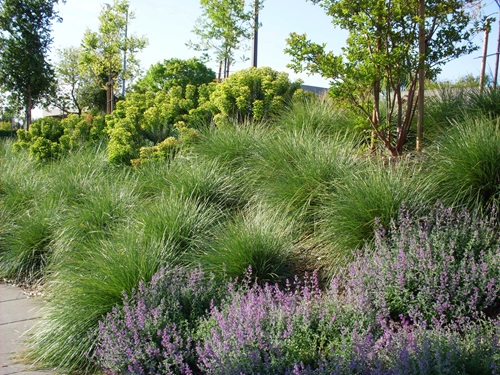 About half of the urban water is used for landscape irrigation in California. Large water savings can be gained by efficient landscape design, installation, and maintenance. New development and retrofitted landscape water efficiency standards are governed by the Model Water Efficient Landscape Ordinance (MWELO). All agencies must adopt, implement, and enforce the MWELO or a more stringent ordinance.
In 2015, Executive Order B-29-15 (EO) tasked DWR with revising the 2010 updated MWELO to increase water efficiency standards for new and retrofitted landscapes through encouraging the use of more efficient irrigation systems, graywater usage, and onsite storm water capture, and by limiting the portion of landscapes that can be covered in turf. Updating the ordinance to incorporate these elements will help stretch our limited water supplies. The EO also required that agencies report on their implementation and enforcement of local ordinances by December 31, 2015. DWR's Water Use and Efficiency branch worked with several affected agencies, interested groups, and the public to prepare the current (2015) updated MWELO to improve landscape irrigation water savings in accordance with the EO.
New for 2020:


Beginning with 2020 MWELO reports, DWR is using the WUEdata portal for submission of Local Agency annual MWELO Implementation reports. Setting Up Your WUEdata MWELO Reporting Account
2015 - 2019 MWELO Report Assistance and Forms:

To submit 2015-2019 MWELO Reports to DWR, please download and fill the appropriate year's Report Template below. Send it completed in Excel format to WELO@water.ca.gov.

To view and download previous submissions, please see MWELO Implementation Reports below.

Report Templates for Previous Reporting Years:
---
MWELO References