State Water Project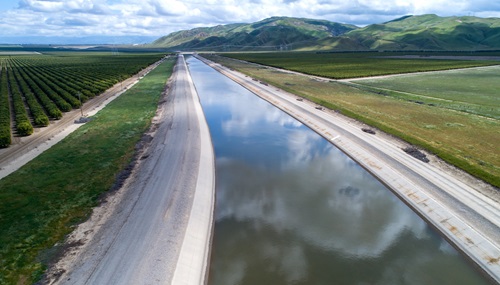 The California State Water Project (SWP) is a multi-purpose water storage and delivery system that extends more than 705 miles -- two-thirds the length of California. A collection of canals, pipelines, reservoirs, and hydroelectric power facilities delivers clean water to 27 million Californians, 750,000 acres of farmland, and businesses throughout our state.
Planned, built, operated and maintained by DWR, the SWP is the nation's largest state-owned water and power generator and user-financed water system. The project is considered an engineering marvel that has helped fuel California's population boom and economic prosperity since its initial construction.
For the last 20 years, the California State Water Project's average water is 34 percent for agricultural and 66 percent for residential, municipal, and industrial.
The State Water Project also plays an important role in efforts to combat climate change. Not only does it help California manage its water supply during extremes such as flooding and drought, it is also a major source of hydroelectric power deliveries for the State's power grid.
Benefits of the SWP:
The primary purpose of the SWP is water supply delivery and flood control, but it provides many additional benefits, including:
Power generation

Recreation activities

Environmental stewardship
DWR manages the California State Water Project (SWP) to ensure adequate water supplies are available under various hydrologic and legal conditions while maintaining operational flexibility.
DWR also develops, plans and implements the operation of the SWP in coordination with environmental and regulatory agencies to meet fish, water, and environmental requirements for the Feather River and Sacramento-San Joaquin Delta.
Additionally, the SWP coordinates closely with other water storage and water users that utilize the Sacramento-San Joaquin Delta watershed. The other agency that operates in a similar fashion to move water throughout California is the federal Bureau of Reclamation's Central Valley Project (CVP).
Learn more about DWR's operations and maintenance.
The SWP is operated in a manner that protects endangered and threatened species under the State and federal endangered species acts.
DWR does this in part through compliance with a permit granted by the California Department of Fish and Wildlife (DFW), called the Incidental Take Permit.
DWR also conducts water quality monitoring for the SWP. This program is currently managed by the Division of Operations and Maintenance, Environmental Assessment Branch. Initially, this program sought to monitor eutrophication (an increase in chemical nutrients) and salinity in the SWP. Over time, the water quality program expanded to include parameters of concern for drinking water, recreation, and wildlife.
While the majority of the SWP was being constructed in the 1960s, public agencies and local water districts signed long-term water supply contracts with DWR. Today, the 29 public agencies and local water districts are collectively known as the SWP long-term water contractors or simply, SWP water contractors.
The water supply contracts (which expire in 2035) sets forth the maximum amount of SWP water a contractor may request annually (see Table A amounts, below). However, the amount of SWP water available for delivery will vary yearly, based on a number of factors, including:
Hydrologic conditions

Current reservoir storage

Delivery requests from the SWP water contractor
Learn more about State Water Project management.
Note: The first map below shows State Water Project contractors, reservoirs, conveyance systems, and power generation and pumping plants. Use your mouse to hover or click on designated locations or icons for additional details. You can also use the legends on the right side or bottom of the maps for navigating to specific locations. Zoom in to see labels and navigation points more clearly.
The map below shows reservoir storage and aqueduct flow data for the California State Water Project. All data used for this map comes from the California Data Exchange Center and should be considered preliminary data and subject to change. Please email media@water.ca.gov if you have any questions regarding this data.
Resources