Delta Ecosystem Enhancement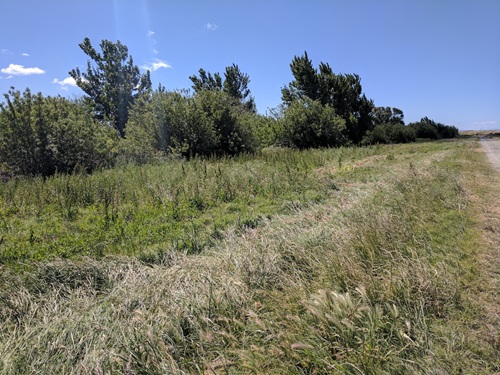 What does the Delta Ecosystem Enhancement Office do?
The Delta Ecosystem Enhancement (DEE) section is an interdisciplinary team of scientists who develop, enhance, and maintain ecologically effective habitats that benefit the overall ecological health of the region and its native species.
The Delta Ecosystem Enhancement section, part of the Delta Levee System Integrity and Delta Habitat Restoration Branch within the Division of Multibenefits Initiatives (DMI), operates as the environmental arm of the Delta Levees Program (DLP). Working cooperatively with the California Department of Fish and Wildlife's Delta Levee Habitat Improvement Program, DEE provides environmental oversight for Program-funded levee improvement projects through Delta Reclamation Districts. DEE staff reviews, coordinates, monitors and manages habitat mitigation and enhancement projects to provide ecosystem benefits for native aquatic and terrestrial species.
DEE's environmental responsibilities arise from the Delta Levees Program requirement of no net long-term loss of habitat (Water Code sections 12314(c) and 12987(c)) as well as the net long-term habitat improvement requirement (California Water Code sections 12314(d) and 12987(d).
Foundations in State Law
The Delta Levees Subventions Program was authorized in 1973 and reimburses local levee maintaining agencies in the legal Delta for a portion of their levee maintenance costs. Following the historic floods of 1986, the Subventions Program was expanded, and a second program, known as Special Flood Control Projects ("Special Projects Program"), was added in 1988 to provide state support for major levee repair and reconstruction work in the eight western Delta Islands considered critical to maintaining water supply.
Legislative Actions
• CA Water Code §12314(c-d) from SB 34 (enacted March 11, 1988)
• CA Water Code §12987(c-d) from AB 360 (enacted September 19, 1996)
• Excerpt from SBX7 1 Legislation, Ch 2 Delta Policy (c): Provided supplemental guidance for SB 34 program activities, provided $3 million to DFG for environmental construction projects, and required the preparation of an MOU between DWR, DFG, The Resources Agency, and The Reclamation Board to coordinate the agencies' involvement in carrying out the Program's projects.
• CA Water Code §83002(b)(5) from 2009 (SBX7 1)