California Aqueduct-San Luis Canal Embankment and Liner Raise Projects
California Aqueduct-San Luis Canal Embankment and Liner Raise Projects
Project Background and Purpose
Subsidence has caused reduced flow capacity in the California Aqueduct (Aqueduct) throughout the Central Valley, that limits the ability to deliver water to Southern California. DWR and Reclamation have undertaken several projects to raise the embankments, concrete liner and structures in Pools 17, 18, 20, and 21 to regain lost flow capacity to design levels.

The California Aqueduct-San Luis Canal Embankment and Liner Raise Project is in the design stage, and DWR and Reclamation are assessing environmental impacts of various project components including:
Raising 38 miles of the embankment up to six feet on both sides of the Aqueduct
Raising the concrete liner within the Aqueduct prism up to three feet on both sides of the Aqueduct
Raising Check 17 up to 15 feet
Raising the following eight bridges

Derrick Avenue/State Route 33
West Clarkson Avenue
South San Mateo
West Cerini Avenue
West Excelsior Avenue
West Jeffrey Avenue
Fresno-Coalinga Road/State Route 145
Plymouth Avenue

Rebuilding turnouts and turn-ins
Installing new irrigation under-crossings
An EA/IS for the Embankment and Liner Raise Project is in its beginning stages. A public scoping meeting will be held in Fall 2021, and the draft document is expected to be released for public comment in Fall 2022. Construction of the project is tentatively scheduled to begin in 2024 and is expected to last 36 months.
Geotechnical Investigation
In order to support the design of the Embankment and Liner Raise Project, DWR is proposing an extensive geotechnical soils investigation of the four pools to gather information about the soil characteristics, such as soil strength or grain size, as well as the presence of groundwater, to evaluate the soil suitability needed to build up the embankments and bridges surrounding the Aqueduct ("Proposed Project"). The Proposed Project is described in detail in the draft Initial Study/Environmental Assessment (IS/EA) currently available for public comment and posted in the Documents section of this page.
The purpose of the Proposed Project is to collect geologic information needed to inform engineering, design plans, and environmental review to elevate the embankments and concrete liner at Pools 17, 18, 20 and 21.
Soil sampling will occur at up to 520 locations, of which 130 are located within DWR and Reclamation easements. Sampling work will take place over eight months between Fall 2021 and Summer 2022.
After the sampling is complete, soil samples will be sent to the laboratory to test for soil moisture content, density, asbestos, heavy metals, pesticides, and acidity/basicity (pH).
The Proposed Project is located at Pools 17, 18, 20, and 21 of the Aqueduct, specifically in Fresno County between Aqueduct milepost (MP) 122.07 and MP 143.6 (Pools 17 & 18), and Fresno and Kings Counties between MP 155.50 and MP 172.1 (Pools 20 & 21). The northernmost geotechnical investigation site, MP 122.07, Pool 17, is approximately eight miles northwest of the town of Cantua Creek. The southernmost geotechnical investigation site, MP 172.1, Pool 21, is approximately 1.25 miles northwest of the town of Kettleman City.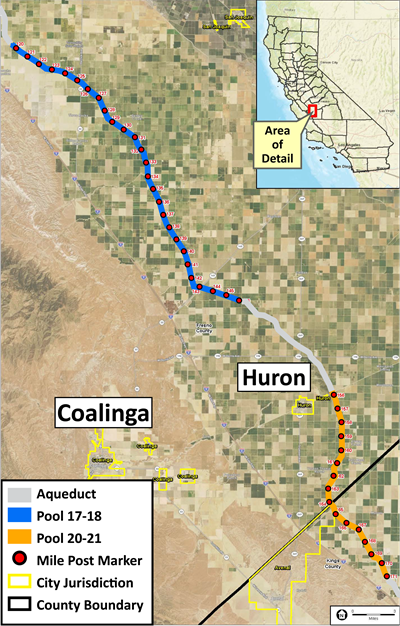 Contact Information
Department of Water Resources
Attn: CASP Environmental Compliance
Division of Engineering #6
715 P Street
Sacramento, CA 95814
Phone: (916) 902-7417
E-mail:
casp_rehab@water.ca.gov