Lake Perris and Perris Dam Projects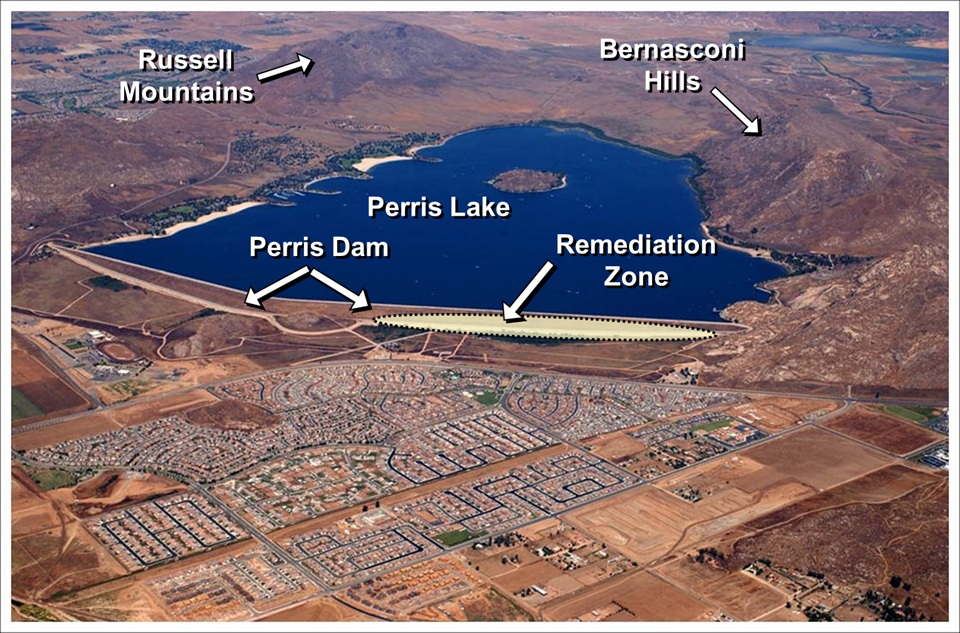 Perris Dam Remediation Project
In April 2018, DWR completed a major retrofit to Perris Dam in Riverside County as part of a statewide effort to reduce seismic risks to dams.
Upgrades to the 130-foot tall, earthen dam included strengthening roughly 800,000 cubic yards of foundation material by mixing cement with soil and reinforcing it with a 1.4 million-cubic-yard earthen stability berm placed on the downstream side of the dam. The dam upgrades were designed to withstand a magnitude 7.5 earthquake.
Perris Dam, constructed from 1970 to 1974, was identified as a high priority state-owned dam due to its proximity to nearby faults and large downstream communities.
Earthquakes pose some of the highest risks to dams in California. Since the late 1990s, DWR's Division of Safety of Dams has conducted in-depth investigations and re-evaluations of dams located near seismic faults. Over the past 20 years, dam owners throughout California have spent approximately $1.5 billion on seismic improvements to dams.
The dam remediation is one of three major projects to improve seismic stability and enhance public safety in the Perris Dam Remediation Program. Other projects include:
Outlet Tower Improvements, with completion planned for 2021

Emergency Release Facility (ERF) Project, with completion planned for 2023.
The ERF project provides improvements downstream of the reservoir that would direct the flow of water in an emergency requiring the dewatering of the reservoir. Flows would be directed through a series of berms and lined and unlined channels that would ultimately terminate at the Riverside County Flood Control and Water Conservation District's Perris Valley Channel. The Outlet Tower and ERF projects enhance the safety of the dam for other risks in addition to that posed by earthquakes.
Lake Perris Seepage Recovery Project
DWR is soliciting public comments on an initial study for the Environmental Impact Report for the proposed Lake Perris Seepage Recovery Project. The project, that is partially located in western Riverside County and within the City of Perris, includes the implementation of six water recovery wells and one conveyance pipeline alignment that would connect to the Colorado River Aqueduct. Comments are due by February 13, 2019 at 5:00 p.m.
How to Contact Us
For more information on the Lake Perris Seepage Recovery Project, contact:
Jerry Snow
Chief, Environmental Assessment Branch
Division of Operations and Maintenance
(916) 653-7213