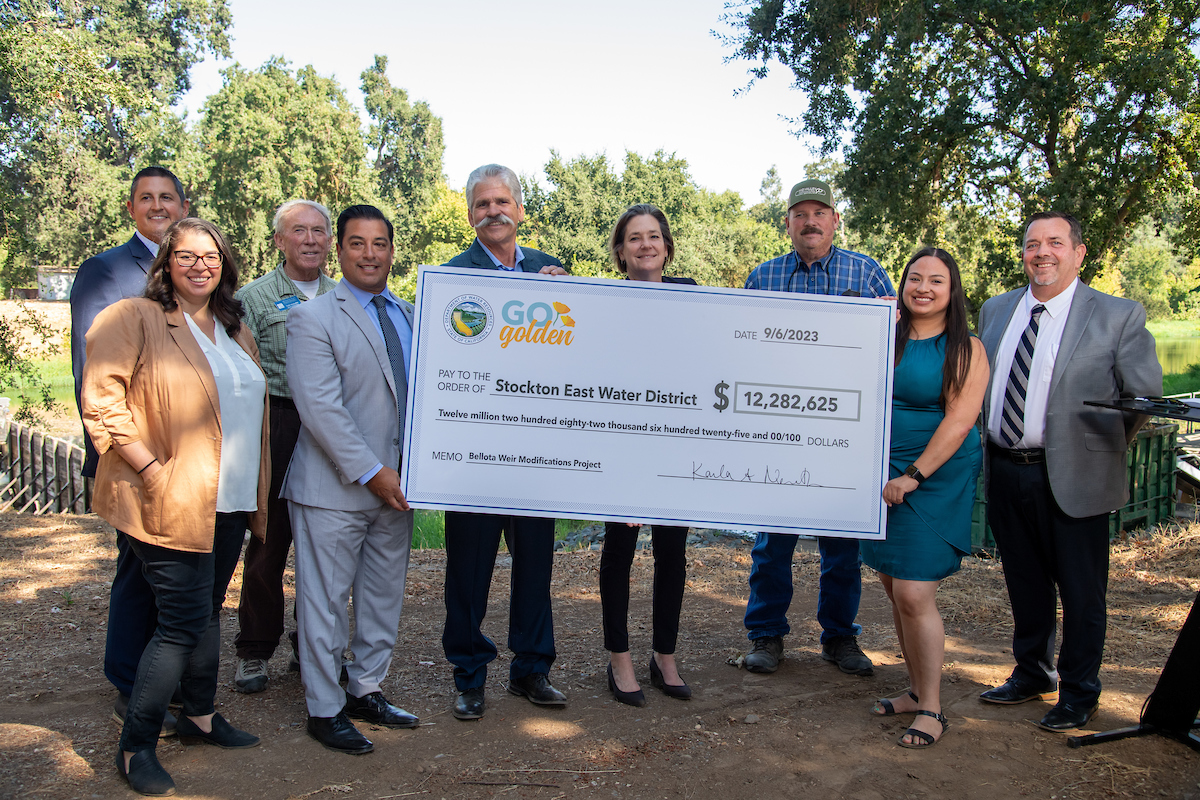 On Wednesday, Stockton East Water District and the California Department of Water Resources (DWR) joined local and federal officials to highlight a $12.2 million project that will support groundwater recharge, water quality and habitat restoration project along the Calaveras River. The announcement is part of DWR's new "Go Golden Initiative," which educates Californians about the innovative projects local water agencies are leading – with DWR grant funding – to build California's long-term water resilience.
"The Stockton East Water District is excited to continue improving our water supply by investing in key water infrastructure, and as proud Golden Partners to the Department of Water Resources. We're grateful to DWR for awarding the region over $12.2 million to support the Weir Modification project," said Stockton East Water District General Manager Justin Hopkins. "This grant money will improve Stockton's water supply as well as protect our fish, and we're glad to have the opportunity to highlight the exciting work we're doing with this grant as part of DWR's Go Golden initiative."
The event was held at the Bellota Weir Modification Project site on the Calaveras River. Funded by DWR's Urban Community Drought Relief Program, the project will make conveyance improvements and install a modern fish screen at the Stockton East Water District's Bellota municipal diversion intake on the Calaveras River. The conveyance improvements would double the amount of groundwater recharge per year and improve water reliability and quality for the city of Stockton's drinking water. Additionally, the fish screen and new fishways will restore fish habitats along the Calaveras River and allow safe passage through the river for the threatened Central Valley Steelhead and Chinook Salmon.
"It is important that state and local agencies work together to strengthen our water infrastructure for decades to come and projects like Stockton's Weir Modification project will do just that." said DWR Director Karla Nemeth. "We are celebrating a milestone – securing funding for projects so Central California will continue to thrive and prosper into the future.
"Securing California's water supply is a statewide challenge, but statewide problems need community solutions," said State Senator Susan Eggman. "That's why I'm proud to celebrate my district's contribution to the work of protecting us from California's hotter, drier future, and I look forward to continuing to work with our water managers to find ways to strengthen our water supply."
"My constituents are a resilient community in a state that has an increasingly dire water future," said State Assemblymember Carlos Villapudua. "With DWR's help, we're excited to be able to secure a stronger water supply that will extend long into the future for our community while also protecting the natural beauty that defines the Calaveras River."
The Weir Modification Project is one example of projects included under DWR's new Go Golden Initiative, which recognizes the innovative water projects that are making California climate resilient. DWR is providing state funding with local partnerships to advance groundwater recharge, drought resiliency, conservation, stormwater capture, flood management, recycled water and other projects that are helping our water supply. Interested parties can stay up to date with the latest Go Golden announcements and news through DWR's email subscription list.
For more information about upcoming grant opportunities, visit DWR's Grants and Loans webpage.
Contact:
Allison Armstrong, Information Officer, Public Affairs, Department of Water Resources
916-820-7652
Media@water.ca.gov