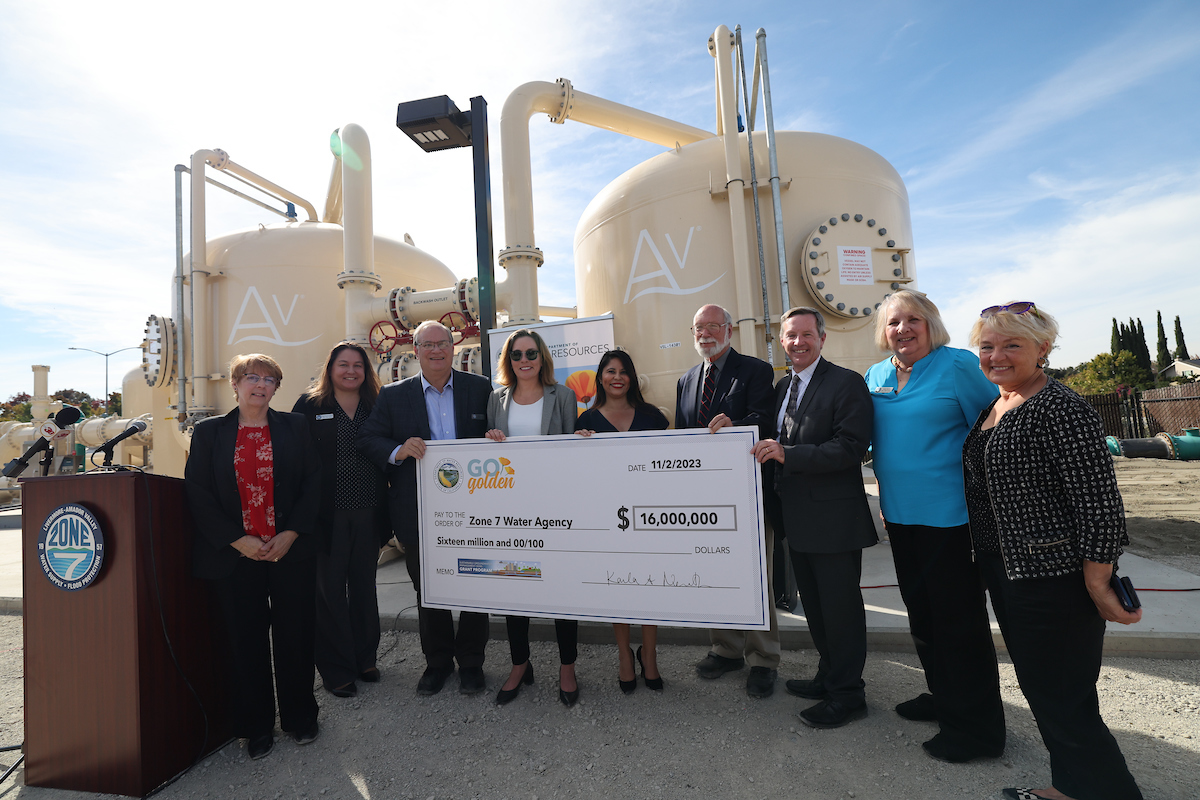 The Department of Water Resources (DWR) joined Zone 7 Water Agency along with local officials today to celebrate the completion of a new infrastructure project that will treat 6.6 million gallons of contaminated groundwater a day for communities in Pleasanton, Dublin and Livermore.
Supported by a $16 million grant through DWR's Sustainable Groundwater Management (SGM) Grant Program, the Stoneridge Well facility opened in September and is the first of its kind in Northern California to remove harmful chemicals from the groundwater supplying the communities. The facility uses ion exchange technology to remove Per- and Polyfluoroalkyl substances (PFAS), a synthetic manufacturing chemical often found in the soil, water and air. Thanks to the project, drinking water supplies in the area will increase by 16 percent.
"Groundwater is a critical source of water for many communities in California, and it is more important than ever that we make investments to ensure these supplies are reliable and safe for those who depend on it," said, DWR Sustainable Groundwater Management Deputy Director Paul Gosselin. "It's projects like these that are helping Californians get the water that they need."
"The Stoneridge project will help improve both water quality and water supply reliability for the residents and businesses in the Tri-Valley," said Zone 7 General Manager Valerie Pryor. "The DWR grant funds will offset the local cost of this critical infrastructure upgrade, returning our most productive groundwater well to service, and effectively removing these chemicals from our water. We are deeply grateful this partnership with DWR and the funds they have provided to support our sustainable groundwater use and help us to maintain healthy and safe drinking water for our community."
This is one of 103 projects that received funding earlier this year from the second solicitation offered through the Sustainable Groundwater Management Grant Program. In addition to providing critical grant funding to support implementation of the Sustainable Groundwater Management Act, the grant program offers assistance through the Underrepresented Community Technical Assistance program.
The Stoneridge Well Treatment facility is also one the many projects included under DWR's new Go Golden Initiative. The initiative highlights the partnership between the state of California and local organizations and water agencies to fund bold and innovative projects that strengthen California's water infrastructure and community resilience. Interested parties can stay up to date with the latest "Go Golden" announcements and news through DWR's email subscription list.
For Pixel link images from today's event, click here.
For more information about upcoming environmental grant opportunities, visit DWR's Grants and Loans webpage.
Contact:
Allison Armstrong, Information Officer, Public Affairs, Department of Water Resources
916-820-7652 | media@water.ca.gov