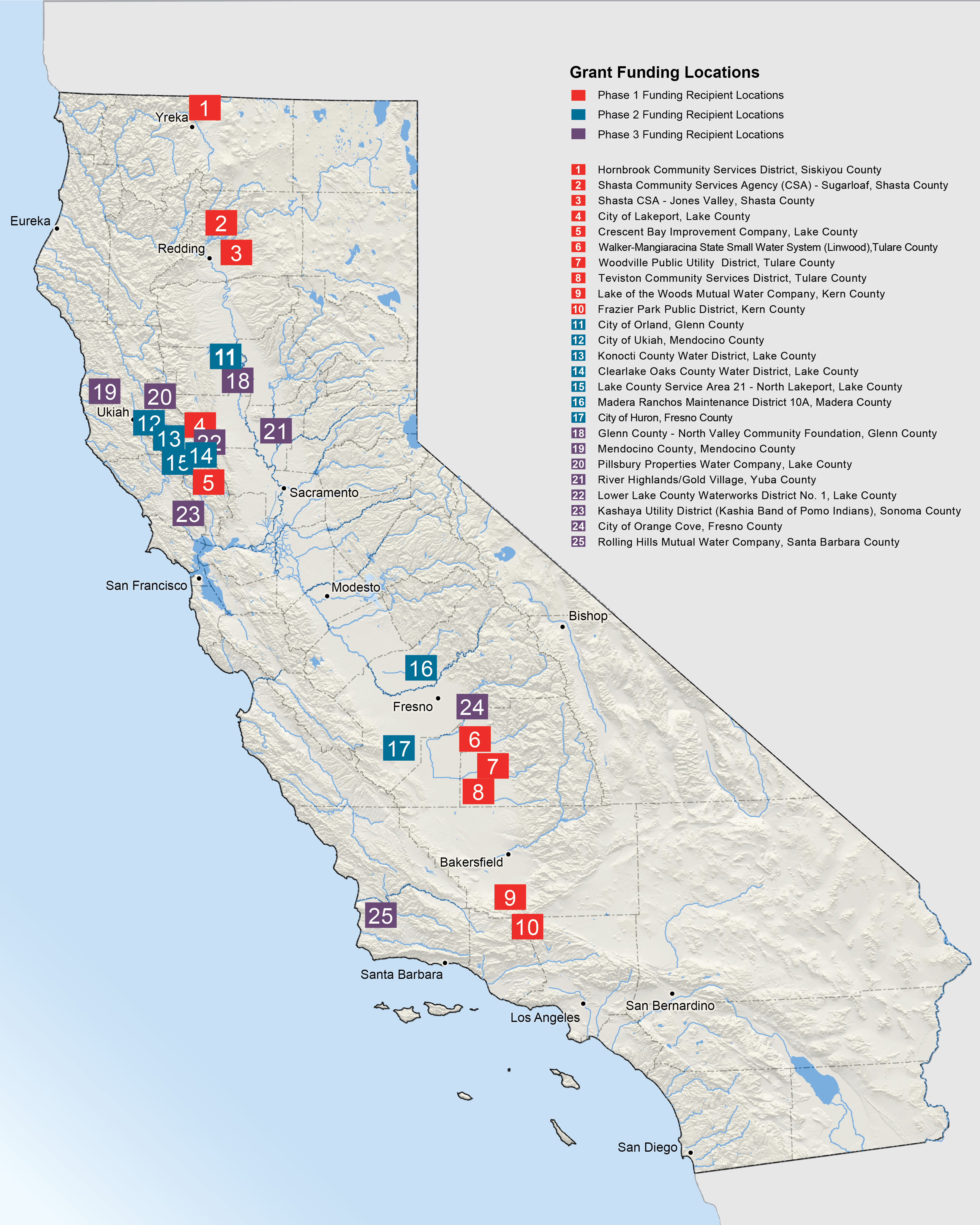 SACRAMENTO, Calif. – The Department of Water Resources (DWR) today announced its second and third round of funding commitments, totaling $28 million, to 15 communities as part of its Small Community Drought Relief program.
DWR is coordinating with the State Water Resources Control Board to identify projects for funding. A first round of projects totaling $25 million was awarded last month. The Small Community Drought Relief program is designed to provide technical and financial assistance to small communities impacted by the current drought. The full list of projects includes 15 awardees, 11 of which are identified as disadvantaged communities.
"As drought conditions continue, it's clear that our smaller communities do not have the same resources as their urban counterparts to address the impacts of drought," said DWR Director Karla Nemeth. "The department is working diligently to evaluate applications and provide support to the communities that need it most."
"As the drought continues to gain momentum, and we prepare for another potentially dry winter, coordination between agencies and the funding to support community response will be critical," said Joaquin Esquivel, Chair of the State Water Resources Control Board. "The State Water Board and DWR will continue to actively engage local managers throughout the state to ensure they are aware of and accessing the support needed to manage through this difficult drought."
Recipients of the total $28 million include:
Konocti County Water District:

Located in Lake County, drought has caused the water supply source to drop below the current intake system. The district will receive $657,173 in funding for emergency repairs and to install an emergency intertie.

Madera Ranchos - Maintenance District 10A

: The Madera Ranchos water system is failing due to drought conditions

and struggling to meet demands. Of the seven wells in the system, only two are currently functioning. The district will receive $300,000 to complete urgent repairs to two of the wells which will add 1,000 gallons per minute of capacity.

City of Ukiah:

The small water system serving the City of Ukiah is currently strained due to drought conditions. The community will receive $264,600 in funding to purchase two potable water pumps to pressurize the city's emergency interties, which will allow the city to deliver water to two neighboring districts.

City of Orland:

One hundred private domestic wells have been reported as dry or at risk in and around the City of Orland, with more being identified weekly. Since many residents lack financial resources to repair their wells, construct new wells, or connect to the city system, the State will provide $7,735,000 to construct a new municipal well and expand the water distribution system to provide connections to rural residents.

City of Orange Cove:

Located near Fresno, the City of Orange Cove is struggling with dwindling water supplies and leaky pipelines. The City will receive $

7,781,640 to replace four miles of aging pipelines, construct a new well, storage tank, and booster pump station.

Kashaya Utility District (Kashia Band of Pomo Indians):

The Stewarts Point Rancheria in Sonoma County is running out of water due to drought and is in urgent need of water hauling while longer term infrastructure projects for drought resiliency are implemented. The State will provide $169,714 to cover the cost of water hauling.

Rolling Hills Mutual Water Company/Golden State Water Company:

The only well serving the community of Rolling Hills in Santa Barbara County has failed. As a solution, the community will be awarded $29,300 to construct an emergency intertie to the Golden State Water Company.
The awards will also establish county-wide hauled and bottle water programs in Mendocino and Glenn Counties to provide immediate potable water supply to residents who have run out of water due to drought. In addition to the Small Community Drought Relief Program, DWR expects to launch the Urban and Multibenefit Drought Relief Grant Program this fall. The program will include an additional $200 million in grant funding for urban water suppliers and multi-benefit drought relief projects to address hardships caused by drought.
For more information about available drought relief funding, please visit DWR's Drought Funding webpage.
###
Contact:
Allison Armstrong, Information Officer, Public Affairs, Department of Water Resources
(916) 820-7652 | Allison.Armstrong@water.ca.gov
Blair Robertson, Information Officer, Office of Public Affairs, State Water Resources Control Board