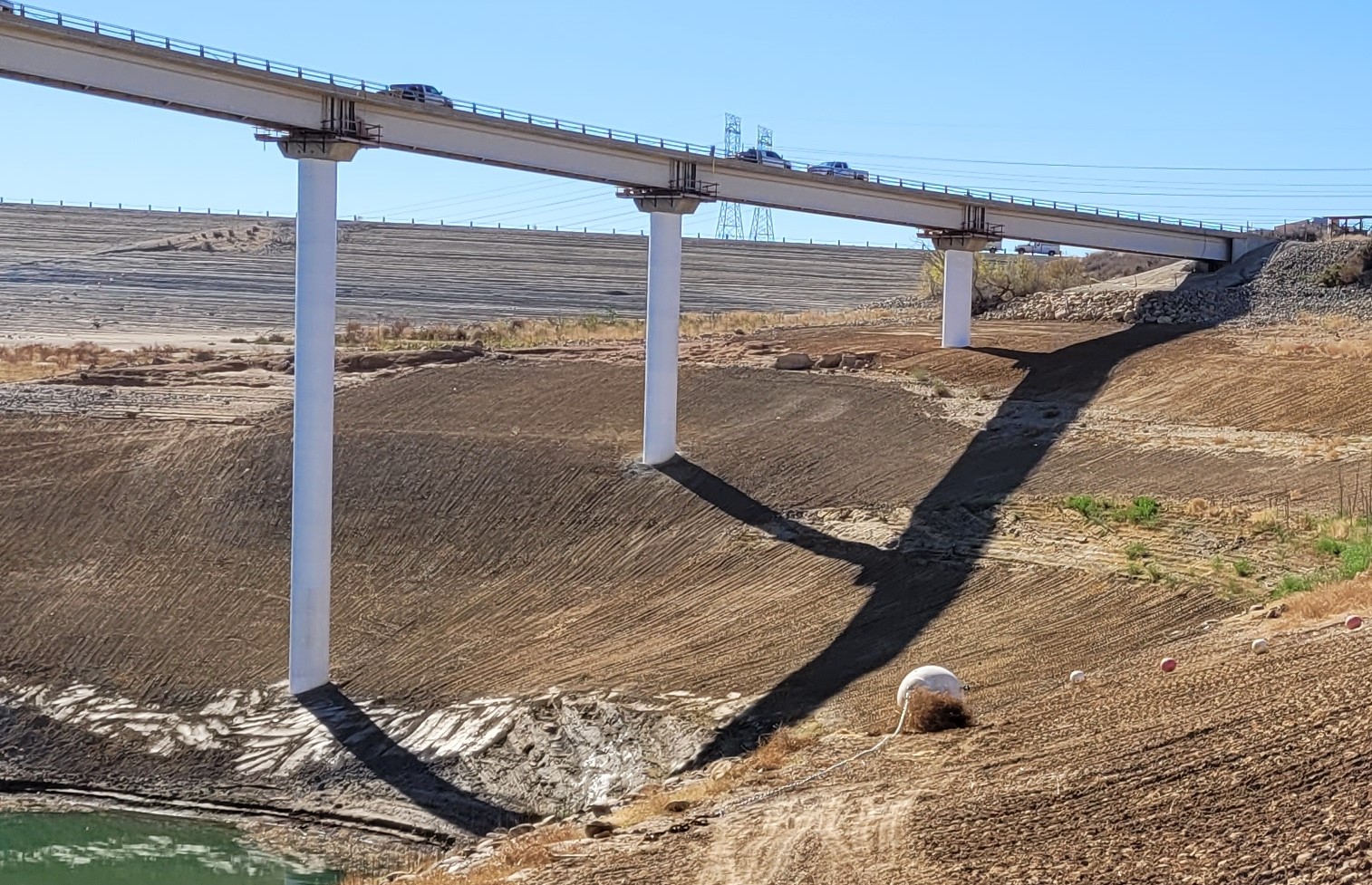 SACRAMENTO, Calif. – Seismic work at Castaic Dam's tower access bridge has reached another milestone with the completion of work on three bridge piers. The work at the Los Angeles County facility is part of ongoing efforts by the California Department of Water Resources to make the bridge stronger and reduce seismic risk at all State Water Project facilities.
"With the completion of the reinforced wrapping to all of the bridge's piers, we have improved the strength and flexibility of each pier to allow for controlled movements of the bridge during a major earthquake," said Jason Brabec, Castaic Dam Modernization Program Manager. "This work bolsters DWR's ability to safely and reliably release water."
Work continues on the bridge's superstructure which supports the deck and connects to the piers. To improve the bridge's performance during a major seismic event, the project includes adding catcher blocks, installing bearing pads, replacing selected steel members, and other efforts.
The 500-foot-long bridge provides access for operations and maintenance to the structure that allows DWR to make water releases from Castaic Lake. The bridge was completed in the early 1970s and previously retrofitted in 1998 after the Northridge Earthquake.
As part of the seismic work, Castaic Lake levels were brought down by over 100 feet earlier this year to allow dry access to the bridge piers. As that work has wrapped up, the lake levels are rising based on available hydrologic conditions. Visitors to the lake are advised to be aware of fluctuating lake levels over the next year.
Increased noise and activity at the site should be expected as work on the bridge structure continues. The project is planned for completion by Spring 2022.
The Castaic Dam Modernization Program began in 2018. The program includes reducing seismic risk to the intake tower and access bridge, evaluation of the spillway to identify and implement necessary modifications and dam safety monitoring capabilities on various dam components.
For Program information, visit the DWR website.
Contact:
Maggie Macias, Public Affairs, Department of Water Resources
(916) 820-7662 | maggie.macias@water.ca.gov