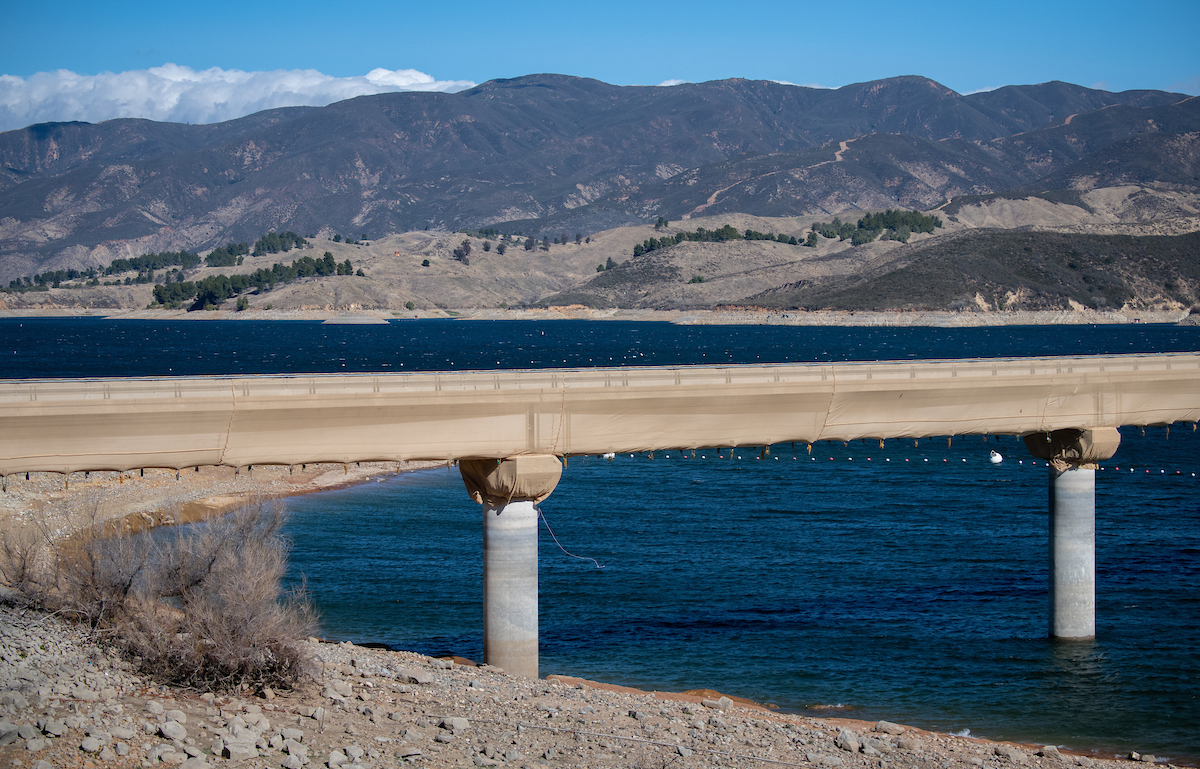 SACRAMENTO, Calif. – The California Department of Water Resources begins construction on Castaic Dam's tower access bridge in Los Angeles County to reduce seismic risks during a major earthquake.
"Ensuring that the State Water Project facilities remain resilient during earthquakes or extreme weather events like droughts and floods is vital to the 27 million Californians who depend on State Water Project water," said DWR's State Water Project Deputy Director Ted Craddock. "During this phase, we will strengthen the dam's intake tower access bridge and its piers to allow for continued safe operations during a major earthquake."
Work on the over 500-foot-long bridge consists of strengthening the three bridge piers and installing various components to the bridge superstructure to allow for controlled movement during a seismic event. Each pier will be encased with a reinforced fiber wrap compound, which requires the temporary drawdown of Castaic Lake that began in early May. The water level will be lowered by over 100 feet during this period to allow work on the piers. Local water agencies are receiving deliveries of the drawdown water.
Castaic Dam's intake tower access bridge work is expected to continue until Spring 2022, then Castaic Lake will return to normal operations with water levels based on available hydrologic conditions at that time.
Recreational users are urged to follow advisory signs located throughout Castaic Lake and use caution during fluctuating water levels. Personal watercraft are not allowed, and boating capacity could be limited to ensure public safety during the lake's drawdown. For more recreational information, go to website.
The Castaic Dam Modernization Program began in 2018. The program includes reducing seismic risk to the intake tower and access bridge, evaluation of the spillway to identify and implement necessary modifications and dam safety monitoring capabilities on various dam components. For Program information, visit the DWR website.
###
Contact:
Maggie Macias, Public Affairs, Department of Water Resources
(916) 653-8743 | maggie.macias@water.ca.gov