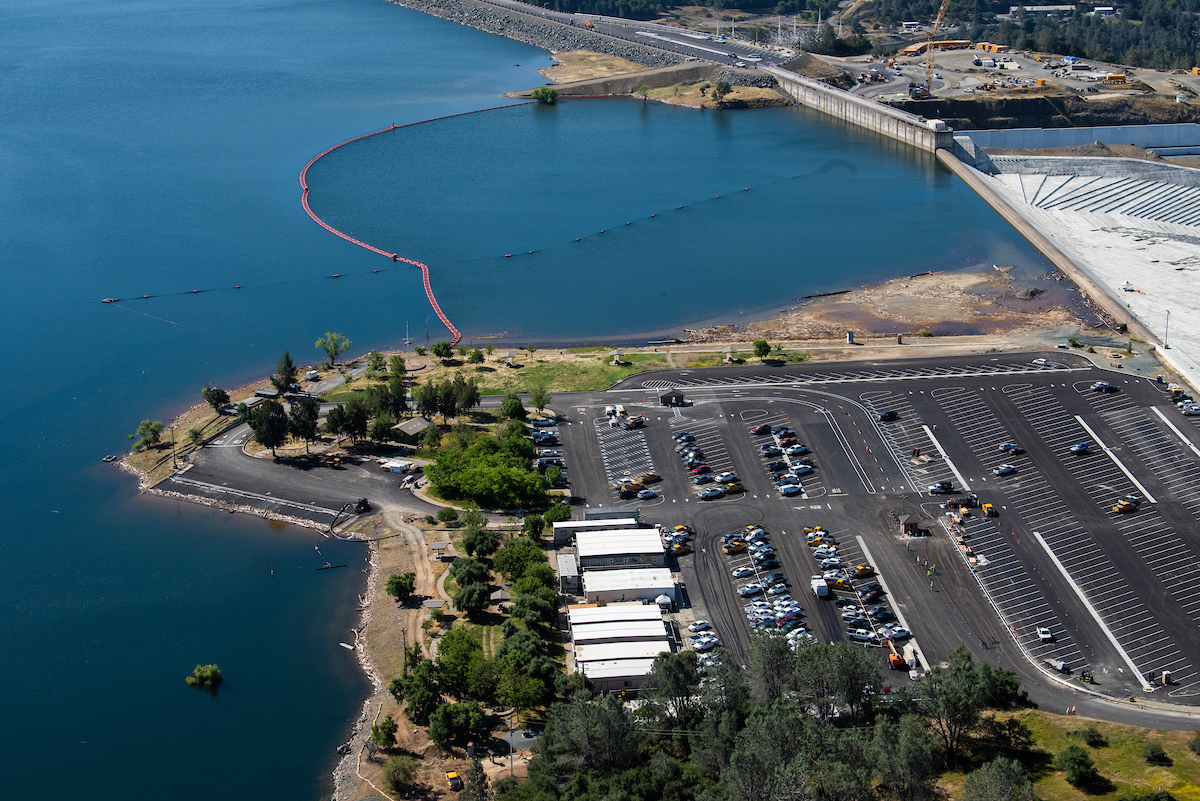 OROVILLE, Calif. – The Department of Water Resources (DWR) and California State Parks today announced that Lake Oroville State Recreation Area's Spillway Boat Ramp area will remain open for the Labor Day holiday on September 2, 2019. The Spillway Boat Ramp opened to the public on August 9 after two years of closure for the Oroville Dam Spillways Reconstruction Project.
The Spillway Boat Ramp and parking lots are open to the public Friday through Sunday from 5 a.m. to 11 p.m. The area will remain closed Monday through Thursday to accommodate ongoing construction except for the September 2 Labor Day holiday. DWR plans to open the Spillway Boat Ramp seven days a week this fall once major construction activities are completed, although access may be restricted again once construction ramps back up in spring 2020.
The public is advised to be aware of new security measures at Oroville Dam implemented in coordination with local and state law enforcement agencies to ensure public and facility safety. Specific security upgrades include security cameras, fencing, pop-up gates and two security kiosks. Vehicles will be screened and may be subject to inspection but no delays for entry or exit from the facility are anticipated.
Twelve boat launch lanes with three loading docks are currently available at the Spillway Boat Ramp area. Hikers, bicyclists and equestrians will enjoy access to the multi-use Potter's Ravine, North Fork, and Dead Cow Ravine trails. The Day Use Area with picnic tables and restroom will also be open to the public.
For more information on recreation areas at Lake Oroville, an interactive map listing all the recreation areas at Lake Oroville can be found at https://water.ca.gov/What-We-Do/Recreation/Lake-Oroville-Recreation. For information about Lake Oroville boating, floating campsites and other recreational amenities, please visit the CA State Parks website at www.parks.ca.gov/LakeOroville
Contact:

Erin Mellon, Information Officer, Public Affairs, Department of Water Resources
916-213-5205 | Erin.Mellon@water.ca.gov
Aaron Wright, Superintendent – Northern Region, Department of Parks and Recreation
(530) 532-3085 | Aaron.Wright@parks.ca.gov
###
For more information, follow us on Twitter or Facebook and read our news releases and DWR updates.