Lake Oroville Community Update - September 29, 2023
Published: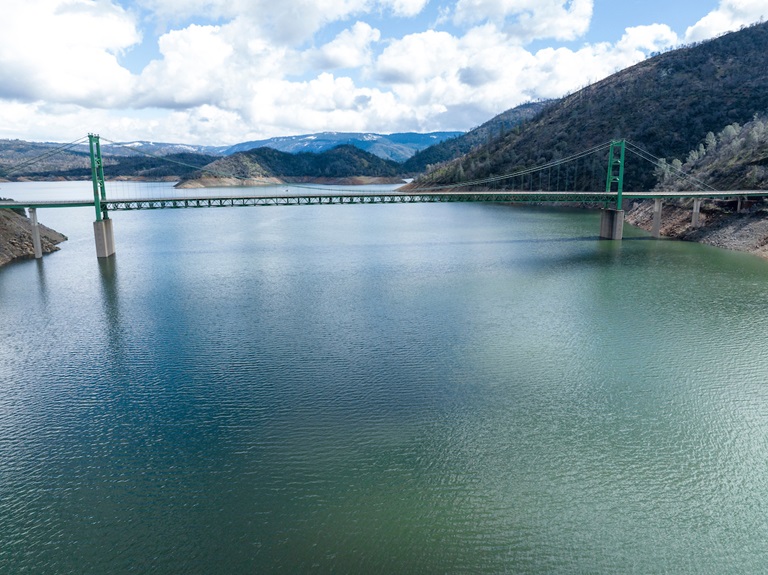 Feather River Floating Classrooms
Spend time on the beautiful Feather River this fall and join Department of Water Resources (DWR) scientists for educational floats each Saturday through Nov. 11. Rafting trips will float through Feather River spawning habitat while DWR scientists provide information on Chinook salmon conservation efforts, ongoing and planned research, and restoration and monitoring projects.
Each Saturday will have three floating classroom sessions with limited seats. Weekend sessions support free floating classroom events for local schools. Reserve your Floating Classroom Tour Tickets on Eventbrite.
New Spillway Day Use Area Hours
With the end of summer and shorter daylight hours approaching, the Spillway Day Use Area will have reduced hours. Beginning Sunday, Oct. 1, the Spillway Day Use Area and Boat Ramp will be open daily from 6 a.m. to 8 p.m. These reduced hours will remain in effect through April 30, 2024. Vehicles may remain in the parking lot overnight but will be prohibited from exiting.
All vehicles and trailers heading to the Spillway Day Use Area are subject to inspection by the California Highway Patrol (CHP) for security purposes. There are three other boat ramps at Lake Oroville that are open 24 hours a day and do not entail CHP inspections: Bidwell Canyon, Loafer Point, and Lime Saddle.
Oroville Salmon Festival
DWR had a great time supporting the City of Oroville's Salmon Festival celebrating the migration of native Chinook salmon in the Feather River. Thank you to everyone who stopped by our educational booth and took a free tour of the Feather River Fish Hatchery. DWR staff estimated that approximately 600 children and adults participated in DWR-led tours of the Hatchery, where Chinook salmon and steelhead are raised to improve fisheries populations throughout the state.
DWR also partnered with the Oroville State Theater to showcase videos about efforts to support vital salmon habitat restoration, fisheries health, and population growth. Many also saw salmon up close as they paddled down the river with rafting tours featuring DWR biologists who shared information about the salmonid life cycle and Feather River. Tickets for this unique experience are still available. Reserve your Floating Classroom Tour Tickets on Eventbrite.
To learn more about what DWR is doing year-round to support Feather River fish populations, visit our Storymap webpage.
Maintenance Work on Main Spillway Underway
The Department of Water Resources (DWR) is performing routine concrete and sealant repair work on localized areas of the spillway identified during annual inspections. While the main spillway continues to perform well and operate as designed, periodic concrete and sealant repairs of the spillway are expected due to seasonal temperature variations, spillway releases, and sun exposure. In 2023, Oroville Dam's main spillway has passed over 2,370,000 acre-feet of water – approximately 67 percent of the capacity of Lake Oroville – with flows up to 36,000 cubic feet per second this spring.
Construction work is expected to continue through Nov. 15, but is dependent on weather and Oroville Dam operations. DWR will monitor reservoir levels and weather forecasts closely and will complete repair work early if spillway releases are required for flood control.
Approximately 500 square-feet of total concrete repairs are anticipated, representing less than 0.1 percent of the spillway's surface. DWR will also replace joint sealant at select chute slab and wall joints that wear over time due to the spillway's environment and inspect 51,000 feet of piping that supports the spillway's improved drainage system.
The spillway was rebuilt to the highest engineering and safety standards with oversight and guidance by the Federal Energy Regulatory Commission (FERC), Division of Safety of Dams (DSOD), and an independent board of consultants. DWR performed a significant amount of inspection and testing throughout construction to verify compliance with project specifications. DWR also provides regular updates to the Oroville Dam Citizens Advisory Commission, a public forum for discussing operations, maintenance, and public safety activities at Oroville Dam and its facilities.
Oroville Recreation
DWR biologists are using the Feather River Fish Monitoring Station to determine abundance, run timing, and origin (hatchery or natural) of steelhead and Chinook salmon populations. This information will improve management of these important fish populations. Monitoring counts between Sept. 11 and Sept. 20 show a net total of 1,840 Chinook salmon and 52 steelhead that have passed upstream.
DWR, the California Department of Parks and Recreation, and DFW maintain over 92 miles of trails in the Oroville area. An interactive map of recreation facilities, including open boat ramps, and their permitted uses (hike, bike, horse, multi) is available on DWR's Lake Oroville Recreation webpage. A paper trail map is available at various locations, including most entrance kiosks and the Lake Oroville Visitor Center. The marinas at Bidwell Canyon and Lime Saddle are open daily and provide a variety of services including a convenience store, gas, and boat rentals.
The Lake Oroville Visitor Center is open seven days a week from 9 a.m. to 5 p.m. Staffed by knowledgeable guides, the Visitor Center features interpretive displays on Oroville Dam, area geology, wildlife and habitat, hydroelectric power, and cultural and historical artifacts. View videos in the theater about the construction of Oroville Dam, walk or hike along nearby trails, and visit the 47-foot-tall observation tower that provides unsurpassed panoramic views of surrounding areas. Free guided tours for school and community groups are available by reservation. Parking and admission to the Visitor Center are free.
Current Lake Operations
Lake Oroville is at 835 feet elevation and storage is approximately 2.62 million acre-feet (MAF), which is 74 percent of its total capacity and 136 percent of the historical average.
Feather River releases are currently at 7,500 cubic feet per second (cfs). Flows through the City of Oroville are at 650 cfs and releases from the Thermalito Afterbay Outlet (Outlet) are at 6,850 cfs for a total of 7,500 cfs downstream of the Outlet. DWR continues to assess releases to the Feather River daily.
DWR's Water Operations division has begun adjusting reservoir levels in accordance with the U.S. Army Corps of Engineers Water Control Manual. This is done each year in preparation for the winter season to provide flood control protection to downstream communities and obtain additional space in the lake for increased storm runoff. Additionally, DWR's Water Operations division monitors forecasts closely to predict incoming storm impacts and determine whether to release additional water to account for higher estimated inflows.
Visitors to Oroville Dam may also notice minor amounts of water flowing from drains built into the emergency spillway, which is normal and expected with the emergency spillway design. The dam and emergency spillway continue to operate as intended.
The public can track precipitation, snow, reservoir levels, and more at the California Data Exchange Center. The Lake Oroville gage station is identified as "ORO."
All data as of midnight 9/28/2023.