Water Safety Month: Stay Safe When Recreating Along the State Water Project
Published: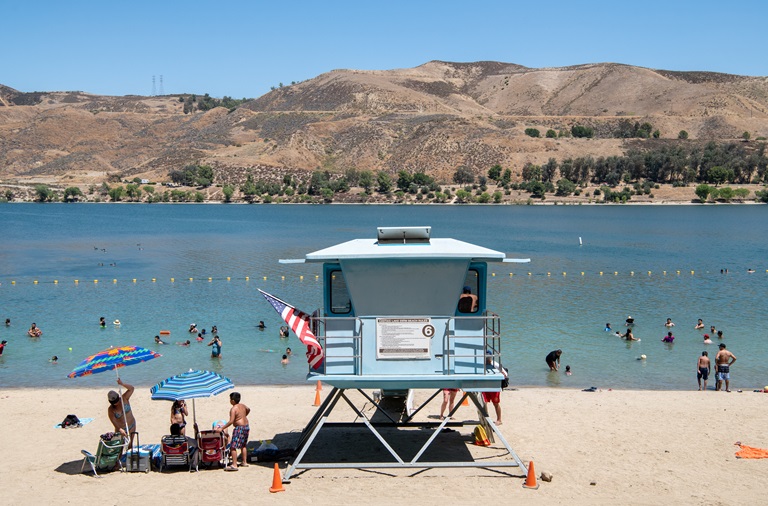 The State Water Project's (SWP) reservoirs located throughout California kick off this summer with high water levels. When recreating at SWP facilities, you should always keep water safety as a top priority and stay alert of cold, fast, and fluctuating water conditions.
As part of Water Safety Month, keep these water safety tips in mind to have a fun and safe summer:
Wear a life jacket
Swim in safe or designated areas only and near a lifeguard
Swim with a buddy
Be aware of drop-offs into deep water
Watch for hidden debris and slippery rocks
Look before you leap or dive
Check for algal bloom updates
Know your GPS location
Algal Blooms
Recreational users, such as swimmers and boaters, should always stay away from algae. While some algae are harmless, certain types can produce toxins that can make people and animals sick. Be aware of any algal bloom advisories when visiting reservoirs. Keep yourself, children, and pets away from algae at surface or along shoreline.
To learn more about algal blooms, view video in English or Spanish.
Recreation on the SWP
As you follow these safety tips, below are a few of the amazing recreational opportunities available along the SWP.
In Northern California, Lake Oroville, the SWP's largest reservoir and second largest reservoir in California, has more than 167 miles of shoreline and is a perfect location for boating, fishing, camping, horseback riding, and picnicking. Lake Davis, the largest of the three Upper Feather River Lakes, offers a variety of outdoor activities, including boating, fishing, mountain biking, wildlife viewing, and swimming. Other activities in the winter include ice fishing, snowmobiling, and cross-country skiing.
For Central California, San Luis Reservoir in Merced County is home to the nation's largest off-stream reservoir that is popular for fishing, boating, and board sailing. Located near rolling hillsides and a good place for bird watching, Bethany Reservoir in Alameda County, provides windsurfing, boating, and picnicking.
In Southern California, Pyramid Lake is a perfect location for water skiing, kayaking, boating, camping, swimming, and fishing. Lake Perris, the SWP's southernmost reservoir, is also one of its most popular. It provides ample recreational activities, such as water skiing, windsurfing, boating, hiking, bicycling, fishing, rock climbing, and horseback riding. For anglers, Perris is known for its trophy largemouth bass.
For more about recreation at SWP reservoirs, visit website.