Lake Oroville Community Update - May 26, 2023
Published: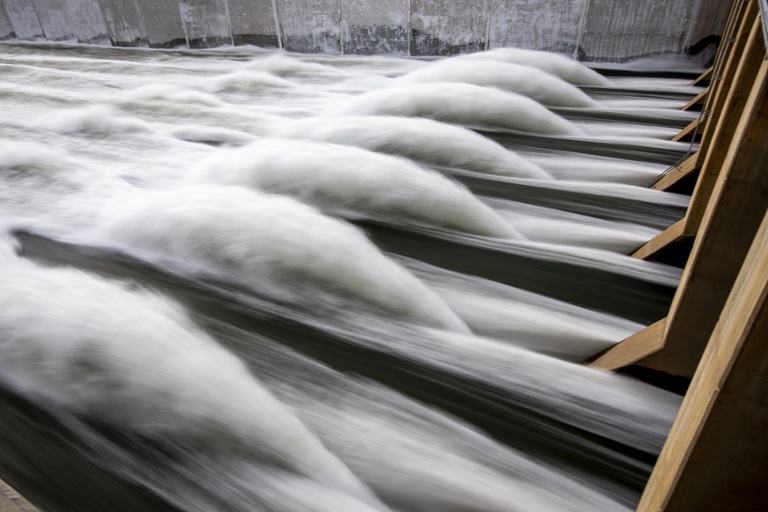 Lake Oroville Water Operations
The Department of Water Resources (DWR) continues to make releases from Lake Oroville using the main spillway at Oroville Dam. Ongoing releases ensure continued storage space in Lake Oroville for spring runoff from snowmelt and are closely coordinated with the U.S. Army Corps of Engineers and downstream water operators.
Total releases to the Feather River amount to 9,000 cubic feet per second (cfs) with 2,200 cfs being routed down the low-flow channel which flows through the City of Oroville. An additional 6,800 cfs is being released from the Thermalito Afterbay River Outlet, located 5 miles downstream from Oroville. DWR continues to closely monitor lake levels and will adjust releases accordingly to optimize operations for water storage and environmental protection while allowing for carryover storage into next year.
Driftwood and other floating debris on Lake Oroville are expected due to continued water inflows from tributaries and a high lake level, in combination with past wildfires impacting the watershed. Since January, State officials and marina partners have been collecting, containing, and pulling pieces of wood out of the lake and away from boat launch ramps using boom lines. However, boaters, water skiers, and other water recreationists should take precautions when operating boats on Lake Oroville and should remain alert for floating debris.
Since Dec. 1, Lake Oroville's storage has increased approximately 230 feet and gained over 2.44 million acre-feet of water. Lake Oroville is currently at 96 percent capacity and is expected to reach full capacity in June. The Lake Oroville reservoir is the largest storage facility in the State Water Project (SWP) and supports environmental and water delivery needs to 27 million Californians and reduces flood risks to downstream communities.
State Water Project Adapts to Climate Change
As California experiences more extreme swings between wet and dry periods, DWR continues to deploy innovative forecasting and water management strategies for the State Water Project (SWP) to adapt to California's changing climate.
The SWP delivers an average of 2.4 million acre-feet of water to more than 27 million Californians and 750,000 acres of farmland while providing multiple benefits, such as flood control, hydropower generation, fish and wildlife protections, drinking water quality, and recreational opportunities. Releases from Lake Oroville, the largest SWP reservoir, also keep salt water from intruding into the Delta and contaminating drinking water or water used to irrigate crops.
The SWP diverts and stores surplus water during wet periods and distributes water to 29 water contractors – all public agencies that have contracts for water that is distributed to farms, homes, and industry. Annual water supply deliveries depend on rainfall runoff, snowpack, existing water in storage facilities, Delta pumping capacity, and environmental regulations.
The State Water Project is required to follow more than one regulation when releasing water from SWP reservoirs, such as Lake Oroville. Releases from Lake Oroville meet requirements set forth by the State Water Resources Control Board, U.S. Army Corps of Engineers, California Department of Fish and Wildlife (CDFW), Federal Energy Regulatory Commission, and National Marine Fisheries Service. The SWP release decisions are also coordinated with the U.S. Bureau of Reclamation which operates the Central Valley Project, since many requirements must be jointly met by the two projects.
DWR continues to explore several improvements to existing SWP infrastructure that can improve water supply reliability, water quality, water temperature control, and increased electricity integration of water supply infrastructure. Read more about DWR's strategy for adapting to climate change.
Feather Falls
A popular excursion at Lake Oroville during high-water level periods is to take a boat trip to the upper end of the Middle Fork Arm to view Feather Falls, a Yosemite-style waterfall of exquisite beauty. Along the way, there are many smaller waterfalls to see including some that tumble directly into Lake Oroville such as Bean Creek and Frey Creek. Bring a picnic lunch, a camera, and don't forget your fishing pole. There are unlimited bass fishing opportunities along the route and trout fishing can also be good where the cold mountain streams enter the lake.
Walk Into Wellness
Join the California Department of Parks and Recreation (State Parks) for a series of guided, meditative walks around the Lake Oroville State Recreation Area that promote health and wellness. These free walks focus on calming reflections and enlightening exercises while immersed in the beauty of nature. Sturdy shoes and a water bottle are recommended for participants. Wellness walks are scheduled from 8 a.m. to 10 a.m. on the following dates and locations:
Saturday, May 27: Lake Oroville Visitor Center (917 Kelly Ridge Road, Oroville); meet at gravel lot near the Visitor Center gate
Saturday, June 10: Loafer Creek; meet at the Loafer Creek Day Use Area
Sunday, July 16: Bidwell Canyon; meet at the Toll House Museum
Oroville Recreation
The Lake Oroville Visitor Center is open Monday through Friday between 9 a.m. and 5 p.m. The Visitor Center offers numerous educational exhibits, a theater featuring videos about the building of Oroville Dam, and a 47-foot-tall observation tower providing unsurpassed panoramic views.
DWR, State Parks, and CDFW maintain over 92 miles of trails in the Oroville area. An interactive map of recreation facilities, including open boat ramps, and their permitted uses is available on DWR's Lake Oroville Recreation webpage. A paper trail map is available at various locations, including most entrance kiosks and the Visitor Center. The marinas at Bidwell Canyon and Lime Saddle are open daily and provide a variety of services such as a shuttle and boat rentals.
Current Lake Operations
Lake Oroville is at 891 feet elevation and storage is approximately 3.4 million acre-feet (MAF), which is 96 percent of its total capacity and 122 percent of the historical average.
The Feather River releases are at 9,000 cubic feet per second (cfs). Flows through the City of Oroville are 2,200 cfs with 6,800 cfs released from the Thermalito Afterbay Outlet (Outlet) for a total of 9,000 cfs downstream of the Outlet. DWR continues to assess releases to the Feather River daily.
The public can track precipitation, snow, reservoir levels, and more at the California Data Exchange Center. The Lake Oroville gage station is identified as "ORO".
All data as of midnight 5/25/2023.