DWR Honors Apprentice Graduates
Published: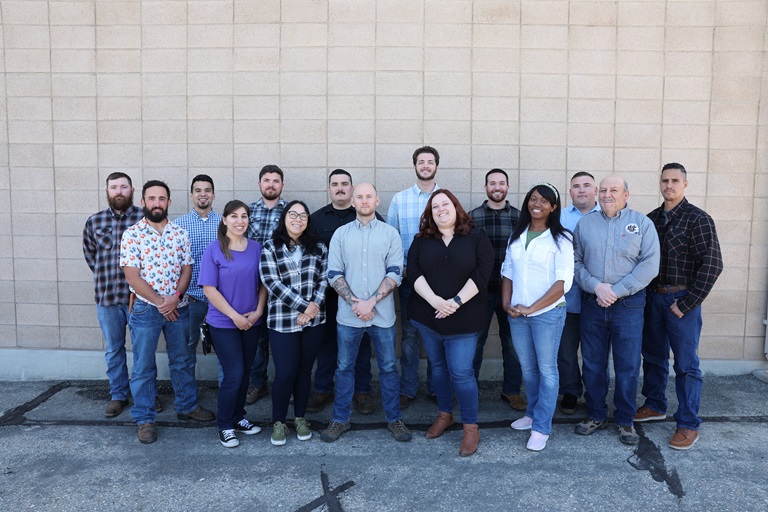 Congratulations to the 22 apprentices who graduated from the Operations and Maintenance (O&M) Apprenticeship Program as Utility Craftsworkers and Hydroelectric Plant (HEP) Mechanics, Electricians, and Operators. Created in 1971 during the construction of the initial State Water Project (SWP) facilities, the Apprenticeship Program has produced 631 graduating apprentices.
With 21 pumping plants, 26 dams, 36 storage facilities, four hydroelectric power plants, four pumping-generating plants, and approximately 700 miles of canals, tunnels, and pipelines, the State Water Project's successful operations relies on the Apprenticeship Program's graduates that are recruited statewide to launch a career in the water industry.
"When the apprentices graduate, our goal is that they have attained all the skills necessary to work anywhere and on a variety of components of SWP facilities," said Apprenticeship Program Training Center Supervisor Erika Arias. "This year, we mark Class 49 for the hydroelectric plant classifications and Class 38 for Utility Craftsworkers, that for many of the previous graduates became the start of a long-lasting DWR career."
During the three to four years in the program at various locations throughout California, the paid apprenticeship program provides in-person class instruction, hands-on-learning, classroom study, home study, and supervised on-the job training at a water conveyance facility. Course topics that vary depending on trade, include motors and generators, bearings and turbines, hydraulics, heavy equipment, and environmental awareness. Participants of the program must have a high school diploma, be 18 years of age, and have a desire to learn skills to succeed in the program.
The program contains many benefits, including it can:
·

open the door to a career in the water industry

create great friendships

·

offer college credits for program courses

provide mentoring from experts

teach new skills
Congratulations to DWR's Apprentice Graduates as they kick off the start of their professional careers. For more about the program, visit website.
Southern Field Division
Don Anderson
HEP Electrician
July 2022
Angelica Figueroa
HEP Electrician
July 2022
William Bleiweiss
HEP Electrician
January 2023
Kimberly Murray
HEP Operator
August 2022
Ryan Lux
HEP Operator
August 2022
San Joaquin Field Division
Devin Driggs
HEP Operator
March 2023
Lisa Macedo
HEP Operator
December 2022
Cest Celi Vickers
HEP Operator
January 2023
San Luis Field Division
Alejandro Jimenez
HEP Operator
August 2022
Sean Cintas
HEP Mechanic
March 2023
Dylan Donahue
HEP Operator
March 2023
Zachary Perryman
HEP Electrician
January 2023
Delta Field Division
Allison Burich
HEP Operator
August 2022
David Martinez
Utility Craftsworker
August 2022
Victoria Turner
HEP Electrician
March 2023
Sacramento Maintenance Yard
Joshua Foose
Utility Craftsworker
August 2022
Sutter Maintenance Yard
Tyler Schuster
Utility Craftsworker
August 2022
Michael Murray
Utility Craftworker
August 2022
Trevor Dunn
Utility Craftsworker
February 2023
Oroville Field Division
Travis McDavitt
HEP Operator
October 2022
San Luis & Delta-Mendota Water Authority
Christian Paradiso
HEP Operator
January 2023
Alex Pineda
HEP Electrician
July 2022