Apprenticeship Program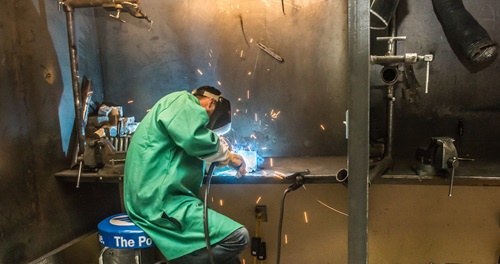 DWR offers a paid apprenticeship program that can lead to a fulfilling and lucrative career in the hydroelectric industry. The program combines hands-on-learning, classroom study, and home study with supervised on-the-job training.
The program takes three to four years to complete, depending on your trade specialization. Participants progress through the program without having to wait for civil service tests or to search for vacant civil service positions. After participants have successfully completed the program, they become certified as a journey person and eligible for full time employment with DWR.
Apprenticeship Program Qualifications
Applicants must:
Be at least 18 years old
Have a high school diploma or educational equivalent
Successfully complete the DWR apprentice civil service examination
Desirable qualifications:
Knowledge of basic arithmetic and ability to grasp, understand, and perform mathematical computations
Demonstrate an ability to work with hand tools and power tools
Demonstrate an ability to learn and safely perform unskilled or semiskilled work in a maintenance or technical occupation
Ability to read and comprehend written instructions and procedures, and to listen and follow verbal instructions
Ability to read independently at a high school level to complete reading assignments involving concepts of electrical and mechanical equipment, operations, and maintenance
The Apprenticeship Program Exam
Prior to being accepted as an apprentice, candidates must pass a DWR apprenticeship exam, given each year. This exam includes a written section that covers math (fractions, ratios, percentages, square roots, and algebra), reading and comprehension, and mechanical aptitude. Candidates who do not pass the exam may retake it the following year.
Apprenticeship Program Overview
Apprenticeship training in California originated with passage of the Shelly-Maloney Apprentice Labor Standards act of 1939.
Apprenticeship training is a formal organized system of on-the-job training in which the apprentice learns by "doing", and earns while learning. It is based upon a written agreement, called an indenture, between the employer and the apprentice. This agreement spells out how long the apprenticeship training lasts, what kinds of job tasks (called "work processes") are to be performed while working on-the-job, and what kinds of subject matter and work related knowledge must be learned through a program of home study and classroom instruction.
The duration of apprenticeship training varies from trade to trade. In the California Department of Water Resources, the periods of apprenticeship training are as follows:
Utility Craftsworker Apprentice

--

3 years

Hydroelectric Plant Operator Apprentice – 3 Years

Hydroelectric Plant Electrician Apprentice – 4 Years

Hydroelectric Plant Mechanic Apprentice – 4 Years
The term of apprenticeship is divided up into six-month periods. At the end of each six-month period, on-the-job work and classroom/home study progress is evaluated by the apprentice's supervisors and recommendation made to a Joint Apprenticeship Committee (JAC) which approves or disapproves advancement to the next six-months level of training and salary.
Generally speaking, after candidates have successfully passed the examination process and have been hired as apprentices - either operator, electrician, mechanic or utility craftsworker - they are assigned to work under close observation of a fully qualified and knowledgeable worker who has completed apprenticeship training and has been certified by the State of California as a "journey-person."
During the first year of training, apprentices will receive detailed instructions on-the-job, attend several weeks of classroom instructions in technical subject matter and complete approximately 100-150 hours of home study courses. In the second year, apprentices will continue to receive classroom instruction, on-the-job instruction, and work under the supervision of a journey-level worker but will perform some tasks with minimum supervision. In succeeding years, apprentices will perform more and more complex tasks, demonstrating the knowledge and abilities required on-the-job. When the term of apprenticeship training has been successfully completed and all requirements have been met, the employer (Department of Water Resources), certifies the information to the Department of Industrial Relations, and the apprentice is issued a certificate and becomes eligible to be employed as a journey-person.
Training Triangle
The position of Apprentice is an opportunity to learn the trades and craft from qualified journey-persons. Apprentice training within the Department of Water Resources is of a highly intensive technical nature and is comprised of the following interrelated elements:
On-The-Job-Training

This is the actual day-to-day hands-on work in which the apprentice "learns by doing." Generally, 1820 hours of on-the-job experience per year. A hands-on proficiency test is given every six-months to check and verify that the apprentice is gaining applicable and measureable experience. These tests must be passed with a minimum score of 70%. Three failures of the same test will result in termination of the Apprentice Agreement.

Classroom Training

The Department of Water Resources Joint Apprenticeship Committee has established classroom courses in which a variety of classes are taught during regular working hours at Department facilities. Subject matter ranges from Math Review to the Theory of System Operation. The number of hours of classroom training required each year is different for each apprentice trade. Usually the classes are 40 hours in duration or one work week. A test is given at the end of each class, they must be passed with a minimum score of 70%. Three failures of the same test will result in termination of the Apprentice Agreement.

Home Study

As the name implies, there is a substantial program of study that is to be completed away from the job site at the apprentice's home. It will be essential to establish a regular time and place to study and do a certain amount of the related training (home study). At the completion of each unit of home study a written test is given on the material covered in that particular unit. They must be passed with a minimum score of 70%. Three failures of the same test will result in the termination of the Apprentice Agreement.
Every six-months, a closed book final examination is given, all the home study material covered for that particular six-month period, will be subject to testing.
Again, these six-month closed book final exams must be passed with a minimum score of 70%. Three failures of the same test will result in the termination of the Apprentice Agreement.
All three of these training phases: on-the-job, classroom, and home study; are integrated so that each reinforces the other. Each element is just as important as the other.
Apprenticeship Program Trades
Once you have passed the apprentice exam process and have been hired into a position, your period as an apprentice begins. The following trades are offered:
Utility Craftsworker (3-year program). Learn progressively skilled work in the repair, operation, modification, inspection, replacement and maintenance of major civil structures and related utility equipment associated with the State Water Project or the Sacramento River Flood Control Project.
Hydroelectric Plant Operator (3-year program). Assist a journeyperson operator and receive training in performing either manual or remote-control water and power operating and switching. Learn to: follow safe operating and clearance procedures; make routine inspections of generating and pumping units, auxiliaries and switchyard equipment; record readings of meter gauges and indicators and make logbook entries; detect any abnormal readings, sounds, smells or other indications of trouble; check local and remote recording instruments and adjust pens, charts and tape as necessary; prepare routine daily and monthly reports.
Hydroelectric Plant Electrician (4-year program). Assist a journeyperson electrician and receive training in the installation, repair and maintenance of wiring circuits for electrical equipment, motors and control devices. Learn to: disassemble, repair and reassemble motors, generators, large transformers, oil and air circuit breakers, disconnect switches, voltage regulators, power switchboard and other electrical equipment; test and service storage batteries; install conduits, pull wire and control board wiring; diagnose and troubleshoot electrical problems under emergency conditions.
Hydroelectric Plant Mechanic (4-year program). Assist a journeyperson mechanic and receive training in the repair, disassembly and assembly of large and complex equipment such as piping systems, gear boxes, drive mechanisms, pumps, turbines, motors, generators, compressors, hydraulic power and pressure units, refrigeration and air conditioning systems, valves, gates and trash racks. Learn to: test, adjust, service and maintain various mechanical meters and gates used in measuring capacity, flow pressure, temperature and velocity of liquids and/or gases; perform welding, burning, cutting and grinding; operate large overhead cranes and perform rigging.
Resources
Contact Us
JAC Secretary
(916) 820-7726
Operations & Maintenance Training Center
(661)858-5651
Email
Updates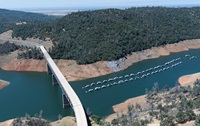 Lake Oroville Community Update for June 24, 2022.
Published: