Lake Oroville Community Update - March 30, 2023
Published: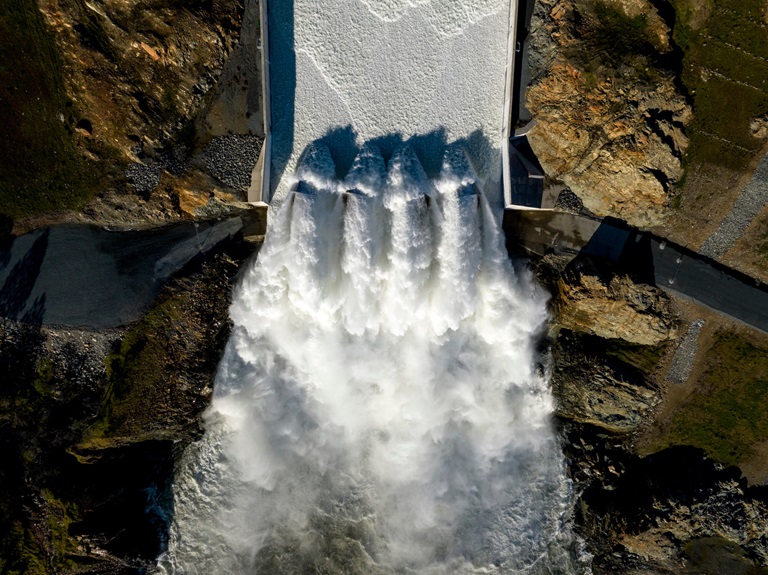 Lake Oroville Water Releases Continue
The Department of Water Resources (DWR) continues to make releases from Lake Oroville using the main spillway at Oroville Dam. Ongoing releases ensure continued storage space in Lake Oroville for spring runoff from rain and snowmelt and are closely coordinated with the U.S. Army Corps of Engineers and downstream water operators for flood protection.
Total releases to the Feather River amount to 12,500 cubic feet per second (cfs) with 2,200 cfs being routed down the low-flow channel which flows through the City of Oroville. An additional 10,300 cfs is being released from the Thermalito Afterbay River Outlet, located 5 miles downstream from Oroville. Releases to the Feather River will be further reduced to 10,000 cfs on Friday, March 31. DWR continues to closely monitor lake inflow levels and will adjust releases accordingly.
Since Dec. 1, Lake Oroville's storage has increased approximately 200 feet and gained just under 2 million acre-feet of water. The Lake Oroville reservoir is the largest storage facility in the State Water Project (SWP) and supports environmental and water delivery needs to 27 million Californians and reduces flood risks to downstream communities. DWR continues to monitor lake levels, weather forecasts, and mountain snow levels to optimize operations for flood control, water storage, and environmental protection while allowing for carryover storage into next year.
California Increases Water Allocations
DWR announced last week a significant boost in the forecasted SWP deliveries this year due to continued winter storms in March and a massive Sierra snowpack. DWR now expects to deliver 75 percent of requested water supplies, up from 35 percent announced in February. The increase translates to an additional 1.7 million acre-feet of water for the 29 public water agencies that serve 27 million Californians.
Consistent storms in late February and March have built up the Sierra snowpack to more than double the amount that California typically sees this time of year. Rainfall has also allowed for robust flows through the system, providing adequate water supply for the environment and endangered fish species while allowing the SWP to pump the maximum amount of water allowed under state and federal permits into reservoir storage south of the Sacramento-San Joaquin Delta.
"California continues to experience weather whiplash, going from extreme drought to a series of atmospheric rivers since late December. It really demonstrates that in times of plenty, we need to move as much water into storage as is feasible," said DWR Director Karla Nemeth. "We've been able to manage the system to the benefit of communities, agriculture and the environment. It's certainly been a welcome improvement following the three driest years on record for California."
Read more about the revised allocations in DWR's press release.
Oroville Wildflower & Nature Festival
The Feather River Recreation & Park District (FRRPD) is hosting its annual Wildflower & Nature Festival at Riverbend Park in Oroville on Saturday, April 1 from 10 a.m. to 4 p.m. Admission is free to the festival and highlights the area's natural resources and handmade Butte County products. Activities and entertainment will be available for all ages including children's crafts, river kayak tours, live music, food trucks, and a beer and wine garden.
Make sure to stop by DWR's booth for information about the Lake Oroville Visitor Center, Lake Oroville and Thermalito recreation opportunities, and a felt craft activity for kids – making a California poppy. More information about the Wildflower & Nature Festival is available on FRRPD's website.
Oroville Recreation
Thanks to significant rainfall this winter, a super bloom of wildflowers may be seen this spring at the North Table Mountain Ecological Reserve. Explore miles of trails across a plateau formed from ancient volcanic rock or hike to waterfalls that cascade off the mountainside to the valley below. More information about visiting the ecological reserve may be found on California Department of Fish & Wildlife's (CDFW) website.
The Lake Oroville Visitor Center is open Monday through Friday between 9 a.m. and 5 p.m. The Visitor Center offers numerous educational exhibits, a theater featuring videos about the building of Oroville Dam, walking and hiking trails, and a 47-foot-tall observation tower providing unsurpassed panoramic views.
DWR, State Parks, and CDFW maintain over 92 miles of trails in the Oroville area. Paved trails at the Lake Oroville Visitor Center, Spillway Day Use Area, and at the North Forebay Day Use Area offer accessible trails with only slight elevation changes. Other trails, such as the Brad Freeman Trail near Oroville Dam, offer steep elevation changes to challenge hikers and mountain bikers. The Saddle Dam Trailhead has facilities for equestrians, including a large parking area to accommodate horse trailers, water troughs, and hitching posts, and easy access to trails designated for hikers and horses.
An interactive map of recreation facilities, including open boat ramps, and their permitted uses (hike, bike, horse, multi) is available on DWR's Lake Oroville Recreation webpage. The marinas at Bidwell Canyon and Lime Saddle are open daily and provide a variety of services such as a shuttle and boat rentals.
Current Lake Operations
Lake Oroville is at 857 feet elevation and storage is approximately 2.9 million acre-feet (MAF), which is 82 percent of its total capacity and 117 percent of the historical average. Intermittent rain showers are expected over the weekend and into next week.
The Feather River releases are at 12,500 cubic feet per second (cfs). Flows through the City of Oroville are 2,200 cfs with 10,300 cfs released from the Thermalito Afterbay Outlet (Outlet) for a total of 12,500 cfs downstream of the Outlet. Feather River releases will be further reduced to 10,000 cfs on Friday, March 31. DWR continues to assess releases to the Feather River daily.
The public can track precipitation, snow, reservoir levels, and more at the California Data Exchange Center. The Lake Oroville gage station is identified as "ORO".
All data as of midnight 3/29/2023.