Lake Oroville Community Update - March 17, 2023
Published: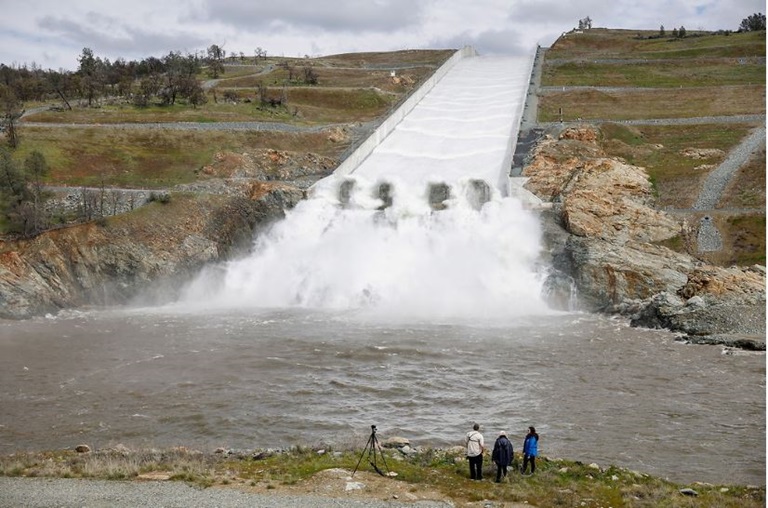 DWR Releasing Water from Lake Oroville
The Department of Water Resources (DWR) continues to make flood control releases from Lake Oroville using the main spillway at Oroville Dam. These flood control releases are a result of high water inflows to Lake Oroville from a series of recent storms, with the purpose of protecting downstream communities.
As of today, total releases to the Feather River amount to 35,000 cubic feet per second (cfs) with 23,000 cfs being routed down the low-flow channel which flows through the City of Oroville. An additional 12,000 cfs is being released from the Thermalito Afterbay River Outlet, located 5 miles downstream from Oroville. These releases from Lake Oroville are being made in coordination with the U.S. Army Corps of Engineers and downstream water operators for flood control protection to downstream communities. DWR continues to closely monitor lake inflow levels and will adjust releases accordingly.
Due to increased releases from Oroville Dam's main spillway, DWR and local partners have closed Oro Dam Blvd. E. between Rusty Dusty Road and Canyon Drive in Butte County. Higher releases from the main spillway cause excessive water spray across the road and reduce driver visibility, requiring a closure for public safety. Motorists may still access Oroville Dam and the State Recreation Area via State Route 162 (Oro Quincy Highway) and Canyon Drive. This section of Oro Dam Blvd. E. will remain closed to traffic until releases from the main spillway are reduced to level that is safe for motorists.
Since Dec. 1 Lake Oroville's storage has increased approximately 200 feet and gained just under 2 million acre-feet of water. The Lake Oroville reservoir is the largest storage facility in the State Water Project and supports environmental and water delivery needs to 27 million Californians and reduces flood risks to downstream communities. DWR continues to monitor lake levels, weather forecasts, and mountain snow levels to optimize operations for flood control, water storage, and environmental protection while allowing for carryover storage into next year.
Enterprise Boat Ramp Reopens
The Enterprise boat ramp is now open for use thanks to continued rising lake levels. Open for water elevations above 842 feet, it has a two-lane paved ramp and boarding pad. Located on the south fork arm of Lake Oroville, Enterprise is also a popular place for swimming and fishing.
Check the status of Lake Oroville boat and cartop ramps on the California Department of Parks and Recreation's (State Parks) website.
Oroville Wildflower & Nature Festival
The Feather River Recreation & Park District (FRRPD) is hosting its annual Wildflower & Nature Festival at Riverbend Park in Oroville on Saturday, April 1 from 10 a.m. to 4 p.m. Admission is free to the festival and highlights the area's natural resources and handmade Butte County products. Activities and entertainment will be available for all ages including children's crafts, river kayak tours, live music, food trucks, and a beer and wine garden.
Make sure to stop by DWR's booth for information about the Lake Oroville Visitor Center, Lake Oroville State Recreation Area and a felt craft activity for kids – making a California poppy. More information about the Wildflower & Nature Festival is available on FRRPD's website.
Speed Boat Time Trials
Speed boat time trials are returning to the Thermalito Afterbay March 24 through March 26. The event requires the closure of the southern portion of the Afterbay (south of Highway 162), the Monument Hill boat ramp, and the Larkin Road cartop boat launch on March 25 and March 26. The Wilbur Road boat ramp and areas north of Hwy 162 will remain open for public use during the boating event.
The event is hosted by the Northern California Outboard Association and East Bay Boat Club and will feature a mile-long course. Time trial events are expected Saturday and Sunday between 8 a.m. and 5 p.m. depending on weather and water conditions. More information about the event can be found on the American Power Boat Association webpage.
Oroville Recreation
DWR, the California Department of Parks and Recreation, and CDFW maintain over 92 miles of trails in the Oroville area. Paved trails at the Lake Oroville Visitor Center and at the North Forebay Day Use Area offer accessible trails with only slight elevation changes. Other trails, such as the Brad Freeman Trail near Oroville Dam, offer steep elevation changes to challenge hikers and mountain bikers. The Saddle Dam Trailhead has facilities for equestrians, including a large parking area to accommodate horse trailers, water troughs, and hitching posts, and easy access to trails designated for hikers and horses.
An interactive map of recreation facilities, including open boat ramps, and their permitted uses (hike, bike, horse, multi) is available on DWR's Lake Oroville Recreation webpage. The marinas at Bidwell Canyon and Lime Saddle are open daily and provide a variety of services such as a shuttle and boat rentals.
The Lake Oroville Visitor Center is open Monday through Friday between 9 a.m. and 5 p.m. The Visitor Center offers numerous educational exhibits, a theater featuring videos about the building of Oroville Dam, walking and hiking trails, and a 47-foot-tall observation tower providing unsurpassed panoramic views.
Current Lake Operations
Lake Oroville is at 860 feet elevation and storage is approximately 2.95 million acre-feet (MAF), which is 83 percent of its total capacity and 125 percent of the historical average. Wet weather is once again anticipated Sunday through mid-week.
The Feather River releases increased to 35,000 cubic feet per second (cfs) today. Flows through the City of Oroville are 23,000 cfs with 12,000 cfs released from the Thermalito Afterbay Outlet (Outlet) for a total of 35,000 cfs downstream of the Outlet. DWR continues to assess releases to the Feather River daily.
The public can track precipitation, snow, reservoir levels, and more at the California Data Exchange Center. The Lake Oroville gage station is identified as "ORO".