Lake Oroville Community Update - March 10, 2023
Published: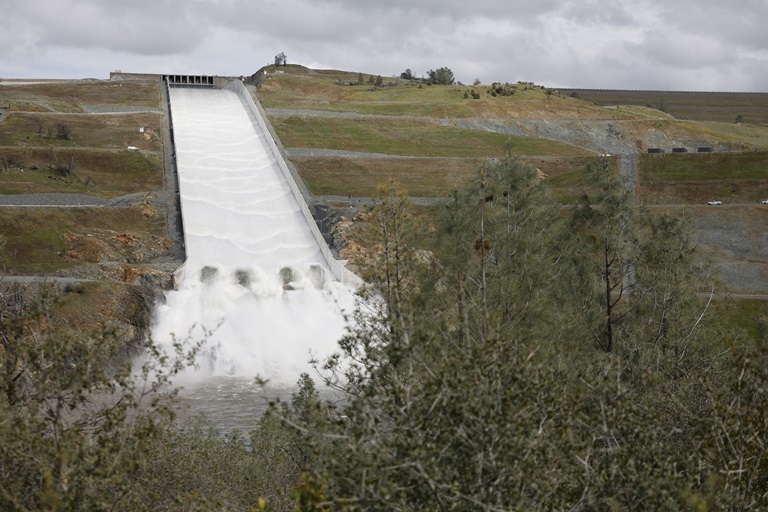 DWR Releasing Water from Lake Oroville
Since Dec. 1 Lake Oroville's storage has increased approximately 180 feet and gained 1.7 million acre-feet of water. The Department of Water Resources (DWR) continues to closely monitor lake levels, weather forecasts and mountain snow levels. In anticipation of increased runoff inflows into the reservoir, DWR has begun increasing water releases to the Feather River through the Hyatt Powerplant and from the main spillway. These releases provide flood control protection for downstream communities and are coordinated closely with the U.S. Army Corps of Engineers and other water operators.
Although a relatively small spillway release is anticipated from Lake Oroville, the new spillway is fully operational and capable of handling much higher releases if needed. In 2018, DWR rebuilt the spillway to the highest engineering and safety standards, with the spillway concrete thickness averaging 7.5 feet and a modernized drainage system. In addition, DWR installed an array of monitoring instruments in the new spillway. These include new piezometers beneath the spillway to monitor seepage, real-time automated surveys of the spillway walls, and numerous surveillance cameras. The new spillway was last used in April 2019 up to a flow of 25,000 cfs.
DWR will continue to optimize water storage in Lake Oroville to support environmental and water delivery needs in the summer, while allowing for carryover storage into next year.
Speed Boat Time Trials
Speed boat time trials are returning to the Thermalito Afterbay March 24 through March 26. The event requires the closure of the southern portion of the Afterbay (south of Highway 162), the Monument Hill boat ramp, and the Larkin Road cartop boat launch on March 25 and March 26. The Wilbur Road boat ramp and areas north of Hwy 162 will remain open for public use during the boating event.
The event is hosted by the Northern California Outboard Association and East Bay Boat Club and will feature a mile-long course. Time trial events are expected Saturday and Sunday between 8 a.m. and 5 p.m. depending on weather and water conditions. More information about the event can be found on the American Power Boat Association webpage.
Snowpack Benefits from Recent Storms
DWR conducted its third snow survey of the season at Phillips Station. The manual survey recorded 116.5 inches of snow depth and a snow water equivalent of 41.5 inches, which is 177 percent of average for this location on March 3. The snow water equivalent measures the amount of water contained in the snowpack and is a key component of DWR's water supply forecast. DWR's electronic readings from 130 snow sensors placed throughout the state indicate the statewide snowpack's snow water equivalent is 44.7 inches, or 190 percent of average for this date.
Although the statewide snowpack is currently just behind the record snow year of 1982-83, the snowpack varies considerably by region. The critical Northern Sierra, where the state's largest surface water reservoirs are located, is at 136 percent of its April 1 average. With one month of the traditional wet season remaining, DWR is providing updated runoff forecasts to water managers and is closely monitoring spring runoff scenarios and river flows to ensure the most water supply benefits from this year's snowpack while balancing the need for flood control.
More info about the snow survey may be found in DWR's press release.
Loafer Point High Water Ramp in Use
For the first year since its construction in 2020, the Loafer Point Stage I boat ramp is open for use thanks to rising lake levels. Open for water elevations above 805 feet, Loafer Point Stage I has three boat launch lanes and a boarding dock.
DWR constructed the two Loafer Point facilities in the Loafer Creek Recreation Area to improve boater access to Lake Oroville. Due to dry conditions the last few years in California, DWR has taken advantage of lower lake elevations to build and improve boat ramp and parking facilities. In addition to the Stage I facility, Loafer Point Stage II provides boat launch access between 680 feet and 805 feet elevation.
Loafer Point Stage I also provides lighted parking areas for vehicles and boat trailers, a restroom facility, and easy access to Loafer Creek Recreation Area's many trails, campgrounds, swimming beaches, and nearby Bidwell Marina and store, making it a full-service recreation destination.
Check the status of Lake Oroville boat ramps on the California Department of Parks and Recreation's (State Parks) website.
Oroville Recreation
DWR, State Parks, and CDFW maintain over 92 miles of trails in the Oroville area. An interactive map of recreation facilities, including open boat ramps, and their permitted uses (hike, bike, horse, multi) is available on DWR's Lake Oroville Recreation webpage. The marinas at Bidwell Canyon and Lime Saddle are open daily and provide a variety of services such as a shuttle and boat rentals.
The Lake Oroville Visitor Center is open Monday through Friday between 9 a.m. and 5 p.m. The Visitor Center offers numerous educational exhibits, a theater featuring videos about the building of Oroville Dam, walking and hiking trails, and a 47-foot-tall observation tower providing unsurpassed panoramic views.
Current Lake Operations
Lake Oroville is at 839 feet elevation and storage is approximately 2.66 million acre-feet (MAF) and increasing, which is 75 percent of its total capacity and 115 percent of the historical average. Wet weather is anticipated to continue through the coming week.
The Feather River releases will increase to 15,000 cubic feet per second (cfs) by 4 p.m. Friday, March 10. Flows through the City of Oroville will be 3,000 cfs with 12,000 cfs released from the Thermalito Afterbay Outlet (Outlet) for a total of 15,000 cfs downstream of the Outlet. DWR continues to assess releases to the Feather River daily.
The public can track precipitation, snow, reservoir levels, and more at the California Data Exchange Center. The Lake Oroville gage station is identified as "ORO".
All data as of midnight 3/9/2023.