DWR and Partners Promote California's Hidden Water Resource During Groundwater Awareness Week 2023
Published: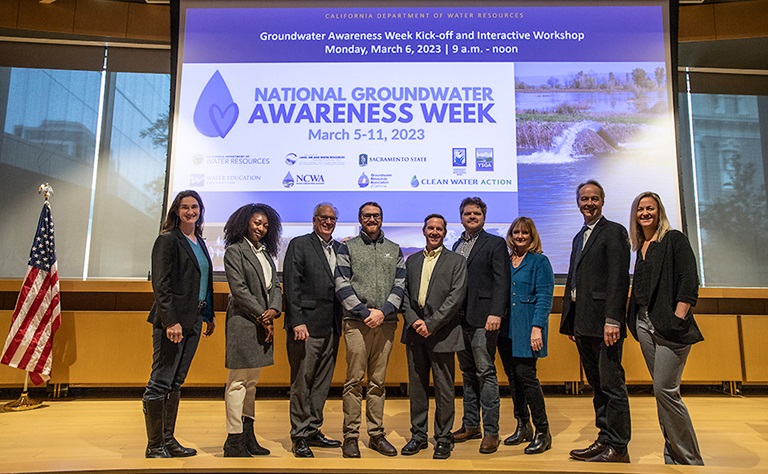 SACRAMENTO, Calif. –The Department of Water Resources (DWR) today kicked off National Groundwater Awareness Week 2023 with an engaging educational event held at the California Natural Resources Agency headquarters in Sacramento. The event featured an array of groundwater partners who provided presentations describing their work in groundwater and why groundwater is such an important water resource in California. After the presentations, the in-person audience visited educational stations where they engaged with the day's speakers and other groundwater professionals.
"DWR is excited to promote Groundwater Awareness Week because it highlights the importance of this hidden gem that 85-percent of Californians depend on for some portion of their water supply," said Paul Gosselin, DWR Sustainable Groundwater Management Deputy Director. "This week is also a great opportunity to promote the tremendous work being done by local agencies and others throughout California that are working to protect and manage groundwater for long-term sustainability."
Groundwater is water that is found underground, in spaces between rocks, sand, soil and other materials. A large portion of the water that we depend on comes from the ground, but many people are unaware of groundwater's importance or even its existence. Protecting this precious resource will help ensure a healthy and reliable long-term water supply, not just in California, but nationwide and worldwide.
In California, there are three key water supply sources – surface water reservoirs, snowpack, and groundwater. Most people are aware of the first two because we can see them, but groundwater is unseen and often overlooked. It is surprising that groundwater doesn't get more attention when you realize that more than 80-percent of Californians depend on groundwater for some portion of their water supply, and that groundwater provides approximately 40-percent of California's total water supply in an average water year, and up to 60-percent during dry and drought years. In comparison to the State's major above ground reservoirs, which can store approximately 50 million acre-feet of surface water, groundwater basins have the capability of storing between 850 million acre-feet to 1.3 billion acre-feet of water underground, offering great storage potential when exercised sustainably.
As an unseen and longtime unregulated resource, groundwater has historically been pumped at will, without a complete understanding of impacts that occur when more water is pumped out of the system than is replenished. Some of these impacts include reduced water supply especially to shallow household wells, degraded water quality, and land subsidence, or sinking of the land surface. Extended and extreme periods of drought driven by a shifting climate have placed a high demand on groundwater resources over the last two decades and have caused groundwater levels to decline in most areas of the State.
In 2014, in response to extended drought, California passed historic groundwater legislation called the Sustainable Groundwater Management Act (SGMA). SGMA requires local groundwater sustainability agencies to develop and implement plans that will stop overdraft and bring groundwater basins into balanced conditions for the long-term health of California's groundwater basins. Local groundwater sustainability agencies have been working hard since early 2015 to develop and implement plans that contain a variety of projects to do just that.
National Groundwater Awareness Week is an annual observance of the importance of groundwater, and an opportunity to learn and reflect on groundwater's vital role in every Californian's life. DWR supports groundwater awareness and the agencies and local citizens that are working to manage groundwater sustainably. DWR provides many data and educational resources for groundwater practitioners, water managers, and the general public -- including those linked below, to help ensure California's groundwater basins are understood and managed for long-term sustainability.
DWR will be promoting Groundwater Awareness Week all week long on our social media platforms. You can help us promote groundwater education during Groundwater Awareness Week 2023 by liking and sharing our posts. For more information, subscribe to DWR's Sustainable Groundwater Management email list to receive monthly newsletters and regular Sustainable Groundwater Management program updates.