Lake Oroville Community Update - July 7, 2023
Published: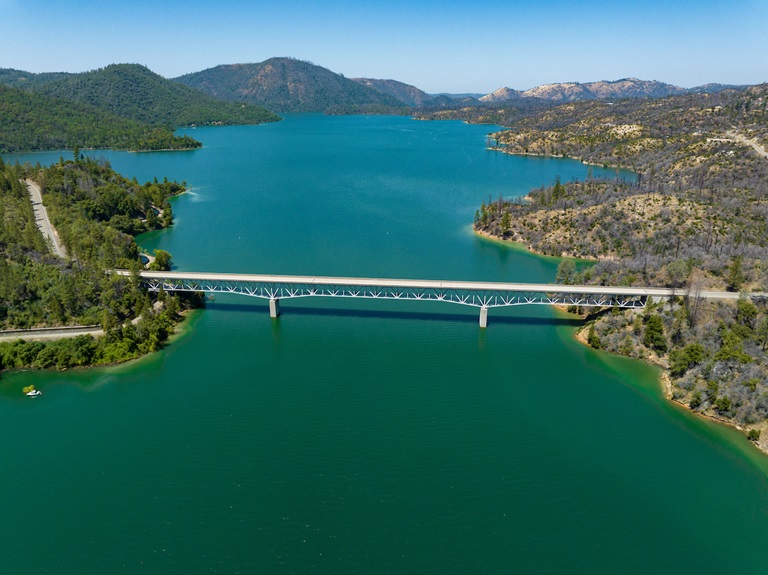 Lake Oroville Water Operations
Winter storms and spring snowmelt filled the Lake Oroville reservoir to capacity, an increase of more than 2.5 million acre-feet of water since Dec. 1. The Department of Water Resources (DWR) continues releases from Lake Oroville through the Hyatt Powerplant and Thermalito Afterbay River Outlet. Total releases to the Feather River amount to 3,000 cubic feet per second (cfs), with adjustments being made to manage storage levels along with water quality and flows through the Sacramento-San Joaquin Delta. Over the past week, inflows into Lake Oroville have been in the range of 2,800 to 3,700 cfs and are projected to be in the same range for the coming week.
DWR may intermittently use the main spillway this summer for water releases to manage storage within the Oroville complex or maintain Feather River temperature levels during ongoing river valve outlet system work near the Hyatt Powerplant. When the main spillway is not in use water may still be seen on the main spillway outlet as the seals on the eight radial gates are not designed to be watertight. The gate seals do not play a role in the structural integrity of the gates, which continue to operate as intended. DWR periodically maintains and adjusts the seals during low-reservoir conditions to improve their sealing capability. The radial gates were also last inspected and tested in Dec. 2022.
Visitors to Oroville Dam may also notice minor amounts of water flowing from drains built into the emergency spillway. As the reservoir level has increased, water flow from the drains has increased, which is normal and expected with the emergency spillway design. The dam and emergency spillway continue to operate as intended.
Driftwood and other floating debris on Lake Oroville are expected due to continued water inflows from tributaries and a high lake level, in combination with past wildfires impacting the watershed. Since January, DWR and California Department of Parks and Recreation (State Parks) staff have been collecting, containing, and pulling pieces of wood out of the lake and away from boat launch ramps using boom lines. However, boaters, water skiers, and other water recreationists should take precautions when operating boats on Lake Oroville and should remain alert for floating debris.
The Lake Oroville reservoir is the largest storage facility in the State Water Project (SWP) and supports environmental and water delivery needs to 27 million Californians and reduces flood risks to downstream communities. DWR continues to closely monitor lake levels and will adjust releases accordingly to optimize operations for water storage and environmental protection while allowing for carryover storage into next year.
Camping at Lake Oroville
The summer months invite everyone to get outside and enjoy the benefits of longer daylight hours. However, summer heat can make recreating outdoors tiring, which makes Lake Oroville the perfect place for your next camping adventure. The Lake Oroville State Recreation Area boasts 167 miles of shoreline and numerous tent, trailer or boat camping sites operated by State Parks. With the lake a short distance away, campers can cool off in the refreshing water one minute and grill some burgers on a barbecue the next. Lake Oroville is also home to floating campsites and boat-in campgrounds for those looking to spend more time on the water. Reserve a camping site at https://reservecalifornia.com or contact State Parks at (800) 444-7275.
Oroville Dam Citizens Advisory Commission
The California Natural Resources Agency hosted a virtual Oroville Dam Citizens Advisory Commission meeting today via Zoom. In addition to public comment, presentations on dam safety projects and fiscal year 2023–24 Oroville Dam facility expenditures were provided. The Commission also continued conversations about inundation maps.
The Citizens Advisory Commission is a forum for questions and feedback from the communities surrounding Oroville Dam. For information on the meeting, please visit https://bit.ly/OrovilleCAC. A transcript of the meeting will be available on the webpage in the coming weeks.
Walk Into Wellness
Join State Parks for a guided, meditative walk around the Lake Oroville State Recreation Area that promotes health and wellness. Free walks focus on calming reflections and enlightening exercises while immersed in the beauty of nature. Sturdy shoes and a water bottle are recommended for participants. The last wellness walk is scheduled from 8 a.m. to 10 a.m. on Sunday, July 16 at Bidwell Canyon; meet at the Toll House Museum.
Oroville Recreation
The Lake Oroville Visitor Center is open Monday through Friday between 9 a.m. and 5 p.m. The Visitor Center offers numerous educational exhibits, a theater featuring videos about the building of Oroville Dam, walking and hiking trails, and a 47-foot-tall observation tower providing unsurpassed panoramic views.
DWR, State Parks, and the California Department of Fish and Wildlife maintain over 92 miles of trails in the Oroville area. An interactive map of recreation facilities, including open boat ramps, and their permitted uses (hike, bike, horse, multi) is available on DWR's Lake Oroville Recreation webpage. A paper trail map is available at various locations, including most entrance kiosks and the Visitor Center. The marinas at Bidwell Canyon and Lime Saddle are open daily and provide a variety of services such as a shuttle and boat rentals.
Current Lake Operations
Lake Oroville is at 897 feet elevation and storage is approximately 3.49 million acre-feet (MAF), which is 99 percent of its total capacity and 133 percent of the historical average.
Feather River releases were increased to 3,000 cfs today to meet downstream Delta water quality and outflow. Flows through the City of Oroville will be decreasing over the weekend. By Sunday, flows through the City of Oroville will be at 650 cfs and releases from the Thermalito Afterbay Outlet (Outlet) will be at 2,350 cfs for a total of 3,000 cfs downstream of the Outlet. With increasing temperatures additional flow fluctuations may occur next week through the City of Oroville. DWR continues to assess releases to the Feather River daily.
The public can track precipitation, snow, reservoir levels, and more at the California Data Exchange Center. The Lake Oroville gage station is identified as "ORO".
All data as of midnight 7/6/2023.