Lake Oroville Community Update - January 27, 2023
Published: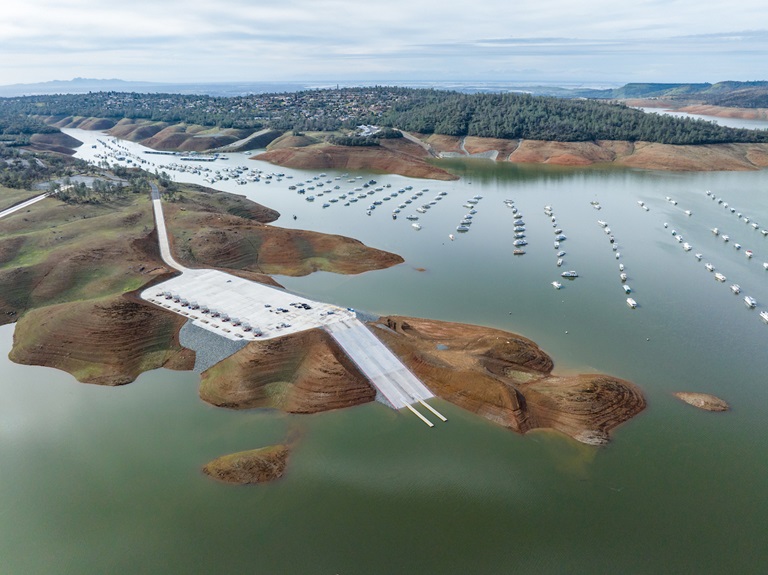 Oroville Recreation Advisory Committee
The Oroville Recreation Advisory Committee (ORAC) will hold a public meeting on Friday, Feb. 3 from 10 a.m. to noon at the Southside Oroville Community Center located at 2959 Lower Wyandotte Road, Oroville, CA, 95966.
ORAC was established by the Federal Energy Regulatory Commission (FERC) to review and provide recommendations regarding the Department of Water Resources (DWR) recreation plan for the Oroville Facilities. The 13-member committee is made up of representatives from state and local government, recreation groups, and business and community organizations.
Driftwood Abatement Ongoing at Lake Oroville
DWR, Department of Parks and Recreation (DPR), and marina partners at Lake Oroville State Recreation Area advise recreational boaters to navigate carefully on Lake Oroville as driftwood is floating in various areas of the lake. This is a common condition with the rising lake levels and DWR has maintenance crews working daily to collect driftwood and haul it to a cove where it will be disposed of when lake levels recede.
New Visitor Center Hours
As of this week, the Lake Oroville Visitor Center has expanded hours and is now open to the public Monday through Friday between 9 a.m. and 5 p.m. The Visitor Center offers numerous educational exhibits, a theater featuring videos about the building of Oroville Dam, walking and hiking trails, and a 47-foot-tall observation tower providing unsurpassed panoramic views. Free guided tours for school and community groups are available by reservation.
State Water Project Allocations Increased
DWR announced yesterday that recent storms will allow the State Water Project (SWP) to boost deliveries to 29 public water agencies serving 27 million Californians. Based on the amount of water captured and stored in recent weeks, DWR now expects to deliver 30 percent of requested water supplies – or 1.27 million acre-feet -- in 2023, up from the initial 5 percent announced on Dec. 1.
The allocation increase is the direct result of significant precipitation in late December and nine atmospheric rivers in early January that helped fill reservoirs and dramatically increase the Sierra Nevada snowpack. The SWP's two largest reservoirs (Oroville and San Luis) have gained a combined 1.62 million acre-feet of water in storage -- roughly enough to provide water to 5.6 million households for a year. While Water Year 2023 began with below average precipitation, conditions shifted to above average for the water year-to-date.
The updated SWP delivery forecast takes into account current reservoir storage and is based on a conservative runoff forecast. It does not take into account the current Sierra Nevada snowpack. DWR will conduct snow surveys on February 1, March 1, April 1, and May 1 and may further update the allocation as the water supply outlook becomes clearer with the new data.
More information about the revised SWP allocations may be found in the press release.
Midwinter Bald Eagle Survey
Environmental scientists from DWR recently participated in the National Midwinter Bald Eagle Survey on Jan. 6 and Jan. 9. This nationwide effort, coordinated by the USACE, aims to determine bald eagle distribution and identify areas of important winter habitats. This year's official count was 176 bald eagles for the Lake Oroville Winter Roost and three at the Thermalito Complex. This is the highest count for the Lake Oroville Winter Roost since DWR began survey participation in 2003.
Lake Oroville and the Sacramento Valley area provide an ideal habitat for bald eagles. Fish and waterfowl are the eagle's main food source during this time of the year and large water bodies like Lake Oroville provide a wide variety of fish, and the nearby wetlands and flooded rice fields provide an abundant supply of waterfowl for eagle foraging. The many trees and snags (tall dead trees) near water areas provide prime roosting locations for the bald eagles that migrate to and through the area during the winter months.
Oroville Recreation
DWR, State Parks, and California Department of Fish & Wildlife maintain over 92 miles of trails in the Oroville area. An interactive map of recreation facilities and their permitted uses (hike, bike, horse, multi) is available on DWR's Lake Oroville Recreation webpage.
With rising lake levels, paved boat ramps are available at the Spillway, Loafer Point, Bidwell Canyon, Lime Saddle, the Thermalito Afterbay, and the Thermalito South Forebay. The Bidwell Canyon Marina is also open from 8 a.m. until sundown and provides a variety of services such as a shuttle and boat rentals.
Current Lake Operations
Oroville's reservoir is about 804 feet elevation and storage is approximately 2.23 million acre-feet (MAF), which is 63 percent of its total capacity and 110 percent of the historical average. Dry weather continues next week with rain showers possible the first weekend of February.
The Feather River releases are currently at 950 cubic feet per second (cfs). Flows through the City of Oroville are 650 cfs with 300 cfs released from the Thermalito Afterbay Outlet (Outlet) for a total of 950 cfs downstream of the Outlet. DWR continues to assess releases to the Feather River daily.
The public can track precipitation, snow, reservoir levels, and more at the California Data Exchange Center. The Lake Oroville gage station is identified as "ORO".
All data as of midnight 1/26/2023.