Lake Oroville Community Update - February 3, 2023
Published: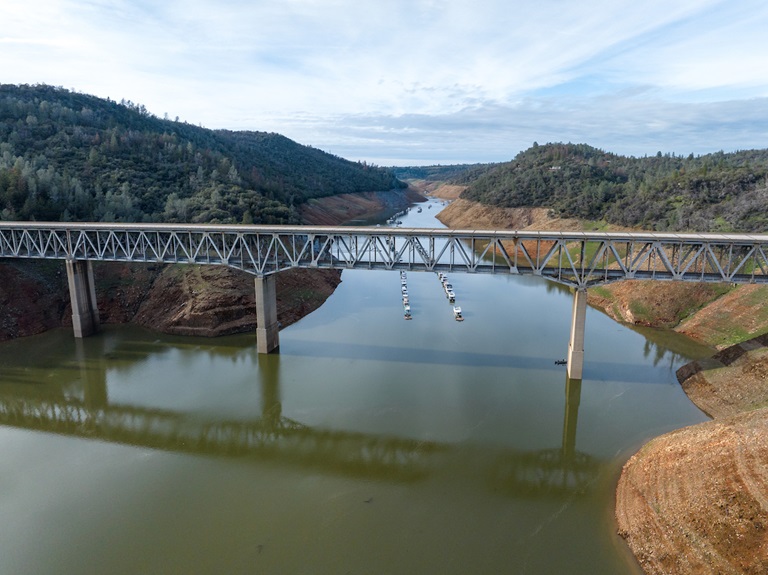 Oroville Recreation Advisory Committee
The Oroville Recreation Advisory Committee (ORAC) met today, Feb. 3 at the Southside Community Center in Oroville. ORAC was established by the Federal Energy Regulatory Commission (FERC) to review and provide recommendations regarding the Department of Water Resources (DWR) recreation plan for the Oroville Facilities. The 13-member committee is made up of representatives from state and local government, recreation groups, and business and community organizations. To obtain a summary of the meeting, send a request to oroville@water.ca.gov.
Snow Survey Shows Significant Boost to Snowpack
On Wednesday, DWR conducted the second snow survey of the season at Phillips Station. The manual survey recorded 85.5 inches of snow depth and a snow water equivalent of 33.5 inches, which is 193 percent of average for this location on February 1. The snow water equivalent measures the amount of water contained in the snowpack and is a key component of DWR's water supply forecast. Statewide, the snowpack is 205 percent of average for this date. Two months remain until April 1, when the state snowpack usually peaks.
The snowpack received a significant boost from one of the wettest three-week periods on record in California, following the driest three-year period on record. California also experienced above average precipitation in December just months after one of the hottest heatwaves in state history in September.
DWR's electronic readings from 130 snow sensors placed throughout the state indicate the statewide snowpack's snow water equivalent is 33.7 inches, or 205 percent of average for this date. While those results are currently outpacing the record 1982-83 season, two months still remain. Periodic rain and snow over the next several months will be key to get the biggest water supply benefit from the state's snowpack without posing additional flood risks. Read more about the snow survey in the press release.
New Visitor Center Hours
As of last week, the Lake Oroville Visitor Center has expanded hours and is now open to the public Monday through Friday between 9 a.m. and 5 p.m. The Visitor Center offers numerous educational exhibits, a theater featuring videos about the building of Oroville Dam, walking and hiking trails, and a 47-foot-tall observation tower providing unsurpassed panoramic views. Free guided tours for school and community groups are available by reservation.
Driftwood Abatement Ongoing at Lake Oroville
DWR, the Department of Parks and Recreation (DPR), and marina partners at Lake Oroville State Recreation Area advise recreational boaters to navigate carefully on Lake Oroville as driftwood is floating in various areas of the lake. This is a common condition with the rising lake levels and DWR maintenance crews work daily to sequester driftwood from boating areas while DPR maintenance crews remove driftwood at launch ramp areas.
Fuel Load Management
DWR continues vegetation management and debris cleanup activities around the Feather River Fish Hatchery to remove overgrown ladder fuels and create a more wildfire resilient landscape. In addition, CAL FIRE, Butte County Fire Department, and the California Conservation Corps (CCC) Butte Fire Center continue pile burning activities in the Loafer Creek area and along Oro Dam Boulevard East near the Hyatt Powerplant. Over the next couple weeks, the CCC Chico crew will be cutting and piling material along Canyon Drive to reduce overgrown vegetation near the community of Kelly Ridge.
Vegetation management activities will continue through the winter, weather permitting. Smoke from pile burning activities will continue to be visible in the Oroville area.
DWR's Fuel Load Management Plan (FLMP) works to reduce wildfire risk and increase public safety around Lake Oroville. Previous FLMP projects in the Loafer Creek Recreation Area have been identified as contributing to the slowing of the 2020 North Complex Fire as it approached Kelly Ridge, increasing firefighters' ability to establish a secure fire line, and preventing the fire from progressing. Ongoing management of this critical area remains a high priority for DWR and local partners.
Oroville Recreation
Lake Oroville is one of the State Water Project's premier recreational destinations and one of California's best fishing spots. The lake provides both warm-water and cold-water fisheries. Below the Oroville Dam, the Thermalito Forebay, Thermalito Afterbay and the Feather River offer additional excellent fishing opportunities for Chinook salmon and steelhead.
Paved boat ramps are available at the Spillway, Loafer Point, Loafer Creek, Bidwell Canyon, Lime Saddle, the Thermalito Afterbay, and the Thermalito South Forebay. The Bidwell Canyon Marina is also open from 8 a.m. until sundown and provides a variety of services such as a shuttle and boat rentals.
DWR, State Parks, and California Department of Fish & Wildlife maintain over 92 miles of trails in the Oroville area. An interactive map of recreation facilities and their permitted uses (hike, bike, horse, multi) is available on DWR's Lake Oroville Recreation webpage.
Current Lake Operations
Oroville's reservoir is about 811 feet elevation and storage is approximately 2.32 million acre-feet (MAF), which is 66 percent of its total capacity and 112 percent of the historical average. Intermittent rain showers are expected over the weekend with sun returning during the week.
The Feather River releases are currently at 950 cubic feet per second (cfs). Flows through the City of Oroville are 650 cfs with 300 cfs released from the Thermalito Afterbay Outlet (Outlet) for a total of 950 cfs downstream of the Outlet. DWR continues to assess releases to the Feather River daily.
The public can track precipitation, snow, reservoir levels, and more at the California Data Exchange Center. The Lake Oroville gage station is identified as "ORO".
All data as of midnight 2/2/2023.