Lake Oroville Community Update - February 24, 2023
Published: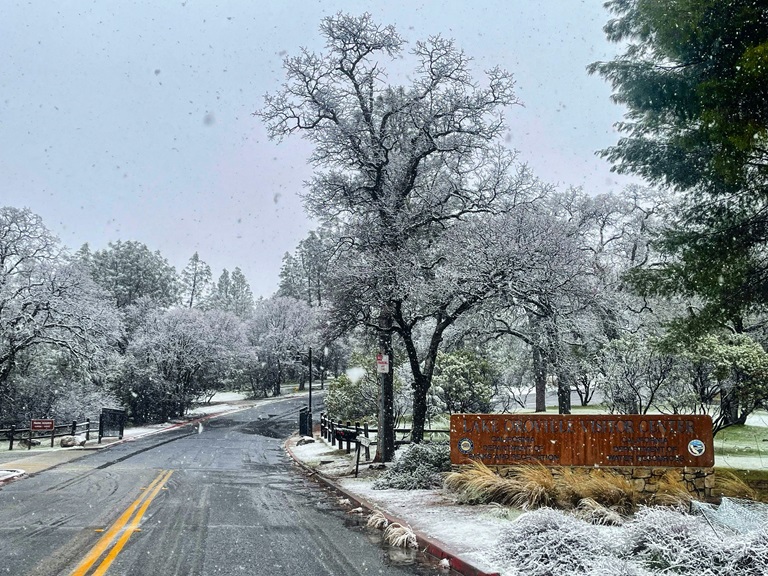 Moderate Increase in State Water Project Allocations Announced
The Department of Water Resources (DWR) announced a modest increase in forecasted State Water Project (SWP) deliveries this year due to early gains in the Sierra snowpack. DWR now expects to deliver 35 percent of requested water supplies, up from 30 percent forecasted in January, to the 29 public water agencies that serve 27 million Californians. That would translate to an additional 210,000 acre-feet of water.
"We're hopeful that more storms this week are a sign that the wet weather will return, but there remains a chance that 2023 will be a below average water year in the northern Sierra," said DWR Director Karla Nemeth. "Careful planning and the use of advanced forecasting tools will enable the Department to balance the needs of our communities, agriculture, and the environment should dry conditions continue this spring and into next year."
The SWP will continue to optimize water storage in Lake Oroville to support environmental needs in the summer and allow for carryover storage for next year if the spring becomes extremely dry. Additionally, the forecasted allocation could be adjusted back down if extreme dry conditions warrant.
More information about the SWP allocations may be found in the press release.
Oroville Dam Citizens Advisory Commission
The California Natural Resources Agency hosted the Oroville Dam Citizens Advisory Commission meeting today at the Southside Oroville Community Center. In addition to public comment, presentations on the January storm events, Lake Oroville reservoir debris maintenance, and spillway capacity were provided.
The Citizens Advisory Commission is a forum for questions and feedback from the communities surrounding Oroville Dam. For information on the meeting, please visit https://bit.ly/OrovilleCAC. A transcript of the meeting will be available on the webpage in the coming weeks.
Christmas Tree Fish Habitat
DWR, the California Conservation Corps (CCC), and the Department of Fish and Wildlife (CDFW) finished constructing fish habitat structures at Lake Oroville and the Thermalito Afterbay using almost 1,800 recycled Christmas trees. The trees were again collected by Chico Boy Scout Troop 2 and delivered free of charge to DWR by Recology, a local waste management company.
To create the habitats on Lake Oroville and the Thermalito Afterbay, members of the CCC team bundle the recycled holiday trees together and anchor them in various locations around the lakebed. At Lake Oroville near the Loafer Creek Recreation Area, 1,250 trees were assembled into 63 structures. At the Thermalito Afterbay, 541 trees were assembled into 54 structures. Anchoring the trees allows them to remain submerged, providing juvenile fish safe refuge, and improving fisheries and recreational fishing opportunities.
This is the 30th year DWR has worked with local groups to construct fish habitat structures, which is one of the longest continuously running warmwater fish habitat improvement programs in the State of California.
Fuel Load Management
DWR continues vegetation management and debris cleanup activities around the Feather River Fish Hatchery to remove overgrown ladder fuels and create a more wildfire resilient landscape. In addition, CAL FIRE, Butte County Fire Department, and the California Conservation Corps (CCC) Butte Fire Center continue cutting and pile burning activities in the Loafer Creek area and along Oro Dam Boulevard East near the Hyatt Powerplant.
Over the next couple weeks, the Butte County Sheriff crew will be cutting and piling material along Canyon Drive to reduce overgrown vegetation near the community of Kelly Ridge. CAL FIRE will burn the brush piles at a later date.
DWR is implementing a Fuel Load Management Plan (FLMP) at its Oroville Facilities to reduce wildfire risk and increase public safety around Lake Oroville and surrounding communities. Vegetation management activities will continue through the spring, weather permitting. Smoke from pile burning activities will continue to be visible in the Oroville area.
Oroville Recreation
DWR, the California Department of Parks and Recreation, and CDFW maintain over 92 miles of trails in the Oroville area. Paved trails at the Lake Oroville Visitor Center and at the North Forebay Day Use Area offer accessible trails with only slight elevation changes. Other trails, such as the Brad Freeman Trail between the Spillway Day Use Area and the Diversion Pool, offer trails with steep elevation changes to challenge hikers and mountain bikers. The Saddle Dam Trailhead has facilities for equestrians, including a large parking area to accommodate horse trailers, water troughs, and hitching posts, and easy access to trails designated for hikers and horses.
An interactive map of recreation facilities, including open boat ramps, and their permitted uses (hike, bike, horse, multi) is available on DWR's Lake Oroville Recreation webpage. The marinas at Bidwell Canyon and Lime Saddle are open daily and provide a variety of services such as a shuttle and boat rentals.
The Lake Oroville Visitor Center is open Monday through Friday between 9 a.m. and 5 p.m. The Visitor Center offers numerous educational exhibits, a theater featuring videos about the building of Oroville Dam, walking and hiking trails, and a 47-foot-tall observation tower providing unsurpassed panoramic views.
Current Lake Operations
Oroville's reservoir is about 828 feet elevation and storage is approximately 2.53 million acre-feet (MAF), which is 71 percent of its total capacity and 115 percent of the historical average. Widespread rain showers and below-average temperatures are ahead for the weekend and into next week.
The Feather River releases are currently at 950 cubic feet per second (cfs). Flows through the City of Oroville are 650 cfs with 300 cfs released from the Thermalito Afterbay Outlet (Outlet) for a total of 950 cfs downstream of the Outlet. DWR continues to assess releases to the Feather River daily.
The public can track precipitation, snow, reservoir levels, and more at the California Data Exchange Center. The Lake Oroville gage station is identified as "ORO".
All data as of midnight 2/23/2023.