Lake Oroville Community Update - September 9, 2022
Published: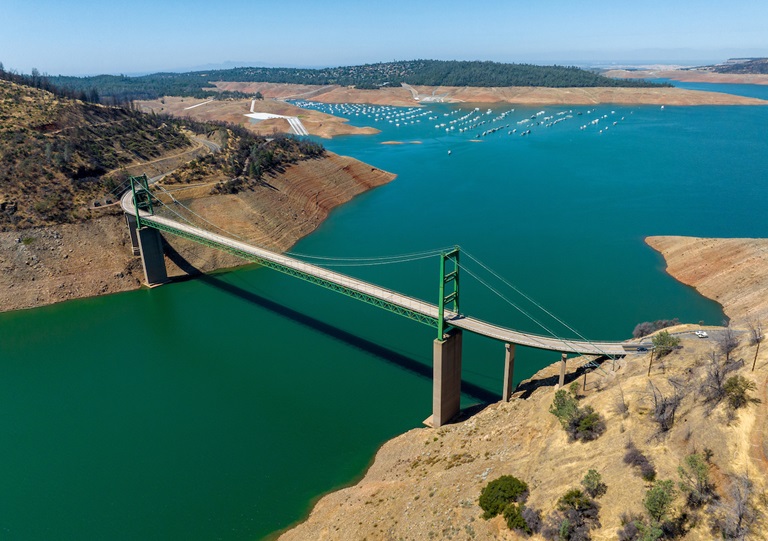 Hatchery Fish Ladder Opens
Chinook salmon are completing their life cycle and returning home to the Feather River to lay eggs for the next generation of salmon. The Feather River Fish Hatchery will begin their spawning activities when the fish ladder opens Thursday, Sept. 15.
Visitors to the Hatchery's Fish Barrier Dam Overlook Viewing Area can view salmon congregating and jumping in the Feather River and see them up close through the Underwater Viewing Window as they swim up the fish ladder. The Overlook is located off Table Mountain Boulevard north of the Hatchery. Visitors are also encouraged to visit the Hatchery, open daily 8 a.m. to 3 p.m.
For the 28th Annual Salmon Festival on Sept. 24, hatchery hours are changed to 9 a.m. to 4 p.m. Festival activities in downtown Oroville will run from 10 a.m. to 4 p.m. and will include a pancake breakfast, car show, arts & crafts, kids zone, food trucks, BBQ salmon, and more. Information about the festival is available on the Oroville Area Chamber of Commerce website.
The Feather River Fish Hatchery's spawning operations enables millions of Chinook salmon to be released every spring. This year, the hatchery released 11.3 million young Chinook salmon smolts to the waters of the Feather River, San Pablo Bay, and San Francisco Bay to support Northern California and Pacific Ocean fisheries. The Feather River Fish Hatchery is a California State Water Project facility owned and maintained by the California Department of Water Resources (DWR), which funds hatchery operations. The California Department of Fish and Wildlife (CDFW) operates the hatchery, including fish spawning, rearing, and stocking activities.
Boat Ramp Status
The Lime Saddle boat ramp is closed with lake elevations falling below safe launching levels and the Spillway boat ramp is anticipated to close the week of Sept. 12. The Bidwell Canyon and Loafer Point boat ramps are open and will remain open through the rest of the year. Boaters are reminded the Lime Saddle Marina will remain open and shuttle service to moored boats is available from 8:30 am. to 4 p.m. The Bidwell Canyon Marina will also be open from 8:30 am. to 8 p.m. with shuttle service available during that time.
The Monument Hill, Wilbur Road, and Larkin Road boat ramps on the Thermalito Afterbay are open and power and sail boating is permitted from 1.5 hours before sunrise to one hour after sunset. Please pay extra attention when boating in the Afterbay, as hundreds of baby Western and Clark's Grebes have hatched in the Afterbay over the last two weeks as noted below. These new hatchlings do not yet have good mobility and are very vulnerable to boats at full speed, so please use caution. The Thermalito South Forebay is open to power and sail boating from 8 a.m. to sunset. The North Forebay off Highway 70 is open to non-motorized boating and is open 8 a.m. to sunset.
Boaters are reminded that abiding by all boating safety requirements, including wearing life jackets and following speed restrictions, will ensure an enjoyable and safe recreation experience for all.
Oroville Recreation
The Lake Oroville area has over 92 miles of trails, all open to hiking, with some also allowing for horseback riding, some also allowing biking, and some designated for "multi-use" where all three activities may occur on the same trail. The trails provide users with spectacular views of Lake Oroville and the valley, home to the Sutter Buttes – named the smallest mountain range in the world.
Trails and their permitted uses, day use areas, boat ramps and other recreation facilities are featured on DWR's interactive map on DWR's Lake Oroville Recreation webpage. Step inside the Lake Oroville Visitor Center, open Tuesday through Thursday from 9 a.m. to 5 p.m., to learn about the State Water Project and history of the area.
The Thermalito Forebay and Afterbay also provide a wide range of recreation opportunities including fishing, hiking, biking, and boating. The North Forebay Aquatic Center has kayaks, paddle boards, and other watercraft available for rent. Non-motorized boating is also permitted in the Thermalito Diversion Pool with car-top boat launching access just before the restroom on Cherokee Road. Lake Oroville and the Oroville Wildlife Area also have car-top boat launch areas.
Campgrounds Close in Plumas National Forest
As the summer recreation season draws to a close, the Plumas National Forest is beginning the slow process of winterizing and closing recreation sites. Area residents and visitors are encouraged to check that recreation sites are still open. Find more information on the Plumas National Forest webpage by scrolling down to the "Seasonal Recreation Changes" news release.
Blue Green Algae Monitoring
While monitoring by DWR environmental scientists for blue-green algae and their toxins at Lake Oroville, the Thermalito North Forebay, and the Thermalito Afterbay only goes through Labor Day, DWR staff will respond to test any observed algal blooms. There are currently no harmful algal bloom (HAB) advisories for any of those waterbodies.
If elevated levels of cyanobacteria toxins are found, DWR staff work with California's Regional Water Quality Control Board and recreation area managers to notify the public and post advisory signs at affected waterbodies. To learn more about HABs, or to report a HAB, visit the Water Board's website.
Blue-green algae (cyanobacteria) is a natural component of ecosystems. Under certain conditions, including warmer temperatures and increased nutrient loads, algae can grow rapidly causing "blooms." Algal blooms sometimes produce toxins that can be harmful to people and animals.
Current Lake Operations
The elevation of Oroville's reservoir is about 704 feet elevation and storage is about 1.28 million acre-feet (MAF), which is 36 percent of its total capacity and 64 percent of historical average. Expect a reprieve from the extreme warm temperatures this weekend through next week, with temperatures in the low-90s over the weekend and further dropping to the high-to-mid-80s next week.
The Feather River releases are currently at 3,500 cubic feet per second (cfs) and continue to meet downstream Delta water quality and outflow needs. Flows through the City of Oroville are 800 cfs with 2,700 cfs released from the Thermalito Afterbay Outlet (Outlet) for a total of 3,500 cfs downstream of the Outlet. On Sunday, Sept. 11, flow from the Outlet will be reduced from 2,700 cfs to 2,200 cfs for a total downstream flow of 3,000 cfs.
The public can track precipitation, snow, reservoir levels, and more at the California Data Exchange Center at www.cdec.water.ca.gov. The Lake Oroville gage station is identified as "ORO".
All data as of midnight 9/8/2022