Lake Oroville Community Update -- Sept. 16
Published: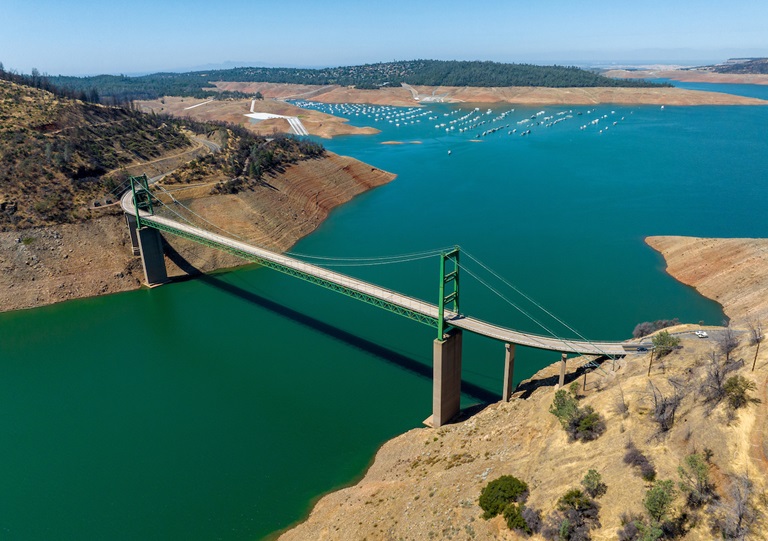 Salmon Festival
The Oroville Salmon Festival returns to Oroville on Saturday, Sept. 24. Always held on the last Saturday in September, the festival celebrates the annual return of Chinook salmon to the Feather River.
The 10 a.m. to 4 p.m. event will be centered around the Feather River Fish Hatchery and Historic Downtown Oroville. From an 'Arts & Crafts Alley' and Oro Dam Cruisers 'Gold Rush Car Show' on Montgomery Street, to a kids activity zone, food vendors (including BBQ salmon), music, live glass blowing, and informational booths, visitors and families will find many activities to enjoy in Oroville's historic downtown and along the Feather River levee.
North of downtown Oroville, across the Feather River, the Feather River Fish Hatchery will open at 9 a.m. and close at 3 p.m. for visitors wishing to learn more about the yearly return of Chinook salmon to the river. Educational tours will be offered throughout the day and visitors will find informational booths, food, a mobile fish exhibit, and a chance to cast a fly-fishing rod. On the northeast side of the hatchery site, the Fish Barrier Dam Overlook, fish ladder, and underwater viewing window are also open to the public.
Those wanting to see the salmon in their natural habitat can sign up for the Forebay Aquatic Center's Feather River Salmon Tours kayak trips down the Feather River. DWR biologists will offer participants education about the salmonid life cycle and river habitat. For details, visit the Salmon Festival's website.
Hatchery Fish Ladder Opens
Chinook salmon are completing their life cycle and returning home to the Feather River to lay eggs for the next generation of salmon. The Feather River Fish Hatchery will begin their spawning activities when the fish ladder opens Monday, Sept. 19.
Visitors to the Hatchery's Fish Barrier Dam Overlook Viewing Area can view salmon congregating and jumping in the Feather River and see them up close through the Underwater Viewing Window as they swim up the fish ladder. The Overlook is located off Table Mountain Boulevard north of the Hatchery. Visitors are also encouraged to visit the Hatchery, open daily 8 a.m. to 3 p.m.
The Feather River Fish Hatchery's spawning operations enables millions of Chinook salmon to be released every spring. This year, the hatchery released 11.3 million young Chinook salmon smolts to the waters of the Feather River, San Pablo Bay, and San Francisco Bay to support Northern California and Pacific Ocean fisheries. The Feather River Fish Hatchery is a California State Water Project facility owned and maintained by the California Department of Water Resources (DWR), which funds hatchery operations. The California Department of Fish and Wildlife (CDFW) operates the hatchery, including fish spawning, rearing, and stocking activities.
Oroville Recreation
The Lime Saddle boat ramp is closed due to lake elevations falling below safe launching levels and the Spillway boat ramp will close the week of Sept. 19. The Loafer Point Stage II and Bidwell Canyon Stage III ramps are open and are anticipated to remain open through the winter.
Boaters are reminded the Lime Saddle Marina will remain open and shuttle service to moored boats is available from 8:30 am. to 4 p.m. The Bidwell Canyon Marina will also be open from 8:30 am. to 8 p.m. with shuttle service available during that time.
The Thermalito Forebay and Afterbay also provide boating, hiking, biking, fishing, and other recreation opportunities. Please pay extra attention when boating in the Afterbay, as hundreds of baby Western and Clark's Grebes have hatched in the Afterbay over the last few weeks. These new hatchlings do not yet have good mobility and are very vulnerable to boats at full speed, so please use caution.
The Lake Oroville area has over 92 miles of trails, all open to hiking, with some also allowing for horseback riding, some also allowing biking, and some designated for "multi-use" where all three activities may occur on the same trail. The trails provide users with spectacular views of Lake Oroville and the valley, home to the Sutter Buttes – named the smallest mountain range in the world.
Trails and their permitted uses, day use areas, boat ramps and other recreation facilities are featured on DWR's interactive map on DWR's Lake Oroville Recreation webpage. Step inside the Lake Oroville Visitor Center, open Tuesday through Thursday from 9 a.m. to 5 p.m., to learn about the State Water Project and history of the area.
Campgrounds Close in Plumas National Forest
As the summer recreation season draws to a close, the Plumas National Forest is beginning the slow process of winterizing and closing recreation sites. Area residents and visitors are encouraged to check that recreation sites are still open. Find more information on the Plumas National Forest webpage by scrolling down to the "Seasonal Recreation Changes" news release.
Current Lake Operations
The elevation of Oroville's reservoir is about 701 feet elevation and storage is about 1.26 million acre-feet (MAF), which is 36 percent of its total capacity and 64 percent of historical average. Temperatures this weekend are forecasted in the low-80s-to-mid-70s with temperatures increasing towards the low-90s later in the week. About 1-1.5 inches of precipitation is forecasted in the Feather River watershed beginning Saturday through early next week.
The Feather River releases are currently at 2,500 cubic feet per second (cfs) and continue to meet downstream Delta water quality and outflow needs. Flows through the City of Oroville are 650 cfs with 1,850 cfs released from the Thermalito Afterbay Outlet (Outlet) for a total of 2,500 cfs downstream of the Outlet. DWR continues to assess releases to the Feather River daily.
The public can track precipitation, snow, reservoir levels, and more at the California Data Exchange Center at www.cdec.water.ca.gov. The Lake Oroville gage station is identified as "ORO".
All data as of midnight 9/15/2022
California is in a third year of drought. With water conservation now a way of life in California, everyone is encouraged to find ways to save water. See tips, tools, and ideas on the Save Our Water website. Information about real time local hydrological conditions, forecasts, and water conditions is available on DWR's new website California Water Watch. Visit DWR's Drought webpage for the latest information.
###
Know someone who would like to receive Community Updates? They can email their request to oroville@water.ca.gov.