Lake Oroville Community Update - May 27, 2022
Published: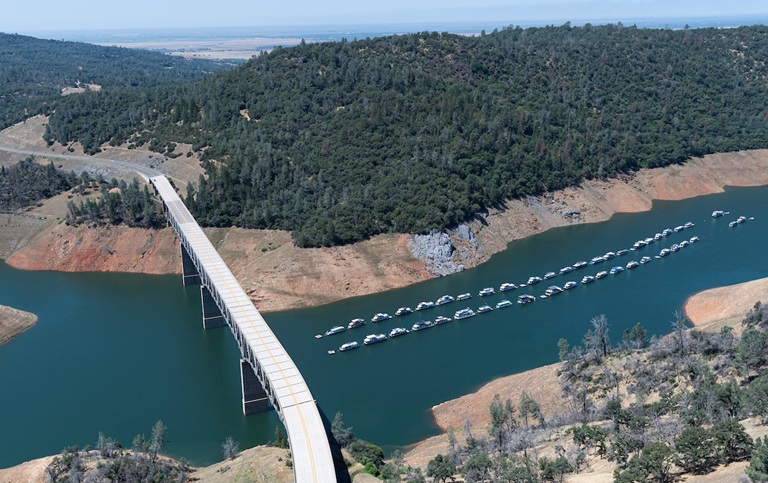 Oroville Recreation
With Memorial Day – the unofficial start of summer – upon us, the Department of Water Resources (DWR) invites the public to take advantage of the many recreation opportunities at the State Water Project's Oroville Thermalito Complex.
Lake Oroville: The Spillway, Loafer Point, Bidwell Canyon, and Lime Saddle boat ramps are open 24-hours, seven days a week and car-top boat ramps are open from 8 a.m. to sunset. Both the Lime Saddle and Bidwell Canyon Marinas are open and provide boat rentals. Restrooms, potable water, and fish cleaning stations are not in service at the Spillway Boat Ramp area but portable toilets are provided – please plan visits accordingly.
Thermalito Forebays and Afterbay: Visitors to the Thermalito North Forebay will find a full California Department of Parks and Recreation (CA Parks) facility with restrooms, picnic areas, a swim beach, and the Forebay Aquatic Center with kayaks, paddle boards, and other watercraft available for rent. Power boating is not allowed on the North Forebay but is permitted on the Thermalito South Forebay where the boat ramp area has a sandy beach, picnic tables, shade trees and vault toilets (no drinking water is available).
The Monument Hill and Wilbur Road boat ramp areas on the Thermalito Afterbay are open as well as the Larkin Road car-top boat ramp. The Monument Hill facility provides boat ramp access, restrooms, a picnic area, and a swim beach. The Wilbur Road boat ramp has boat launch lanes and a vault toilet. Boaters on the Afterbay are reminded of the 5-mph speed limit north of the Highway 162 bridge and that access to the Afterbay is from 1.5 hours before sunrise to one hour after sunset.
Oroville Wildlife Area: Primarily a primitive wildlife area managed for fishing, wildlife viewing and hunting, the Oroville Wildlife Area (OWA) is accessed primarily by boat on the Feather River, by area trails, or from developed and primitive roads off Highway 162, Highway 70, and Larkin Road. The Clay Pit State Vehicular Recreation area for Off-Highway Vehicles (OHVs), a CA Parks facility, is located south of the Oroville Airport and the clay used to build the core of Oroville Dam was excavated from this area. The OWA is administered for DWR by the California Department of Fish and Wildlife (CDFW) and information about the 11,000-acre Oroville Wildlife Area is available on the CDFW webpage.
Lake Oroville Visitor Center and Area Trails: The Visitor Center is open to the public on Tuesdays, Wednesdays, and Thursdays from 9 a.m. to 5 p.m. where visitors can view educational exhibits, walk area trails, and climb the 47-foot-tall viewing tower. The Lake Oroville Trails Map, which shows more than 91 miles of trails available to equestrians, bicyclists, and hikers all around the facilities mentioned above, is available at the Visitor Center, at Lake Oroville State Recreation Area (LOSRA) kiosks, the Oroville Area Chamber of Commerce, or at the Feather River Recreation and Parks office.
An interactive map of recreation facilities in DWR's Oroville-Thermalito Complex is available on DWR's Lake Oroville Recreation webpage at https://water.ca.gov/What-We-Do/Recreation/Lake-Oroville-Recreation. Visitors are encouraged to be fire smart, bring plenty of sunscreen, stay hydrated, avoid leaving valuables in visible areas, and be mindful of personal safety and the safety of those around you.
Cold Water Alert
With the Memorial Day holiday and warm weather starting the summer months, DWR reminds those recreating in area lakes and rivers that waters are still very cold. The Feather River below Oroville Dam is around 55 to 60 degrees. While surface temperatures of Lake Oroville can be warmer, colder water is present only a few feet below the surface. Additionally, inflows from snowmelt are feeding the upper reaches of the Feather River's forks where cold water shock can impair breathing and heart rate after a sudden immersion.
Outdoor enthusiasts are encouraged to be mindful of water temperatures and wear a life jacket if near or on the water. For more information, visit the National Weather Service's Safety webpage.
Plumas National Forest
Several recreation sites on the Plumas National Forest have opened, including on DWR's Upper Feather Lakes of Lake Davis, Frenchman Lake, and Antelope Lake. Recreation facilities such as day use areas, beaches, and campgrounds, are managed by the U.S. Forest Service and their contractors. For information about recreation facility locations, amenities, and current conditions and restrictions, visit the Plumas National Forest webpage.
Thermalito Forebay Control Burns
A series of vegetation management burns around the Thermalito Forebay were conducted by CAL FIRE/Butte County Fire Department on May 27 in cooperation with the Department of Water Resources (DWR) and CA Parks. A total of about 60 acres near the Forebay Aquatic Center (~20 acres) and west of the Nelson Sports Complex (~40 acres) were successfully treated along with 30 acres of grassland at the Rabe Road Shooting Range south of Oroville Airport. An additional treatment of 185 acres is planned for the week of May 30 at South Forebay near Grand Avenue (~65 acres), and near Wilbur Road and Tres Vias Road (~120 acres).
The vegetation management-controlled burns have multiple benefits for the natural environment and public safety. The grasslands around the Thermalito Forebay are home to many seasonal wetlands called vernal pools. Although vernal pools are only a small component of these grasslands, they support a high diversity of California native plants and animals, including rare and endangered species and species endemic to California (i.e., found nowhere else in the world).
Fire from carefully controlled burns is the most powerful tool to combat invasive plants and dry invasive grass buildup called 'thatch' within these grasslands and vernal pools. Removal of invasive species allows native plants and animal species, such as fairy shrimp, to thrive. The burns will also remove dangerous fire fuels from grassland adjacent to private property and near high-use areas. CAL FIRE Battalion Chief Jason Dyer also noted that the projects allow firefighters to practice skills in a controlled environment.
Grazing Efforts Reduce Fire Risk
Drivers along Canyon Drive from Royal Oaks Drive to Oroville Dam's Upper Overlook Parking Area will see how grazing is used in DWR's Fuel Load Management Plan to reduce wildfire risk, increase public safety, and enhance forest health in areas around Lake Oroville. For the next couple of weeks, goats and sheep will be visible along the hillside adjacent to the roadway.
To increase the amount of vegetation removed, a mixture of goats and sheep are used by contractor Hanski Family Farms because the animals prefer different vegetation types. Goats prefer ladder fuels (shrubs, bushes, smaller trees, or tree branches near the ground) and sheep prefer grasses. When goats stand on their hind legs, they can reduce ladder fuels up to six feet high.
DWR, in partnership with Butte County Fire Safe Council, continues to use grazing as a sustainable method of fuel reduction around DWR's Oroville-Thermalito Complex, including Lake Oroville. To learn more, visit DWRs YouTube Channel for a video of the March 2021 Lakeland Boulevard goat grazing project on DWR's YouTube webpage.
Current Lake Operations
The elevation of Oroville's reservoir is about 776 feet elevation and storage is about 1.9 million acre-feet (MAF), which is 54 percent of its total capacity and 69 percent of historical average. Expect dry and temperatures in the mid-70s to 80s this weekend, increasing to the low- to mid-90s next week.
The Feather River releases were increased last week and are currently at 2,700 cubic feet per second (cfs) to meet downstream Delta water quality and outflow needs. Flow in the low-flow channel through the City of Oroville is 650 cfs and flow through the Thermalito Afterbay Outlet is currently 2,050 cfs. Flows are assessed daily.
The public can track precipitation, snow, reservoir levels, and more at the California Data Exchange Center at www.cdec.water.ca.gov. The Lake Oroville gage station is identified as "ORO".
All data as of midnight 5/26/2022