Lake Oroville Community Update - July 8, 2022.
Published: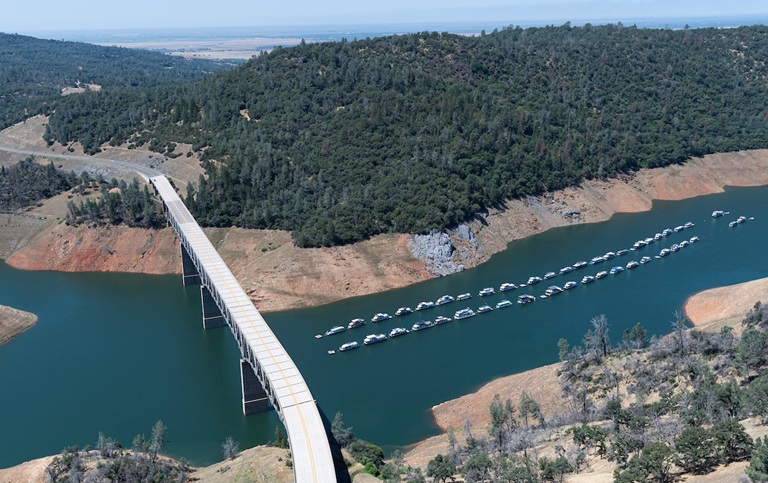 Oroville Dam Citizens Advisory Commission Meeting
The California Natural Resources Agency is hosting its 11th Oroville Dam Citizens Advisory Commission meeting on July 29, 10 a.m. to Noon. The public meeting will be held at the Southside Community Center in Oroville, located at 2959 Lower Wyandotte Road, Oroville, CA 95966, and will include presentations and public comment.
The Commission will receive a brief update on the development of the Commission report, a recap of a flood safety stakeholder technical workshop held in April, and a presentation from the California Department of Water Resources (DWR) on dam facilities management and annual maintenance planning.
Time for public input is also scheduled. The Oroville Dam Citizens Advisory Commission is a forum for questions and feedback from the communities surrounding Oroville Dam. For information on the meeting, please visit https://bit.ly/OrovilleCAC.
Oroville Recreation
Four paved boat ramps at Lime Saddle, Bidwell Canyon, Spillway, and Loafer Point are open at Lake Oroville, along with the Lime Saddle and Bidwell Canyon marinas, and reservations for campgrounds in the Lake Oroville State Recreation Area (LOSRA) can be made by visiting the California Department of Parks and Recreation (CA Parks) LOSRA website.
Restrooms, potable water, and fish cleaning stations are not in service at the Spillway Boat Ramp area, but portable toilets are provided – please plan visits accordingly. A water and sewer pipeline replacement project is underway to restore these utilities. Please be aware of construction traffic in the vicinity of the Spillway Day Use Area.
The Thermalito Forebay and Afterbay provide a wide range of recreation opportunities including fishing, hiking, biking and boating. Non-motorized boating is permitted in the North Forebay, and motorized boating is only permitted in the South Forebay and Afterbay. Boaters are reminded to abide by speed limits near boat launch areas and north of the Highway 162 bridge where Afterbay speed limits are five (5) miles per hour. Visitors are reminded to abide by all posted signage regarding permitted swimming areas (never near boating docks) to ensure public safety for all. Swimming near boat docks is dangerous – risks include propeller strikes and boat collisions, carbon monoxide poisoning from boat exhaust, electrical shock from shorted wiring in boats or docks, and an increased chance of polluted waters where boats are launched and retrieved.
The North Forebay Aquatic Center has kayaks, paddle boards, and other watercraft available for rent Thursday through Sunday. Non-motorized boating is also permitted in the Thermalito Diversion Pool with kayak access just before the restroom on Cherokee Road. Lake Oroville and the Oroville Wildlife Area also have car-top boat launch areas. Visit the interactive map of recreation facilities in DWR's Oroville-Thermalito Complex on DWR's Lake Oroville Recreation webpage. And step inside the Lake Oroville Visitor Center, open Tuesday through Thursday from 9 a.m. to 5 p.m., to learn about the State Water Project and history of the area.
Grazing Goats Reduce Fire Risk
Four hundred goats and sheep just completed the 50-acre grazing operation around Hyatt Powerplant and Canyon Drive towards Oroville Dam's Upper Overlook. The goal of this project is to minimize the rate of spread of a potential fire by reducing ground fuels, ladder fuels (vegetation that reaches up from the ground into trees), and overgrown vegetation.
Grazing is gaining popularity across California as a sustainable method to minimize wildfire risk and lessen the spread of a wildfire through vegetation management. The goats and sheep graze on grasses, leaves, poison oak, and a variety of shrubs and trees. By standing on their hind legs, they can reduce ladder fuels up to six feet high. Plus, they love to eat weeds, especially invasive ones.
The goat grazing project is part of DWR's Fuel Load Management Plan, which helps reduce wildfire risk, increase public safety, and enhance forest health in areas around Lake Oroville within the Federal Energy Regulatory Commission (FERC) project boundary. In partnership with Butte County Fire Safe Council, DWR continues to use grazing as a sustainable method of fuel reduction around DWR's Oroville-Thermalito Complex.
To learn more and to see goat grazing in action, visit DWR's YouTube Channel for a video of the March 2021 Lakeland Boulevard goat grazing project on DWR's YouTube webpage.
Blue Green Algae Monitoring
DWR environmental scientists regularly monitor for blue-green algae and their toxins during the summer months. There are currently no harmful algal bloom (HAB) advisories for Lake Oroville, the Thermalito Forebay, or the Thermalito Afterbay.
Water samples are taken at various locations regularly from Memorial Day through Labor Day. To learn more about HABs, or to report a HAB visit the Water Board's website.
Current Lake Operations
The elevation of Oroville's reservoir is about 739 feet elevation and storage is about 1.58 million acre-feet (MAF), which is 45 percent of its total capacity and 63 percent of historical average. Very warm temperatures are anticipated over the weekend and into next week. Expect to see temperatures over 100 degrees throughout the week.
The Feather River releases were increased last week and are currently at 4,000 cubic feet per second (cfs) to meet downstream Delta water quality and outflow needs. Flows through the City of Oroville are at planned at 1,550 cfs with 2,450 cfs released from the Thermalito Afterbay Outlet (Outlet) for a total of 4,000 cfs downstream of the Outlet. Flows through the low flow channel may fluctuate through the week for fisheries purposes.
The public can track precipitation, snow, reservoir levels, and more at the California Data Exchange Center at www.cdec.water.ca.gov. The Lake Oroville gage station is identified as "ORO".
All data as of midnight 7/14/2022