Lake Oroville Community Update - February 11, 2022
Published: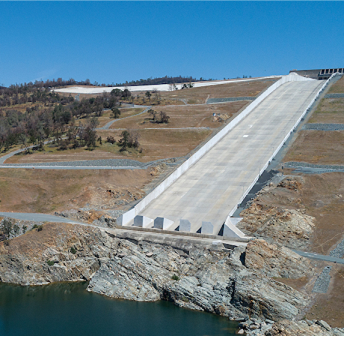 Five Year Anniversary
February 2017 was a challenging time for Oroville residents and the surrounding communities. Over the past five years, the dam safety industry has been transformed statewide and nationally, leading to changes in how dams and related facilities are operated, inspected, and maintained. Public safety and flood protection remain the Department of Water Resources' (DWR) top priorities in operational decisions regarding the Oroville reservoir.
The reconstruction of the Oroville Dam's main and emergency spillways using a more robust and modern design ensures that the Oroville Dam will continue to be able to provide flood protection to downstream communities.
The Oroville Dam Comprehensive Needs Assessment (2020) identified priorities and appropriate solutions to bolster the integrity and resiliency of the Oroville Dam Complex; projects completed or underway include a seismic retrofit study, assessment of the FCO gate structure, installation of piezometers at Oroville Dam to collect data on seepage, and studies of area geology.
Transparency, public engagement, and open communication also remain priorities as DWR works to restore trust and build relationships. Although the COVID-19 pandemic has restricted personal outreach and in-person community presentations, DWR continues to share information virtually regarding annual milestones, weather forecasts and operational updates, and engage community members in dialogue about needs and concerns. Residents are encouraged to participate in the Oroville Dam Citizens Advisory Commission that meets every three months.
DWR is thankful to all the impacted residents for their patience and partnership as we move forward to achieve our shared goals of public safety, a reliable water supply for the state, environmental protections, and recreation opportunities for residents and visitors.
Law Enforcement Training
The Butte County Sheriff's Office held an emergency response training at the Ronald B. Robie Thermalito Pumping-Generating Powerplant today (Feb. 11) which involved law enforcement and public safety personnel and equipment. The Sheriff's Office advised the public this was a training exercise to provide participants with "real-time" response and rescue experiences to learn and refresh skills related to emergency preparedness and response. The Thermalito Powerplant remains fully operational.
Christmas Tree Fish Habitat
DWR, the California Conservation Corps (CCC), and the California Department of Fish and Wildlife (CDFW) completed constructing fish habitat structures at Lake Oroville and the Thermalito Afterbay using over 1,240 recycled Christmas trees. The trees were again collected by Chico Boy Scout Troop 2 and delivered free of charge to DWR by Recology, a local waste management company.
To create the habitat on Lake Oroville and the Thermalito Afterbay, members of the CCC team bundle the recycled holiday trees together and anchor them in various locations around the lakebed. At Lake Oroville near the Loafer Creek Recreation Area, 916 trees were assembled into 64 structures. At the Thermalito Afterbay, 324 trees were assembled into 32 structures. Anchoring the trees allows them to remain submerged, providing juvenile fish safe refuge, and improving fisheries and recreational fishing opportunities.
For nearly 30 years, DWR has worked with local groups to construct fish habitat structures, which is one of the longest continuously running fish habitat improvement programs in the State of California.
Lakeside Access Road
Construction activities associated with the Lakeside Access Road project continue to result in intermittent closures of the Oroville Dam Crest parking lot on the northwest side of the dam as well as the Spillway Boat Ramp area. These short duration closures are anticipated to continue until the end of February. The popular walking/bicycling trail across the top of the dam will remain open and parking will continue to be available at the Upper Overlook.
This project will consist of a new, permanent, paved road from the west side of Oroville Dam to the Spillway Boat Ramp parking lot on the "lakeside," or waterside, of the Oroville Dam spillways. This new road will allow a more direct route when water levels are low in Lake Oroville. The new road will include two concrete traffic lanes, wide shoulders for walking and biking, guardrails, and safety signage.
Oroville Recreation
The Loafer Point, Bidwell Canyon, and Lime Saddle boat ramps are open. The Oroville Dam Spillway boat ramp remains closed for repairs. The Foreman Creek and Stringtown cartop boat ramps are also open. Information on current boat ramp status can be found on the California State Parks' Lake Oroville State Recreation Area webpage. Scroll down to the link for "Current Boat Ramp Status".
The Lake Oroville Visitor Center is open to the public on Tuesdays, Wednesdays, and Thursdays from 9 a.m. to 5 p.m. Pick up the Lake Oroville Trails Map, which shows more than 97 miles of trails available to equestrians, bicyclists, and hikers, at Lake Oroville State Recreation Area (LOSRA) kiosks, the Oroville Area Chamber of Commerce, or the Feather River Recreation and Parks District. The Loafer Creek Recreation Area continues to be closed due to waterline repair (boat ramp access allowed).
Visit the California Parks LOSRA webpage for current information on facility status and campground reservations. An interactive map of recreation facilities in DWR's Oroville-Thermalito Complex is available on DWR's Lake Oroville Recreation webpage. Information about the 11,000-acre Oroville Wildlife Area is available on the California Department of Fish and Wildlife webpage.
Current Lake Operations
The elevation of Oroville's reservoir is about 745 feet elevation and storage is about 1.63 million acre-feet, which is 46 percent of its total capacity and 77 percent of historical average. Dry and warm conditions are forecasted for this weekend with temperatures in the mid-70s. There's slight chance of rain on Monday with warm and dry weather returning next week.
The average daily inflows this week have been in the range of 2,000 cubic feet per second (cfs) to 3,000 cfs. Inflows through the weekend and next week are forecasted to be around 3,000 to 4,000 cfs. Inflows are subject to change based upon on actual weather conditions.
Total flows to the Feather River are 3,500 cfs. This increase is for downstream water quality and flow requirements. Flow in the low-flow channel through the City of Oroville is 650 cfs and flow through the Thermalito Afterbay Outlet is 1,850 cfs. Releases are assessed daily.
The public can track precipitation, snow, reservoir levels, and more at the California Data Exchange Center at www.cdec.water.ca.gov. The Lake Oroville gage station is identified as "ORO".
All data as of midnight 2/10/2022