Lake Oroville Community Update - December 9, 2022
Published: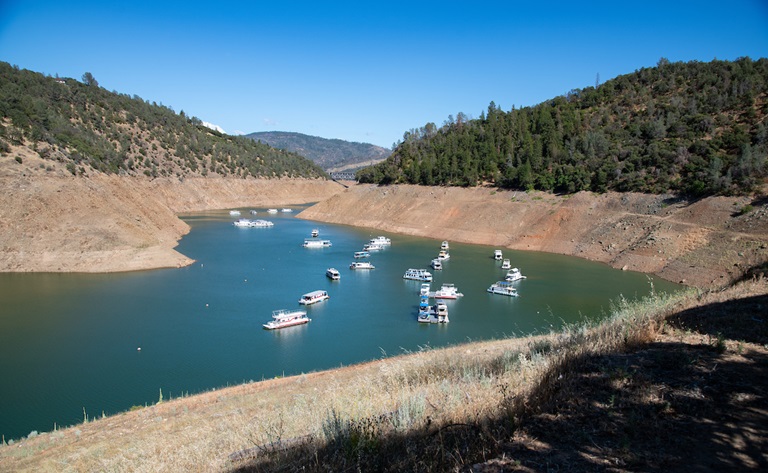 Winter Outlook
Even with the Northern Sierra snowpack measuring 147 percent of normal as of Dec. 8, the Department of Water Resources (DWR) is reminding the public of ongoing drought conditions throughout California.
As the state enters its fourth year of drought, California Water Watch shows most of the state is still in moderate, severe, or extreme drought conditions, and the state's groundwater basins and environments are still stressed from years of severely dry conditions. While early season precipitation totals may be cause for cautious optimism, last year's above average December was followed by historic dry conditions January through March. This early in the winter, California must proceed with caution and continue to embrace solutions proposed in the administration's Water Supply Strategy for Adapting to a Hotter, Drier Future.
The National Oceanic and Atmospheric Administration (NOAA) is predicting a La Niña winter with dry conditions in Southern California and equal chances of wet or dry conditions in central and northern parts of the state. Early snow totals are only helpful if they translate into runoff into the state's streams, rivers, and reservoirs, particularly in the spring and summer months.
DWR is investing in several new tools to both predict and capture runoff, such as investing in additional Airborne Snow Observatory flights and improving runoff forecasting abilities with more sophisticated data collection. While the winter season has started positively, the most important measurement of the year will be April 1, when the snowpack is typically at its highest. You can track precipitation and snowpack data on the California Data Exchange Center website.
Lakeside Road Closure
The Spillway Day Use Area will be closed to vehicles Tuesday, Dec. 13 and Wednesday, Dec. 14 for utility work along Lakeside Access Road. The gravel spillway ramp will not be affected by the closure and will remain open for use. Trail access to Potters Ravine is available to users from the Dam Crest parking lot by crossing the Spillway road segment that serves as part of the Brad Freeman Bike Trail. This section is open to pedestrians, cyclists, and equestrians.
Vegetation Management Activities Continue in Oroville Area
DWR began vegetation management and debris cleanup activities around the Feather River Fish Hatchery to remove overgrown ladder fuels and create a more wildfire resilient landscape. In addition, CAL FIRE, Butte County Fire Department, Butte County Sheriff, Plumas National Forest, and DWR continue pile burning activities in the Loafer Creek area and along Oro Dam Boulevard East near the Hyatt Powerplant. Vegetation management activities will continue through the winter, weather permitting.
Some intermittent trail closures in the Loafer Creek Recreation Area may occur. Trail users are advised to be "safety-aware" and are required to obey posted trail closure signage. Smoke from vegetation removal work has been, and may continue to be, visible in the Oroville area.
DWR's Fuel Load Management Plan (FLMP) works to reduce wildfire risk and increase public safety around Lake Oroville. Previous FLMP projects in the Loafer Creek Recreation Area have been identified as contributing to the slowing of the 2020 North Complex Fire as it approached Kelly Ridge, increasing firefighters' ability to establish a secure fire line and preventing the fire from progressing. Ongoing management of this critical area remains a high priority for the FLMP.
DWR Issues State Water Project Allocations
DWR issued State Water Project allocations last week amounting to 5 percent of requested supplies for 2023. Existing storage in Lake Oroville is being conserved in the event dry conditions continue. The initial 5 percent allocation would be met by flows from winter storms entering the Delta as well as stored water in San Luis Reservoir.
"This early in California's traditional wet season, water allocations are typically low due to uncertainty in hydrologic forecasting. But the degree to which hotter and drier conditions are reducing runoff into rivers, streams and reservoirs means we have to be prepared for all possible outcomes," said DWR Director Karla Nemeth.
Each year, DWR provides the initial State Water Project allocation by December 1 based on available water storage, projected water supply, and water demands. Allocations are updated monthly as snowpack and runoff information is assessed, with a final allocation typically determined in May or June. Read the full news release on the DWR News webpage.
Oroville Recreation
Paved boat ramps at Lake Oroville remain temporarily closed due to low lake levels stemming from ongoing drought. DWR and the California Department of Parks and Recreation (State Parks) have provided a gravel launch ramp near the Spillway Boat Ramp until the lake level rises. This gravel launch ramp is open 24-hours a day and may be accessed from the Lakeside Access Road between Oroville Dam and the Spillway Day Use Area and Boat Launch. Four-wheel-drive vehicles are highly recommended – please use at your own risk.
The temporary launch ramp is gravel on dirt which becomes slippery when wet, especially during times of heavy usage. To maintain the integrity of the steep ramp, drivers are encouraged to avoid tire spin by engaging vehicles in 4-wheel drive and accelerating slowly when exiting the ramp, with or without a loaded trailer.
Both the Lime Saddle and Bidwell Canyon marinas remain open from 8 a.m. until sundown with shuttle service and boat rentals available. Paved boat ramps continue to be available at the Thermalito Afterbay and the Thermalito South Forebay. With continued rising lake levels, the paved Bidwell Canyon III ramp is expected to reopen the week of Dec. 13 with a boarding dock available for users.
The Lake Oroville Visitor Center is open Tuesday through Thursday from 9 a.m. to 5 p.m. and offers visitors numerous educational exhibits, a theater featuring videos about the building of Oroville Dam, walking and hiking trails, and a 47-foot-tall observation tower providing unsurpassed panoramic views of Lake Oroville, the valley, the foothills and Sierra Nevada, and the Sutter Buttes, known as the smallest mountain range in the world.
DWR and State Parks maintain over 92 miles of trails in the Oroville area. Trails and their permitted uses (hike, bike, horse, multi), day use areas, boat ramps, and other recreation facilities are featured on DWR's interactive Lake Oroville Recreation webpage.
Current Lake Operations
Oroville's reservoir is about 662 feet elevation and storage is approximately 985,000 acre-feet (AF), which is 28 percent of its total capacity and 55 percent of the historical average. Rain is again anticipated over the weekend and into early next week with temperatures in the high-40s to low-50s. Weekend rain totals of 2 to 3 inches and wind gusts of 40-45 mph are possible for valley areas.
The Feather River releases are currently at 1,000 cubic feet per second (cfs) and will be reduced to 950 cfs Saturday, Dec. 10. Flows through the City of Oroville are 650 cfs with 300 cfs released from the Thermalito Afterbay Outlet (Outlet) for a total of 950 cfs downstream of the Outlet. DWR continues to assess releases to the Feather River daily.
The public can track precipitation, snow, reservoir levels, and more at the California Data Exchange Center. The Lake Oroville gage station is identified as "ORO".
All data as of midnight 12/8/2022