Lake Oroville Community Update - December 30, 2022
Published: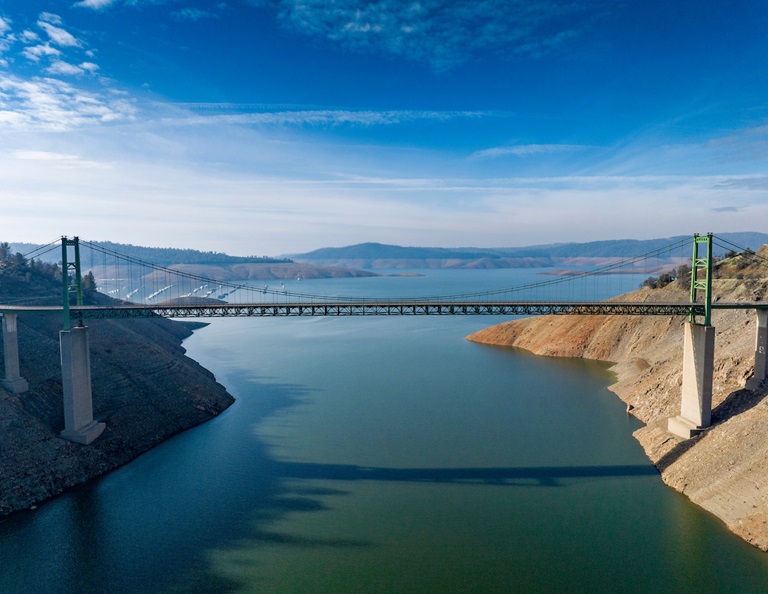 Loafer Point Boat Ramp Now Open
The Loafer Point paved ramp reopened for boat launching this week. The ramp has three launch lanes at current lake levels, a boarding float, and is adjacent to the Loafer Creek Recreation Day Use Area and Campground with nearby trails, campgrounds, boating, and marina store.
Paved boat ramps are also available at Bidwell Canyon, the Thermalito Afterbay, and the Thermalito South Forebay. Both the Lime Saddle and Bidwell Canyon marinas are open from 8 a.m. until sundown with shuttle service and boat rentals available.
Atmospheric Rivers
This past week and heading into the New Year, a series of atmospheric rivers are hitting California, further bolstering the Northern Sierra snowpack, which is at 128 percent of normal as of Dec. 29. Atmospheric rivers are air currents that carry huge amounts of water vapor from the tropics to the West Coast and are a key feature in the California water cycle.
Atmospheric rivers account for 40 to 60 percent of California's annual precipitation, often in powerful downpours that can hit in rapid succession. On the flip side, successive years without significant atmospheric river events has led to severe drought conditions throughout most of the state. California still needs above average precipitation throughout the winter to offset record-setting drought conditions.
The California Department of Water Resources (DWR) is conducting the first snow survey of the season on Jan. 3, pending good weather conditions. Track precipitation, reservoir levels and snowpack data at the California Data Exchange Center.
Fish Hatchery Increasing Fall-Run Chinook Salmon Production
DWR and the California Department of Fish and Wildlife (CDFW) will increase the Feather River Fish Hatchery's production of fall-run Chinook salmon in 2023 to approximately 9.5 million fish to combat the impacts of drought and a thiamine deficiency affecting natural spawning and in-river production.
The hatchery, owned by DWR and operated by CDFW, is seeking to produce approximately 8 million fall-run Chinook salmon smolts and 1.5 million fall-run Chinook salmon fingerlings in 2023 – a 3.5 million increase over typical production goals.
Two million of the additional salmon smolts produced will be trucked to release sites in the San Pablo and San Francisco bays to maximize survival. Another 1.5 million of these additional fish will be released into the Feather River earlier in the season and at a smaller size than typical river releases. This is an experimental effort to take advantage of more favorable weather and river conditions in early spring.
For more information about increased fall-run Chinook Salmon production, read CDFW's press release.
Steelhead Spawning
Feather River Fish Hatchery staff began steelhead spawning operations this week and will continue through early February. These fish will enter the hatchery via the fish ladder that leads up from the Feather River Fish Barrier Dam and can be seen at the viewing windows and facility. Once the spawned fish eggs have hatched, the juvenile fish will be reared at the hatchery for a full year and then released next winter into the Feather River. If there are any surplus fish beyond the production goal of 400,000, fish may be planted into the Thermalito Afterbay for recreational fishing.
Like the salmon that populate the Feather River, steelhead trout migrate from freshwater to marine (ocean), returning to freshwater environments to spawn. Unlike salmon, they can spawn several times during their lifetime and can live up to eight years. The "steelhead" name comes from their appearance, a more streamlined shape than Chinook salmon with a silvery or brassy color as an adult.
The Feather River Fish Hatchery is a California State Water Project (SWP) facility built in the late 1960s to mitigate impacts on fish migration resulting from the construction of Oroville Dam, which prevented access to spawning grounds further upstream. Daily visiting hours at the facility are 8 a.m. to 3 p.m.
Fuel Load Management
DWR continues vegetation management activities around the Oroville area to remove overgrown vegetation and create a more wildfire resilient landscape. Over the next few months, you may see crews working in various areas including Loafer Creek, Canyon Drive, along Oro Dam Blvd. East, and the Feather River Fish Hatchery. CAL FIRE, Butte County Fire Department, Butte County Sheriff's Office, California Conservation Corps (CCC), and crews from the Butte Fire Center continue to cut, pile, chip, and pile burn as weather allows. Vegetation management activities will continue through the winter, weather permitting. Smoke from pile burning activities will continue to be visible in the Oroville area.
DWR's Fuel Load Management Plan (FLMP) works to reduce wildfire risk and increase public safety around Lake Oroville. Previous FLMP projects in the Loafer Creek Recreation Area have been identified as contributing to the slowing of the 2020 North Complex Fire as it approached Kelly Ridge, increasing firefighters' ability to establish a secure fire line and preventing the fire from progressing. Ongoing management of the FLMP remains a high priority for DWR and local partners.
Oroville Recreation
The Lake Oroville Visitor Center is open to the public Tuesday through Thursday from 9 a.m. to 5 p.m. Pick up the Lake Oroville Trails Map, which shows more than 92 miles of trails available to equestrians, bicyclists, and hikers, at Lake Oroville State Recreation Area kiosks, the Oroville Area Chamber of Commerce, or the Feather River Recreation and Parks District.
An interactive map of recreation facilities and their permitted uses (hike, bike, horse, multi) is available on DWR's interactive Lake Oroville Recreation webpage.
Current Lake Operations
Oroville's reservoir is about 684 feet elevation and storage is approximately 1.14 million acre-feet (MAF), which is 32 percent of its total capacity and 62 percent of the historical average. A series of storms will deliver rain to the valley and snow to the Sierra through the New Year weekend and into next week, further bolstering lake levels.
The Feather River releases are currently at 950 cubic feet per second (cfs). Flows through the City of Oroville are 650 cfs with 300 cfs released from the Thermalito Afterbay Outlet (Outlet) for a total of 950 cfs downstream of the Outlet. DWR continues to assess releases to the Feather River daily.
The public can track precipitation, snow, reservoir levels, and more at the California Data Exchange Center. The Lake Oroville gage station is identified as "ORO".