Lake Oroville Community Update - April 29, 2022
Published: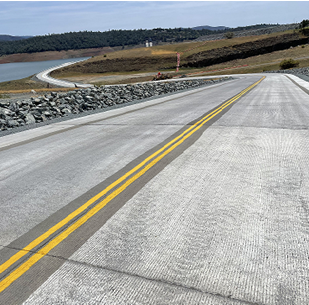 Mapping State's Groundwater Basins
The Department of Water Resources (DWR) will be conducting an innovative, helicopter-based technology of airborne electromagnetic (AEM) surveys to gather information about the state's groundwater aquifer structure to support drought response and the implementation of the Sustainable Groundwater Management Act (SGMA). AEM surveys have been conducted across the state and will be conducted in groundwater basins within portions of Colusa, Butte, Glenn, Tehama, and Shasta counties over a three-week period starting the week of April 24.
During the daytime surveys, a low-flying helicopter tows a large hoop with scientific equipment approximately 100 feet above the ground surface. The helicopter, flown by experienced and licensed pilots, will make several passes over the survey areas and may be visible to residents. Surveys will not take place over businesses, homes, other inhabitable structures, or confined animal feeding operations.
Survey data creates an image of the subsurface down to a depth of about 1,000 feet below ground surface and provides information about large-scale aquifer structures and geology. This information supports the implementation of local groundwater sustainability plans (GSPs), which can help local agencies sustainably manage groundwater during drought. For more information, watch DWR's short 2-minute video on the introduction to the AEM method, provided in both English and Spanish.
DWR encourages residents to get involved in their local groundwater management activities and GSP implementation through your groundwater sustainability agency (GSA). Information about local GSAs can be found on the SGMA portal. For more information about the AEM surveys, visit DWR's AEM project website. For questions, please email AEM@water.ca.gov.
Lakeside Access Road Opens
Visitors to the Spillway Boat Ramp and Day Use Area and nearby trails will now use the newly constructed Lakeside Access Road beginning April 29. The Spillway Boat Ramp also re-opens to boaters on April 29. The new, more direct road, which can be used when lake elevations are below 800 feet, begins from the Oroville Dam Crest Parking lot at the northwest of Oroville Dam.
The new road descends into the lake inundation zone before travelling back up to the Spillway Boat Ramp parking lot. The previous access road through the CHP screening booths and below the Emergency Spillway will only need to be used when lake elevations rise high enough to flood the new Lakeside Access Road. This new road includes two concrete traffic lanes, wide shoulders for walking and biking, guardrails, and traffic signage. Construction continues in this area – visitors are cautioned to be alert to construction activities and follow signage. Potable water, plumbed restrooms, and fish cleaning stations are not in service, although portable toilets are provided – please plan accordingly.
DWR Partners with California Rice Commission
The Department of Water Resources (DWR) has provided $8 million dollars to the California Rice Commission's 'California Ricelands Waterbird Foundation' to help increase the amount of available flooded habitat for migratory birds making their journey along the Pacific Flyway this year. Current drought conditions have reduced summer flooding of semi-permanent wetlands in the Sacramento Valley, reducing essential resources for breeding waterfowl, shorebirds, and other wetland-dependent species that are severely impacted by the drought.
This past winter and through the spring, DWR supported a collaboration of multiple partners, including Audubon California, Ducks Unlimited, The Nature Conservancy, California Department of Fish and Wildlife (CDFW) and others, to create nearly 55,000 acres of flooded waterbird habitat on rice fields and private wetlands by providing incentive payments to wetland owners to flood (or hold water from winter flooding) their wetlands to a depth of 12 to 24 inches beginning April 1, 2022 until July 15, 2022. After July 15, wetland managers will rely on evaporation (vs. draining) to draw down flooded fields, extending vital habitat for migrating shorebirds who prefer shallow waters.
Oroville Recreation
The Spillway Boat Ramp opened on April 29, joining the open Loafer Point, Bidwell Canyon, and Lime Saddle boat ramps. The Foreman Creek and Stringtown cartop boat ramps are also open. Restrooms, potable water, and fish cleaning stations are not in service at the Spillway Boat Ramp area but portable toilets are provided – please plan visits accordingly. Information on current boat ramp status can be found on the California State Parks' Lake Oroville State Recreation Area webpage. Scroll down to the link for "Current Launch Ramp Status".
The Lake Oroville Visitor Center is open to the public on Tuesdays, Wednesdays, and Thursdays from 9 a.m. to 5 p.m. Pick up the Lake Oroville Trails Map, which shows more than 91 miles of trails available to equestrians, bicyclists, and hikers, at Lake Oroville State Recreation Area (LOSRA) kiosks, the Oroville Area Chamber of Commerce, or the Feather River Recreation and Parks District.
Visit the California Parks LOSRA webpage for current information on facility status and campground reservations. An interactive map of recreation facilities in DWR's Oroville-Thermalito Complex is available on DWR's Lake Oroville Recreation webpage. Information about the 11,000-acre Oroville Wildlife Area is available on the California Department of Fish and Wildlife webpage.
Current Lake Operations
The elevation of Oroville's reservoir is about 772 feet elevation and storage is about 1.90 million acre-feet, which is 54 percent of its total capacity and 70 percent of historical average. Continued dry and warm conditions are forecasted this weekend and into the week with temperatures in the upper-70s to upper-80s with a chance of rain later in the week.
Average daily inflows this week have been tapering off and have been in the range of 8,000 to 10,000 cubic feet per second (cfs) and will continue to taper off and are projected to be in the range of 4,000 to 6,000 cfs. Flows to the Feather River are 800 cfs. Flow in the low-flow channel through the City of Oroville is 650 cfs and flow through the Thermalito Afterbay Outlet is currently 150 cfs. Flows are assessed daily.
The public can track precipitation, snow, reservoir levels, and more at the California Data Exchange Center at www.cdec.water.ca.gov. The Lake Oroville gage station is identified as "ORO".
All data as of midnight 4/28/2022