Lake Oroville Community Update - April 15, 2022
Published: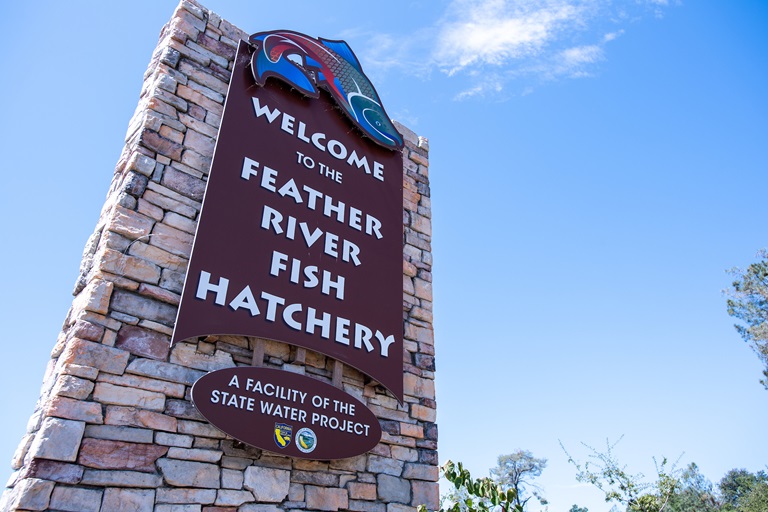 Flood Safety Stakeholder Technical Workshop
On Friday, April 22, from 9 a.m. to noon, the Oroville Dam Citizens Advisory Commission will be sponsoring a Flood Safety Stakeholder Technical Workshop. The purpose of this virtual workshop is to allow the California Natural Resources Agency (CNRA), California Department of Water Resources (DWR), and other government officials to hear directly from and speak directly to community stakeholders about their goals, interests and concerns related to flood safety and downstream communities. There will be time for community stakeholder questions and comments following each presentation, and there will be additional time for questions and comments from community stakeholders during a public comment period following the presentations.
For more information about the virtual workshop please visit: https://bit.ly/OrovilleCAC.
Grazing Goats Reduce Fire Risk
Hillsides along the Dan Beebe Trail near Hyatt Powerplant and Oroville Dam's Lower Overlook will look different after 600 goats and sheep from the Hanski Family Farms visit the area. The goal for this grazing effort is to minimize the rate of spread of a potential fire by reducing ground fuels, ladder fuels, and overgrown vegetation on approximately 35 acres near Oro Dam Boulevard East.
Grazing is gaining popularity across California as a sustainable method to minimize wildfire risk and lessen the spread of a wildfire through vegetation management. The goats and sheep near Hyatt Powerplant will graze on grasses, leaves, poison oak, and a variety of shrubs and trees. By standing on their hind legs, they can reduce ladder fuels up to six feet high. Plus, they love to eat weeds, especially invasive ones.
The goat grazing project is part of DWR's Fuel Load Management Plan, which helps reduce wildfire risk, increase public safety, and enhance forest health in areas around Lake Oroville within the Federal Energy Regulatory Commission (FERC) project boundary. In partnership with Butte County Fire Safe Council, DWR continues to use grazing as a sustainable method of fuel reduction around DWR's Oroville-Thermalito Complex.
To learn more and to see goat grazing in action, visit DWRs YouTube Channel for a video of the March 2021 Lakeland Boulevard goat grazing project on DWR's YouTube webpage.
Feather River Fish Hatchery Opens
All but one of the California Department of Fish and Wildlife (CDFW) fish hatcheries are open. The hatcheries have been closed for nearly two years during the COVID-19 pandemic. The main Feather River Fish Hatchery facility in Oroville is open from 7:30 a.m. to 4 p.m. seven days a week. The viewing window and overlook side will continue to be open sunrise to sunset.
Learn how the hatchery raises Chinook salmon and steelhead to support California's salmon populations during your visit. Interpretive panels describing the salmon life cycle, hatchery operations, and more are available for visitors. A virtual tour of the hatchery is also available on the Department of Water Resources (DWR) YouTube channel. Guided tours of the hatchery will resume when the fall-run Chinook salmon return to the river later this year.
The Feather River Fish Hatchery (FRFH) is divided into two sections:
The first section (viewing window side) includes the fish barrier dam, observation platform, and underwater viewing window, located on the east side of Table Mountain Boulevard. The underwater viewing windows are best for viewing fish from mid-September through June. This side of the facility is open daily from sunrise to sunset.
The second section (main facility) includes the spawning room, hatchery, and rearing ponds located on the west side of Table Mountain Boulevard. Salmon spawning operations can be observed Monday through Friday beginning mid-September until mid-November. Steelhead spawning can be observed mid-December through mid-February. Fish are present in the rearing ponds year-round. This side of the facility is open from 7:30 a.m. to 4 p.m. daily.
More than 8 million spring-run and fall-run Chinook salmon are produced by the hatchery annually, along with nearly 450,000 steelhead who are returned to the Feather River or planted in the Thermalito Afterbay for recreational users. To mitigate impacts from this third year of drought conditions, the facility will be raising an additional 1.7 million fall-run Chinook salmon to support the Feather River population. An additional 125,000 Inland Chinook will be planted in Lake Oroville this spring.
The Feather River Fish Hatchery is a California State Water Project facility owned and maintained by DWR, which funds hatchery operations. CDFW operates the hatchery, including fish spawning, rearing, and stocking activities. DWR built the fish hatchery to mitigate the impact of the Oroville Dam on Chinook salmon and steelhead populations because the dam blocks access to natural spawning grounds further upstream.
Oroville Recreation
The Loafer Point, Bidwell Canyon, and Lime Saddle boat ramps are open. The Oroville Dam Spillway boat ramp remains closed for repairs. The Foreman Creek and Stringtown cartop boat ramps are also open. Information on current boat ramp status can be found on the California State Parks' Lake Oroville State Recreation Area webpage. Scroll down to the link for "Current Launch Ramp Status".
The Loafer Creek Recreation Area is now open for all activities except group camping.
The Lake Oroville Visitor Center is open to the public on Tuesdays, Wednesdays, and Thursdays from 9 a.m. to 5 p.m. Pick up the Lake Oroville Trails Map, which shows more than 91 miles of trails available to equestrians, bicyclists, and hikers, at Lake Oroville State Recreation Area (LOSRA) kiosks, the Oroville Area Chamber of Commerce, or the Feather River Recreation and Parks District.
Visit the California Parks LOSRA webpage for current information on facility status and campground reservations. An interactive map of recreation facilities in DWR's Oroville-Thermalito Complex is available on DWR's Lake Oroville Recreation webpage. Information about the 11,000-acre Oroville Wildlife Area is available on the California Department of Fish and Wildlife webpage.
Current Lake Operations
The elevation of Oroville's reservoir is about 754 feet elevation and storage is about 1.71 million acre-feet, which is 48 percent of its total capacity and 66 percent of historical average. Temperatures in the mid-to-upper-60s and rain is forecasted on Saturday with cooler temperatures and chance of rain continuing into next week.
The average daily inflows this week have been between 3,000 to 5,000 cubic feet per second (cfs). Inflows into Lake Oroville this weekend may be in the range of 5,000 to 7,000 cfs due to the forecasted rain in the Feather River Basin.
Throughout April, total flows to the Feather Rivers have been reduced to conserve storage. As of Friday, April 15, total flows to the Feather River are at 800 cfs. At 800 cfs to the Feather River, flow in the low-flow channel through the City of Oroville is 650 cfs and flow through the Thermalito Afterbay Outlet currently is 150 cfs. Flows are assessed daily.
The public can track precipitation, snow, reservoir levels, and more at the California Data Exchange Center at www.cdec.water.ca.gov. The Lake Oroville gage station is identified as "ORO".
All data as of midnight 4/14/2022