Lake Oroville Community Update - May 14, 2021
Published: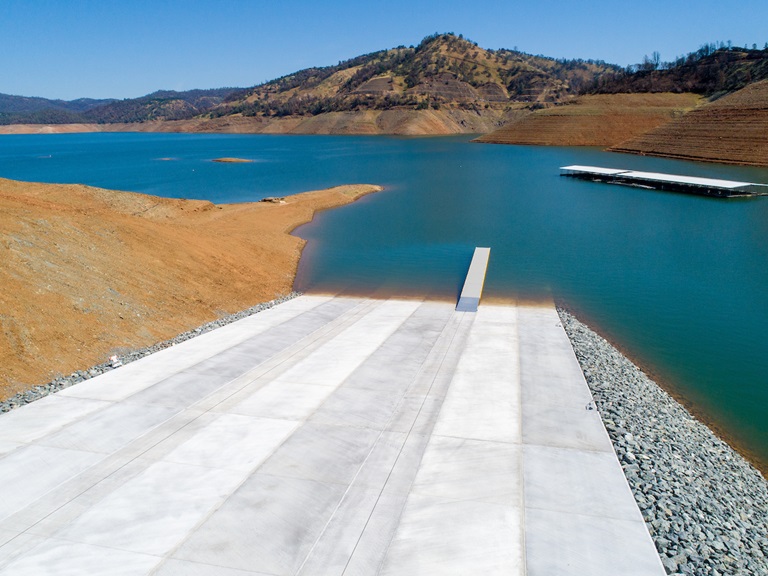 Oroville Dam Citizens Advisory Commission Public Meeting
The California Natural Resources Agency is hosting its seventh Oroville Dam Citizens Advisory Commission (OCAC) meeting on Friday, May 28 from 10 a.m. to 12:30 p.m. The public meeting will be held online and will include presentations and public comment. The Commission will receive an update on dam safety and presentations on risk assessment. The Citizens Advisory Commission is a forum to provide public feedback and be a voice for the communities surrounding Oroville Dam. For information on how to join the virtual meeting, please visit the OCAC website.
Loafer Point Stage II Boat Ramp
Boaters are using the newly completed Loafer Point Boat Ramp facility at the Loafer Creek Recreation Area. The six-lane boat ramp has 180 trailered parking spaces and provides immediate access to the open waters of Lake Oroville.
This Stage II facility provides boat launch capability when lake elevations go as low as 707 feet above sea level. As lake levels are anticipated to drop further due to drought conditions, the Department of Water Resources (DWR) is planning to extend the ramp to lower lake elevations this fall and winter.
The Loafer Point Stage I boat ramp was completed in 2020 and added three new boat launch lanes from a full lake down to 805 feet and a new parking area. The new restroom facilities will be in service when Stage I is in use. Both boat ramps are adjacent to the Loafer Creek Recreation Day Use Area and Campground, rounding out a full-service recreation destination with nearby trails, campgrounds, boating, and marina.
Oroville Recreation
The Lime Saddle, Bidwell Canyon, and Spillway boat ramps are open for use, along with the newly opened Loafer Point Stage II boat ramp facility. The California Department of Parks and Recreation (CA Parks) has opened their reservations for campgrounds around Lake Oroville, including the Lake's floating campgrounds. Lime Saddle group camping remains closed.
Summer access hours of 5 a.m. to 11 p.m. daily are now in effect for the Spillway Boat Ramp Area - gates close at 11 p.m.
Hours of access for motorists to Oroville Dam Crest Road is 5 a.m. to 11 p.m. year-round; it is accessible to bicyclists, joggers, and walkers 24 hours per day. Please note that overnight parking in the lot above the main spillway is not permitted. Day use facilities and trails at Lake Oroville State Recreation Area (LOSRA) are open 8 a.m. to sunset, except for Bidwell, Lime Saddle, and Loafer Creek, which are open 24 hours. The Lake Oroville Visitor Center remains closed due to COVID-19 restrictions.
Visit the California Parks LOSRA webpage for current information on facility status, campground reservations, and to find current requirements to protect public health during the COVID-19 pandemic. Information can also be found on the Lake Oroville Recreation webpage and the California Department of Fish and Wildlife webpage.
Upper Feather Lakes Open for Recreation
Many Plumas National Forest recreation sites in the Frenchman Lake and Lake Davis Recreation Areas are open. Lower water levels may affect placement of boat docks and limit what size boats may be launched. Information about campground availability and reservations can be found at www.Recreation.gov or by calling (877) 444-6777. Campgrounds along Caribou Road in the Feather River Canyon (Highway 70) are also open; however, Lakes Basin and Gold Lake campgrounds remain covered in snow and will open later in the season. Visit Plumas National Forest's recreation webpage for information.
Current Lake Operations
The elevation of Oroville's reservoir is about 723 feet elevation and storage is about 1.44 million acre-feet -- 41 percent full and 49 percent of historical average. Currently, in the Northern Sierra Basin, rainfall is below average, at 47 percent of normal for this time of year and snowpack is also below average at six percent of normal. Continued warm and mainly dry conditions is forecast with the possibility of light precipitation over the weekend and in the middle of next week.
Because of continued warm temperatures and dry conditions, flows had been increased to meet Bay-Delta water quality and outflow. On May 8, flows were increased from 1,200 cubic feet per second (cfs) to 2,500 cfs. Then, on May 12, flows were reduced to 2,300 cfs. Currently, flows down the low flow channel through the City of Oroville are at 650 cfs and 1,650 cfs is being released from the Thermalito Afterbay Outlet (Outlet) for a total of 2,300 cfs downstream of the Outlet.
The public can track precipitation, snow, reservoir levels, and more at the California Data Exchange Center at www.cdec.water.ca.gov. Lake Oroville is identified as "ORO".
All data as of midnight 5/13/2021